---
As it continues to stay hot, it's the ideal time to unwind with refreshing cocktails and delicious meals at these new restaurants in Delhi. Here's a curated list of the 5 hottest new restaurant openings in New Delhi with exquisite interiors.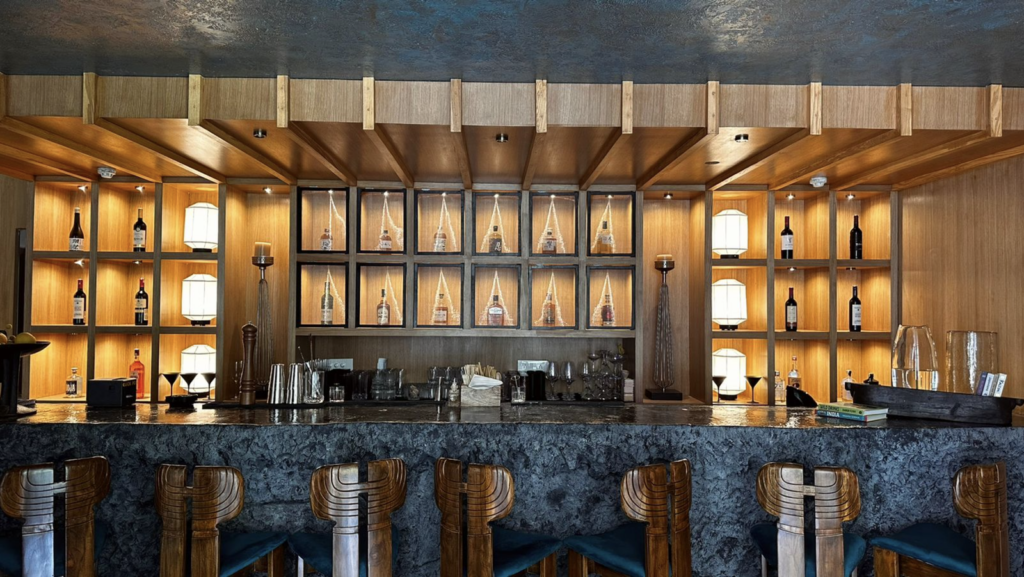 ---
INJA, The Manor Hotel
INJA, derived from India and Japan, serves an inventive mix of Indian and Japanese cuisines. The plates by ​​chef Adwait Anantwar include dishes that marry bold Indian flavours and spices with traditional delicate Japanese cooking techniques. Well-known interior designer Samar Zakhem has envisioned this new eatery that evokes the ambience of a luxurious spa. Natural materials like stone and wood are used to craft this minimal yet inviting upscale eatery. INJA is separated into five separate areas—three dining spaces, a bar, and a private dining room. Interior highlights include its eye-catching bar that is crafted with grey stone sourced from Japan and colourful artworks by Japanese artists. The unique menu includes elegant dishes that hit the spot. Signature dishes on the menu are the Lobster Rassam Chawanmushi, Shisu Leaf Tuna, Pomelo Chaat, Gobi 65 Maki and Suzuki Okinamasu with fermented mango achar.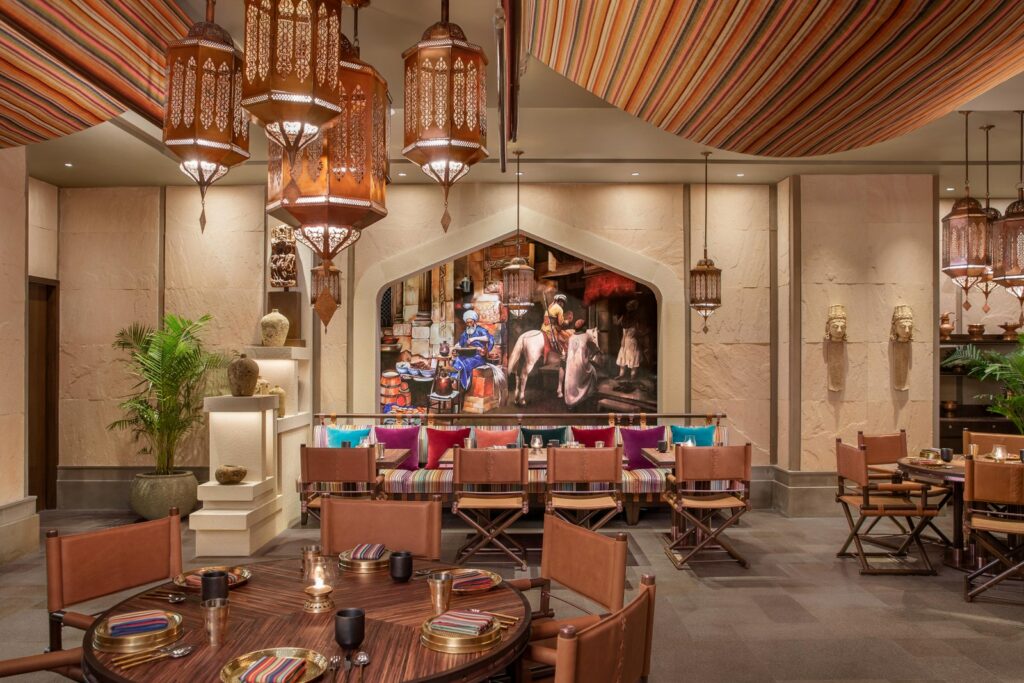 ---
Loya, Taj Palace, New Delhi
This new eatery aims to take visitors on a one-of-a-kind culinary journey through North India. Serving less well-known North Indian dishes from Himachal Pradesh, Punjab, and Kashmir, the eatery is warm and welcoming. Showcasing the vibrancy of the villages of northern India, the interiors of Loya feature majestic arches, delicate motifs, stone jalis, ​​​​vibrant drapes, vivid artworks, copper lanterns, and striking canopies. Visitors are greeted by Loya's imposing bar courtyard, which is crafted with natural rocks and boulders and accentuated with an awe-inspiring water feature, a nod to the natural springs in the Himalayas. The furniture of the eatery are reminiscent of the traditional Indian khatia and peeda and have been crafted using logwood and are adorned with copper elements. Moreover, Loya's food menu doesn't disappoint. Our top dishes include the Loya Kachori Chaat, Paneer Teen Mirch, Masaledar Bhindi, Loya Murg Pyaza and Dum Nalli.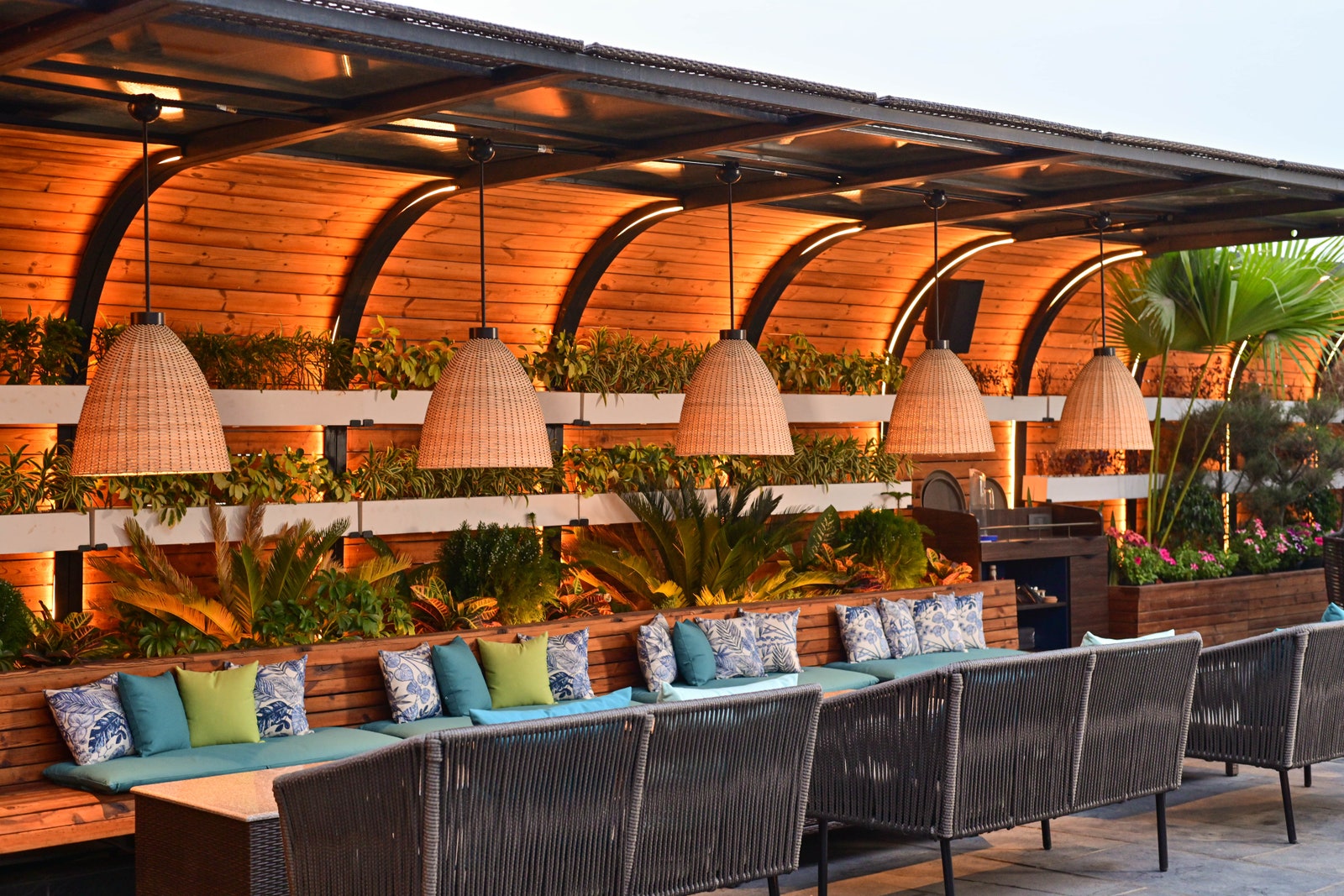 ---
Flow Brew & Dine
Conceptualised by the award-winning MOFA Studios, this 9,000-square-foot restaurant, bar, and microbrewery has a vibrant ambience. Housing a charming indoor and outdoor dining section, the eatery's material palette consists of burnt wooden planks and white-painted stucco walls, which are simple yet sophisticated. Exhibiting a modern design aesthetic, Flow is home to a imposing 50-foot-long bar decked with steel mosaic tiles and finished with a lustrous bronze sheen. The flooring of the eatery includes terrazzo tiles laid via a stencil in a flowing pattern done in situ. Flow's expert culinary team, led by chef Kunal Bahl, crafts comfort food from a number of cuisines such as Asian, Indian, and Mediterranean. Order the Pull Apart Garlic Cream Cheese Brioche, Podi Idli Fries, Bruschetta Bar, Seafood Plancha with Thecha Roll, ​​Picante Pizza and Irish Coffee Cheesecake, and you will not be disappointed! The artisanal cocktail offerings by mixologist Yangdup Lama are fresh and delicious.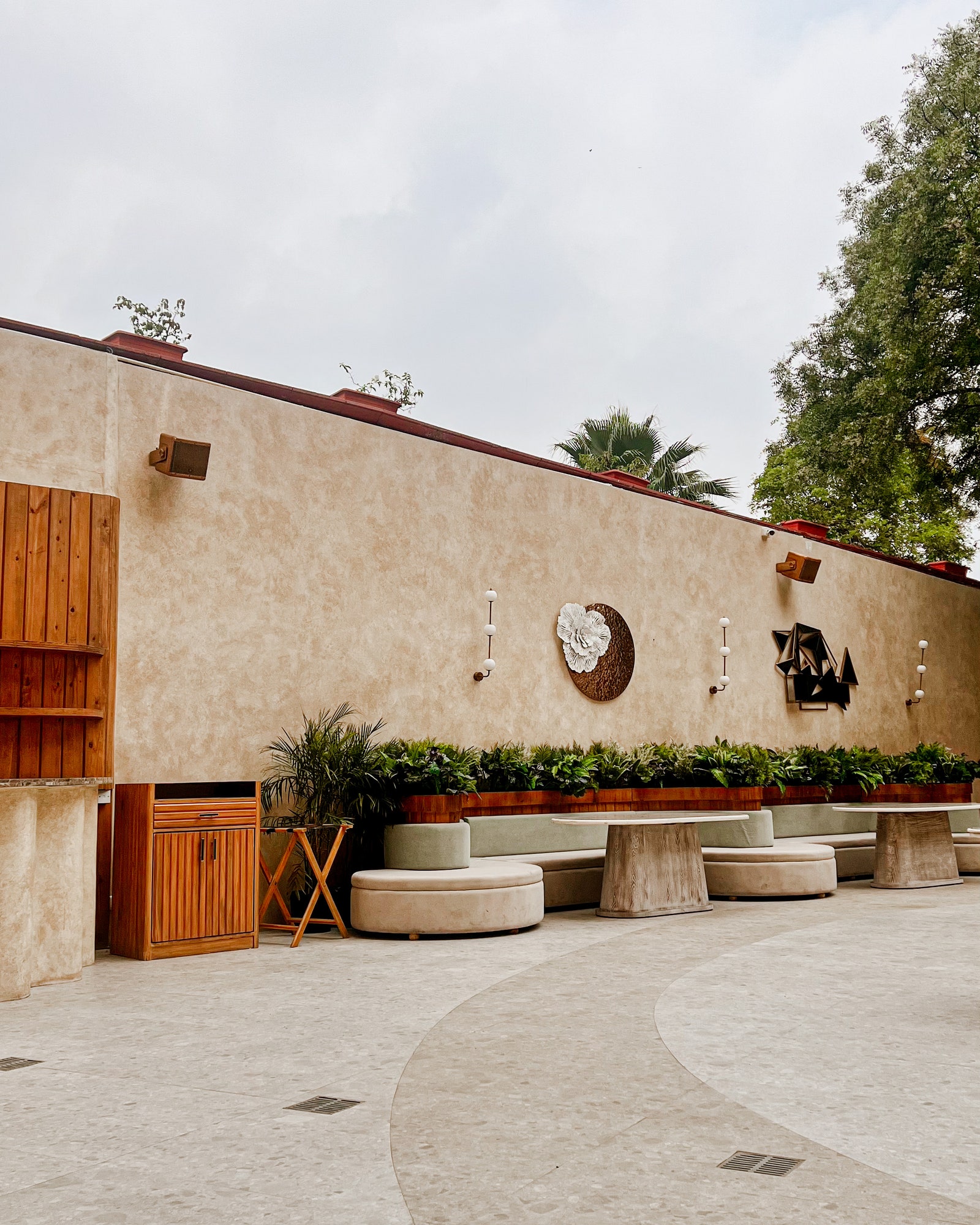 ---
Soul, The Ashok
Situated in the centre of Central Delhi, Soul is a Spanish-themed restaurant and bar. The interiors of this fine-dining restaurant are designed by architect and designer Tuttu M Tomy. This expansive gastro bar is evocative of a 90s Spanish seaside bar. Soul has quirky interiors featuring handmade woodwork furnishings, distinctive lighting fixtures, bespoke tribal wall coverings, and beautiful upholstery. The tables have statement armchairs and comfortable sofas inviting guests to slow down and enjoy their meal. Soul's food offerings include an extensive menu of authentic Spanish tapas and fusion cuisine dishes. Chef Anuj Wadhwan has made tasty plates using the freshest locally sourced ingredients. Highlights include the Peanut Butter Chicken, ​​Corn and Water Chestnut Dim Sums, Philly Chicken Tikka, and Schezwan Chilli Cheese Bao.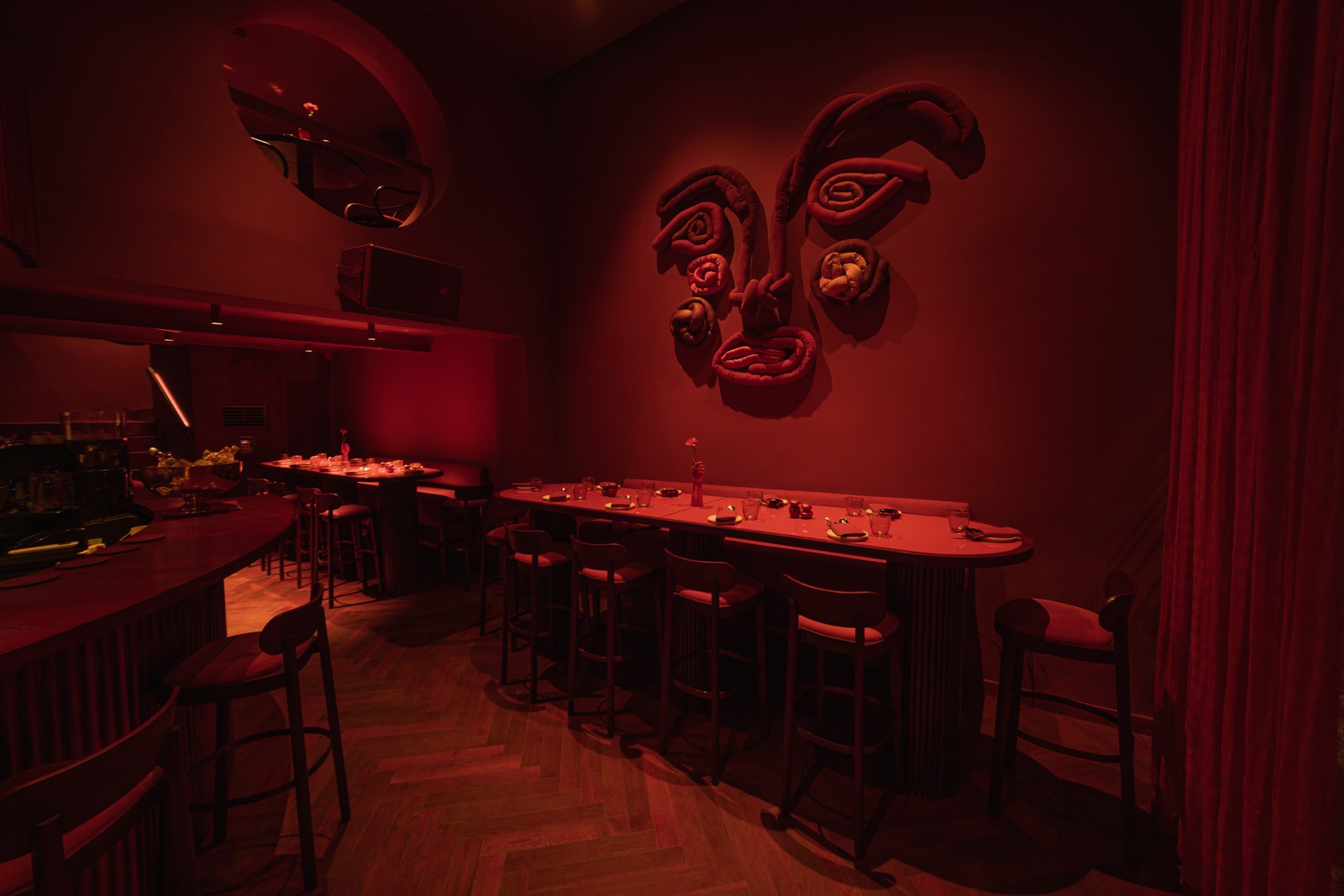 ---
​​Red Dining Lounge
Featuring in a bold shade of red, this recently-opened restaurant and bar is hard to miss. The resto-bar has been conceptualised by AD100 architecture firm Studio Organon in collaboration with creative agency The Brewhouse. During the day, plenty of sunlight brightens up the space, and after dinner service, this eatery transforms into a chic bar and lounge. Red's interiors are chic and embody the emotion of the colour red. The restaurant is adorned with stained pine wood floors, colour-blocked table tops, and metallic elements. Curated by chef Gaurav Sircar, the menu includes multi-cuisine plates, with a focus on ​​Japanese ​​Robatayaki, a cooking method over hot charcoal. The plates Crisp Affair, Beet and Avocado Tartare, Prawns and Lamb and Aubergine Skewers, Mutton Bao, Charred Corn Ribs, ​​Robata Grilled Chicken, Forestier Pancake Roll, Brulee Brie, and Basque Cheesecake are well-loved.
---