---
​​I first learned about Diwiks when I was looking for a unique gift for my father's milestone birthday. A friend told me about this unorthodox brand, which blends high-quality sound with indigenous craft to create distinctive speakers. Intrigued, I reached out to the brand's founder, Diwik Singh Chhalani, to learn more about the company and the work it does. Unexpectedly—and rather benevolently—he invited me to his 2,200-sq-ft studio-cum-home in Bangla Nagar, Bikaner (Rajasthan). While I sadly couldn't visit Diwiks' studio at the time thanks to the pandemic, Chhalani was kind enough to give me a virtual tour of the premises.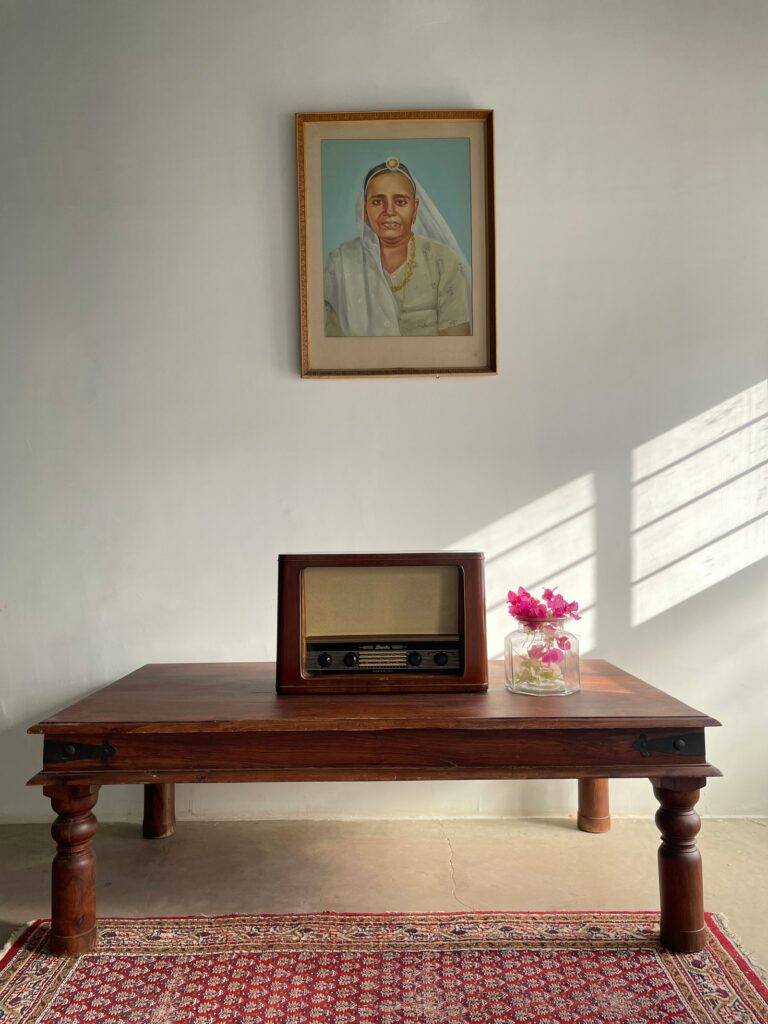 ---
​​Back in 2015, Chhalani left his corporate job in New Delhi to return to his ancestral home in Bikaner. What began as an experiment in restoring his grandfather's old radio soon evolved into an endeavour to create an elegant Bluetooth speaker. Thus began Chhalani's journey with sustainable design and his subsequent launch of Diwiks in 2016 to create state-of-the-art, handcrafted speakers that are inspired by the form and aesthetic of 20th-century radios.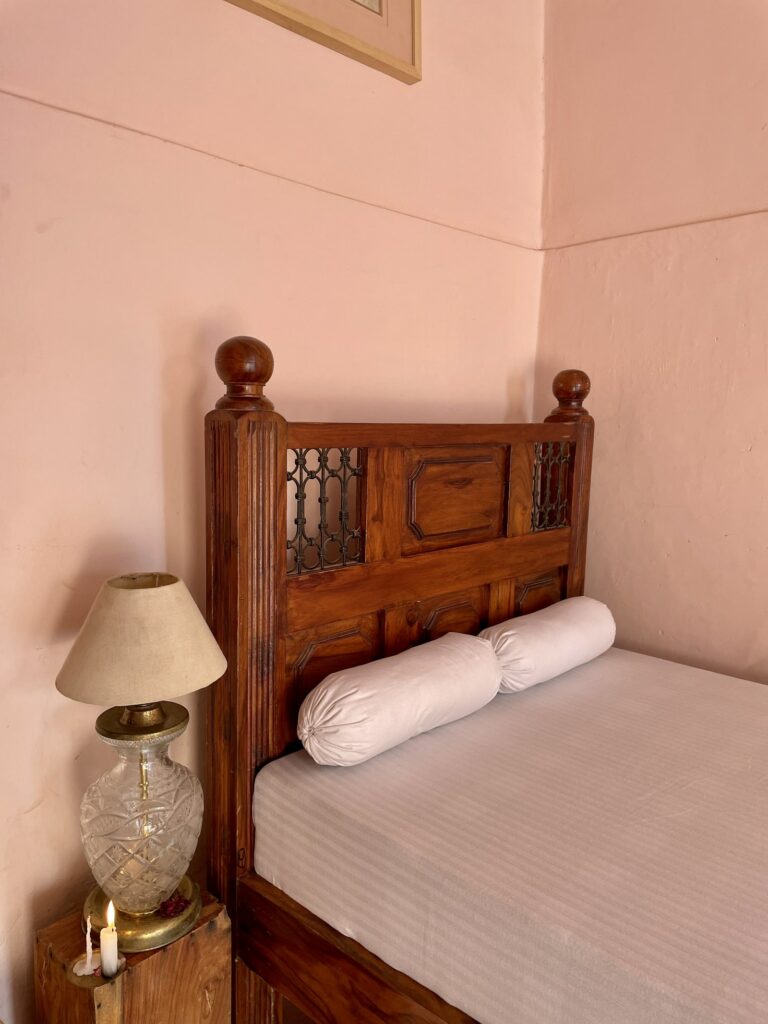 A small two-storeyed building that houses the other rooms of the campus—namely mehfil (entertainment room), gulaab (guest bedroom), baithak (den) and gaddi (Diwiks office)
---
While speaking to Chhalani, I realised that the Diwiks studio was actually part of a country estate acquired by his family in 1960 from the Rampuria family of Bikaner. It became home to his large growing family when they set up their first carpet yarn-spinning mill alongside it. With time, everyone moved out to newer bungalows abandoning this space. It remained forgotten, withering away slowly, until Diwik moved back to Bikaner in 2016. "The good thing about it being forgotten was that it remained unchanged and I couldn't have asked for a better home to live in and set up my studio in," smiles Chhalani. "As layers of dust were removed, beautiful cemented tiles and floors were revealed, inspiring me to restore it. I approached the restoration pretty much like we do with the radios—which is preserving as much of the original as possible, without compromising on the use and functionality."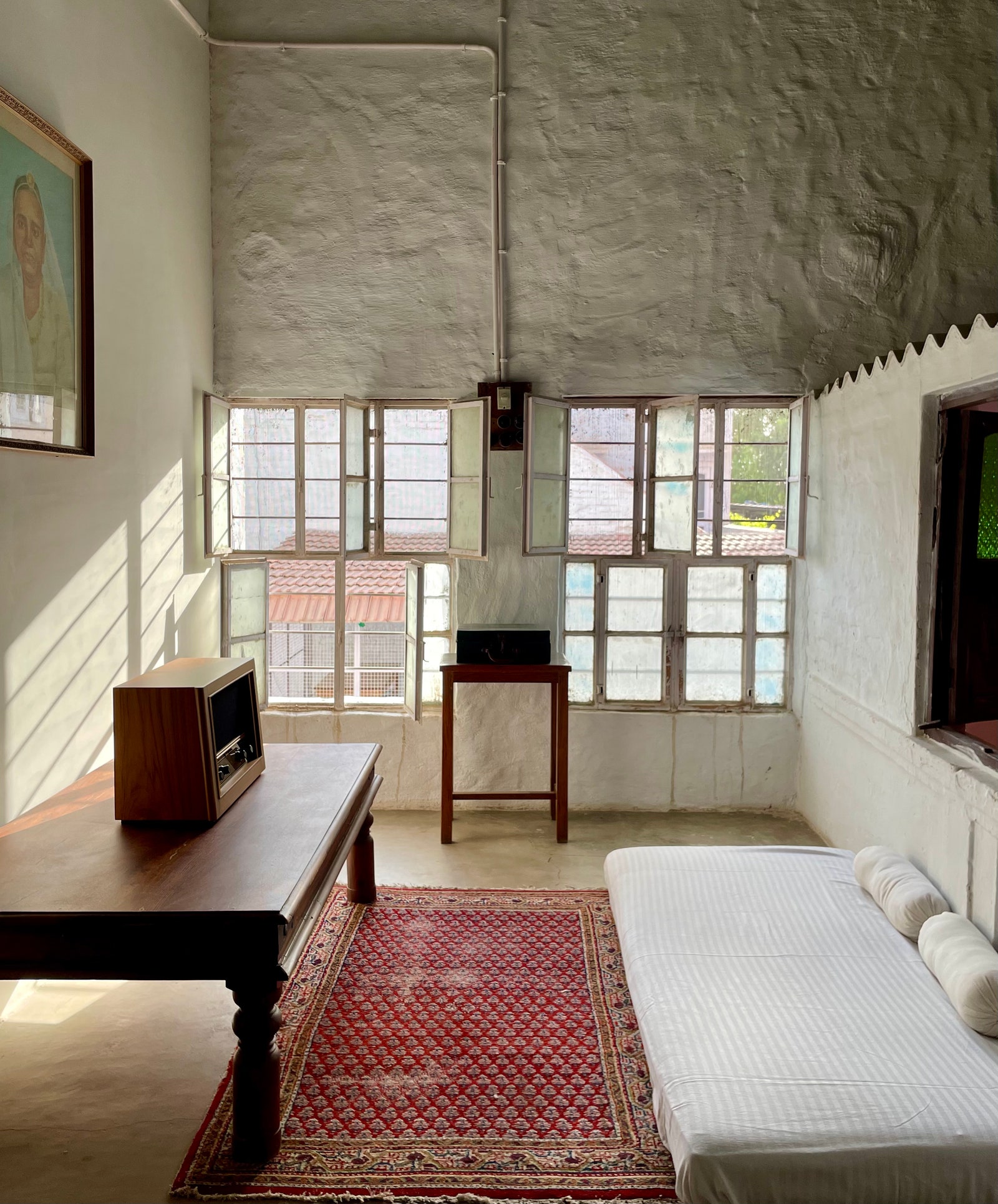 ---
The home-cum-studio space is located in an inverted L-shaped plot with open spaces as you walk in. Chhalani has set up a little garden and an open courtyard on the lower level. As you proceed, you find yourself in another open space, which is called the aangan. On the right is a small two-storeyed building that houses the other rooms of the campus—namely mehfil (entertainment room), gulaab (guest bedroom), baithak (den) and gaddi (Diwiks office).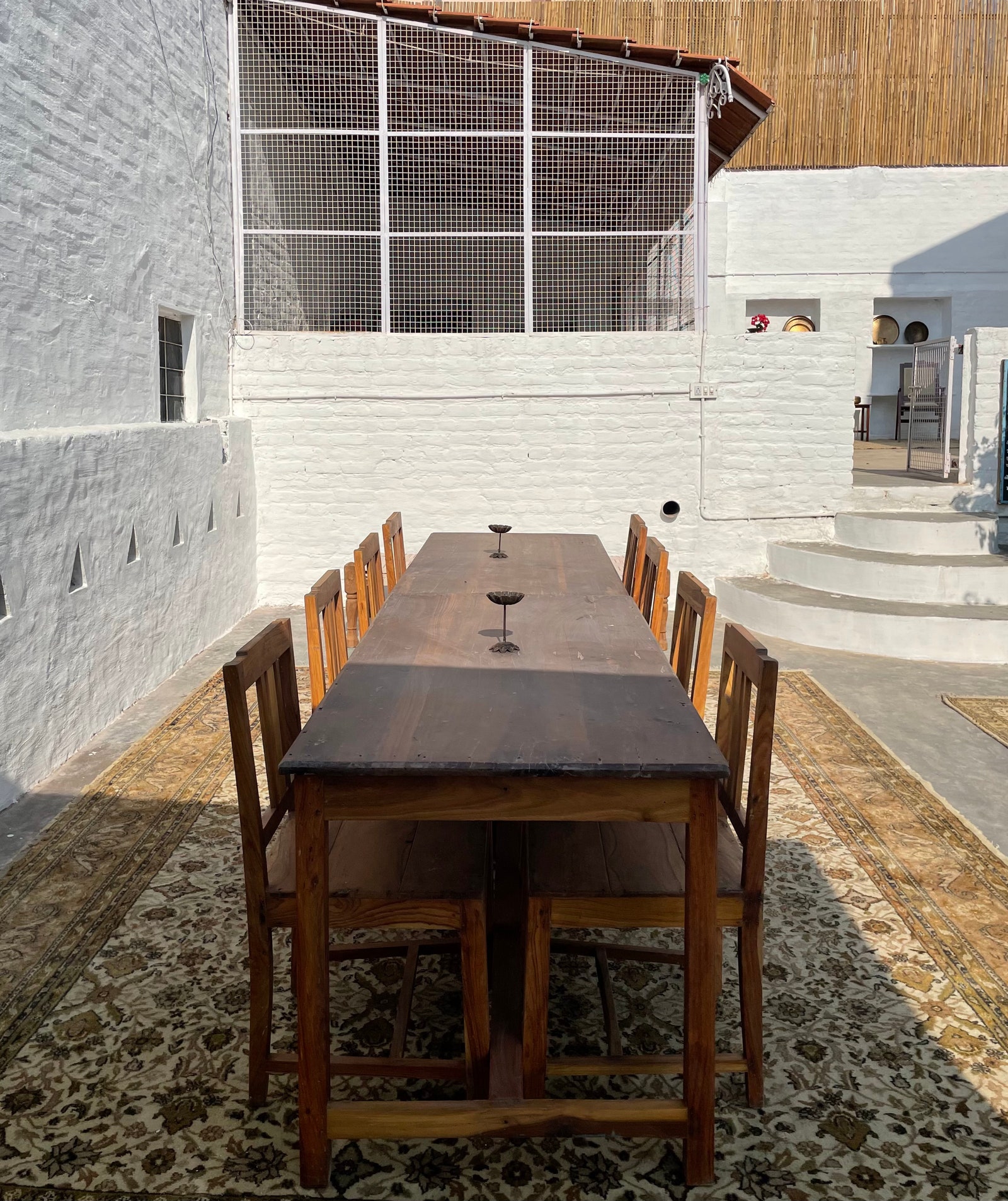 ---
During our virtual tour, I noticed that Diwik Singh Chhalani's home steers clear of a particular theme, and as a result, multiple architectural periods and designs coexist and interact with each other. A plain cemented floor in the living room, for example, leads you into another room that has Art Deco tiles, which in turn gives way to a red-tiled floor that is over 90 years old. "I have used the flooring as a base and have designed the spaces from the bottom up. The flooring has also been my guide for picking colours for the walls. Most of the open spaces are white, and I have used plants, bamboo fencing, rugs and wooden pieces to balance them out. Like anyone else designing a space, I have kept the flow of air and light in mind for structural changes as well as the arrangement of furniture," explains Chhalani.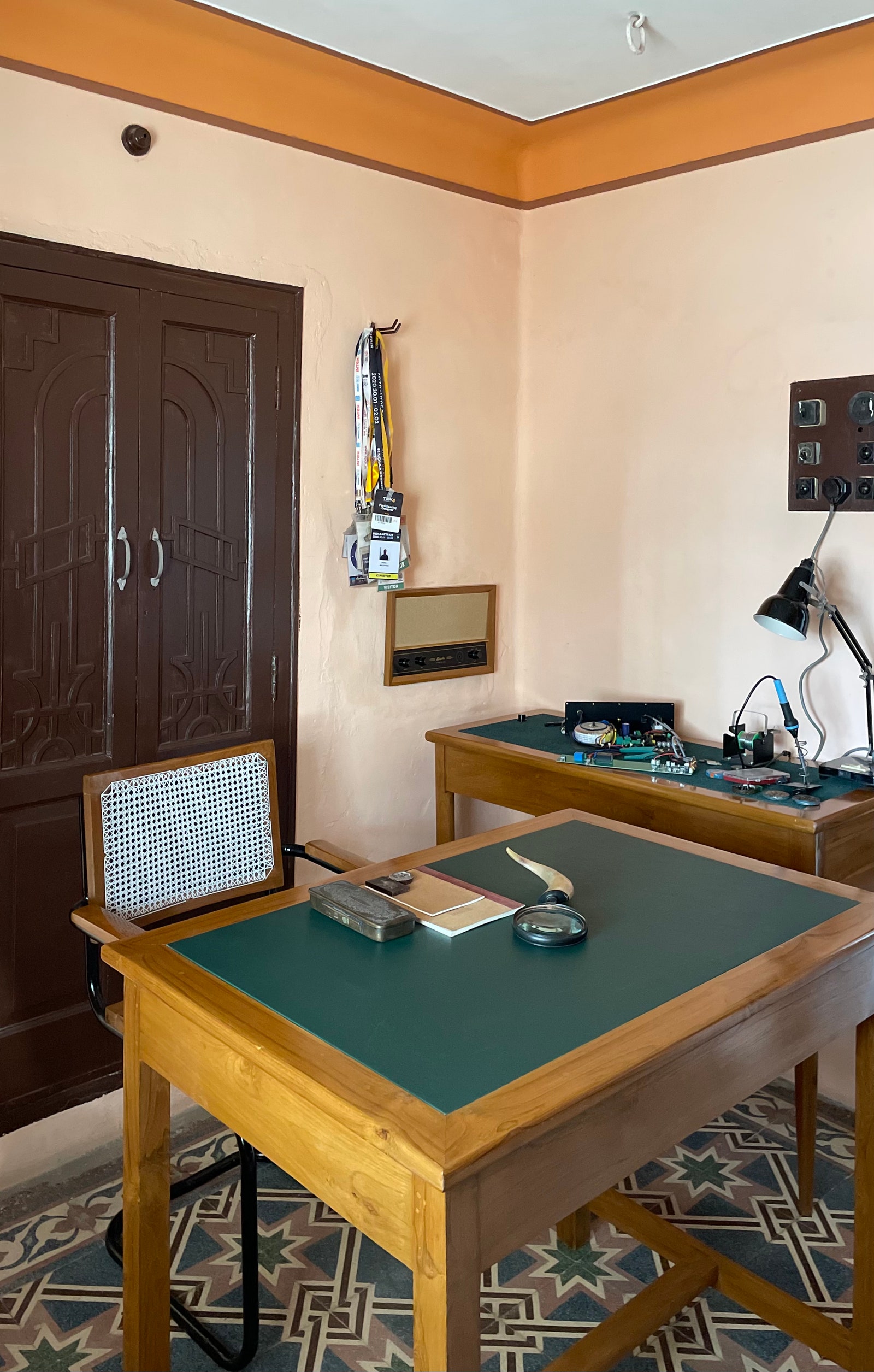 ---
​​The home exhibits Diwiks' design philosophy, which is to weave eras, functionality and material in a timeless aesthetic. "Be it through my work or doing up this space, the process is always the same—sourcing the materials (often from the past), defining the use, and then bringing them to life in my signature style, with the help of my team of local artisans. Even while acquiring jewellery or garments, I seldom pick readymade things and always either buy them second-hand or get them handmade. Almost all of the objects in the house are either family heirlooms passed on from generations or bought second-hand and restored," remarks Chhalani.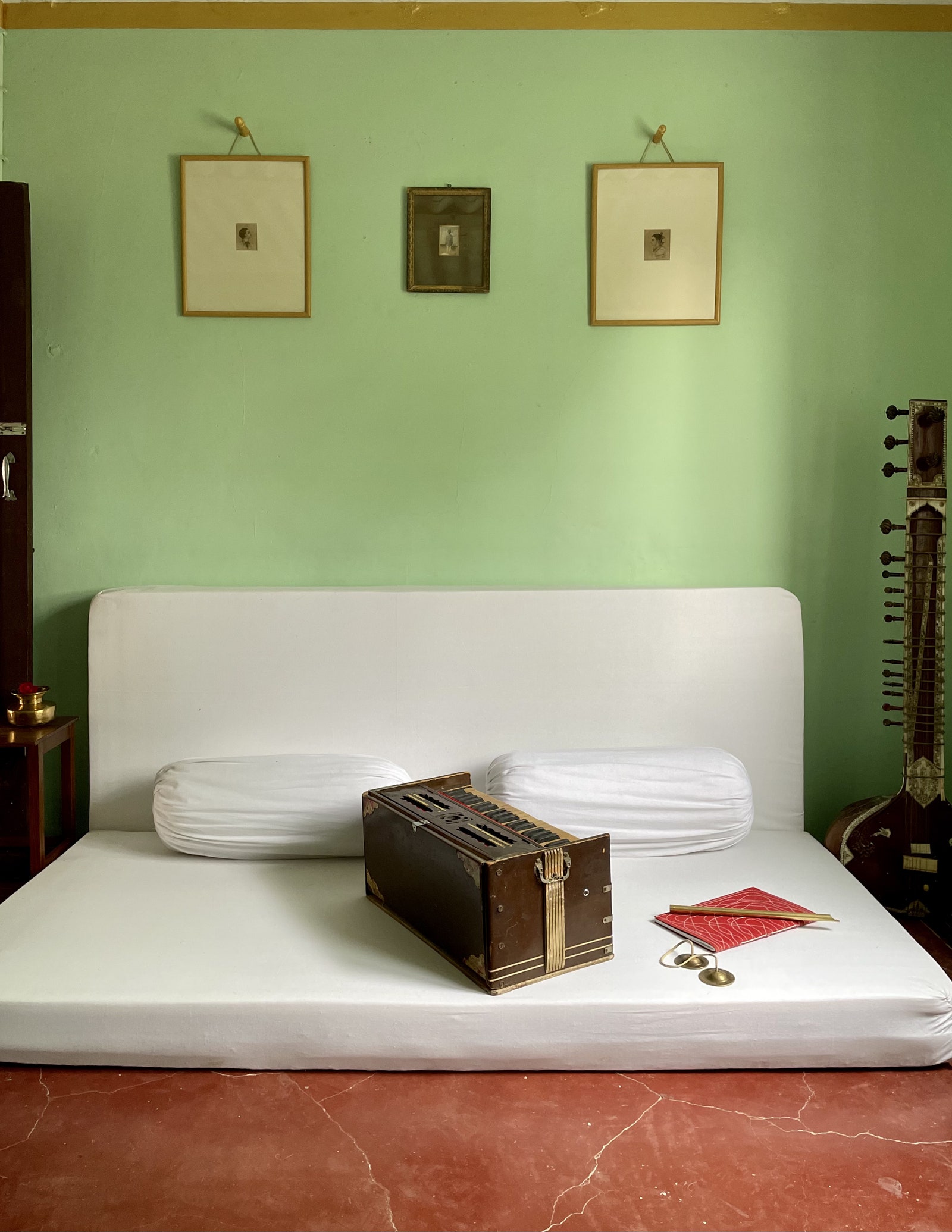 ---
"In mehfil, the sitar belongs to my cousin. I picked up the harmonium from a local repair shop (actually my wife gifted it to me), the mattresses are from when my family first arrived here. I got them repurposed for the space." Nostalgia is clearly a defining factor for how Chhalani approaches design. He smiles at my observation; all the old photographs adorning his walls have been passed down through generations. Two portraits hanging on the green wall in the entertainment room are by one of India's finest miniature artists, Mahaveer Swami. "My connection with Mahaveer ji is through the portrait of my grandmother that my uncle commissioned him to make in the early '80s when he was just starting his professional practice. It now sits in my favourite section of the house—the baithak, along with my grandfather's radio, which was my first restoration and the inspiration behind my work. So in a way, my grandparents are both reunited in their original home," concludes Chhalani.
---