---
India is home to numerous types of vernacular architecture that have developed over the centuries. Luckily, several structures showcasing vernacular architecture have been converted into hotels and homestays. These properties showcase the culture, climate, and available resources of the area they are located in, and offer visitors the opportunity to live like locals. These Indian hotels and homestays are an ode to the country's rich cultural heritage and help preserve it for future generations.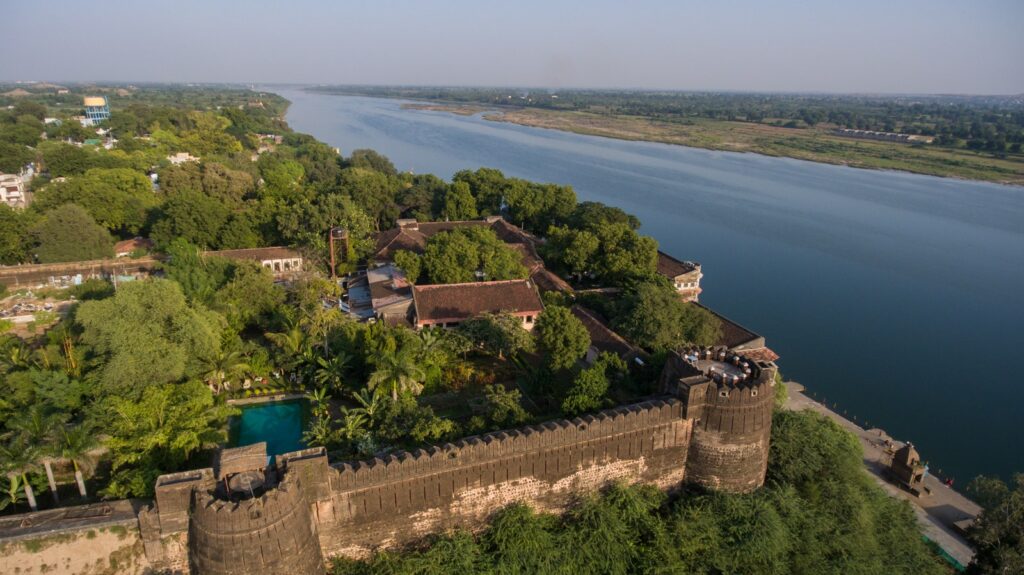 ---
Ahilya Fort, Maheshwar
A two-hour drive from Indore, Ahilya Fort is a quaint hotel nestled on the banks of the tranquil Narmada River. Built in the 18th century by Queen Ahilyabai Holkar, the hotel is an example of ​​Maratha architecture. It was constructed using locally available materials such as sandstone and limestone. Like all Maratha forts, the hotel features high walls and ramparts, intricately carved pillars, arched gateways, and walls with frescoes and murals. Currently, Ahilya Fort offers 19 well-appointed guest rooms, each with a unique character, in six separate buildings. The buildings are connected by scenic courtyards comprising verdant gardens and awe-inspiring fountains.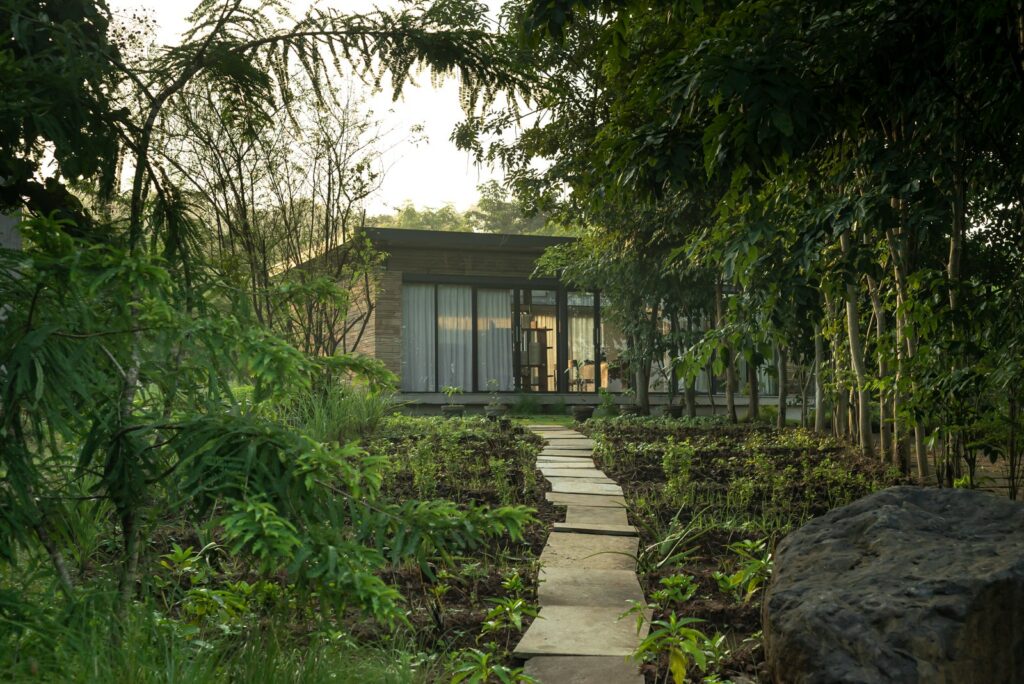 ---
Woods At Sasan
Surrounded by the lush green Sasan Gir forest, Woods At Sasan is a sprawling hotel that offers guests the opportunity to be one with nature. The hotel focuses on biophilia and slow living, and follows environmentally-friendly practices. A 38-key hotel, Woods At Sasan's villas blend in with the surrounding natural landscape and are constructed using natural materials. They comprise local bela stone finished with lime plaster, which keeps the structures cool in the summer months. The interiors feature handcrafted furniture made of reclaimed wood, bamboo accessories, hand-made ceramics, terracotta and macrame decor pieces, mud-work wall art, and hand-dyed khadi furnishings made by local artisans. Another interesting detail in the guest villas is the pali or bay window seating, inspired by vernacular architecture.
---
​​SaffronStays Amaya, ​​Kannur
Situated in Kannur, Kerala, this five-bedroom heritage homestay exhibits age-old Malabar architecture. Built 300 years ago, this bungalow was the ancestral home of the local Brahmin ruling family. At one point, the villa was part of a 50-acre estate comprising several buildings, including a temple, a horse stable, and a school. Currently, the majestic bungalow has been restored meticulously under the supervision of the present owners. The home has eight different blocks surrounding two open-to-the-sky courtyards. These courtyards provide natural ventilation and sunlight across the house. The homestay's interiors are a mix of modern amenities and traditional design. The light-filled rooms house exquisite wooden furniture and colorful decor pieces.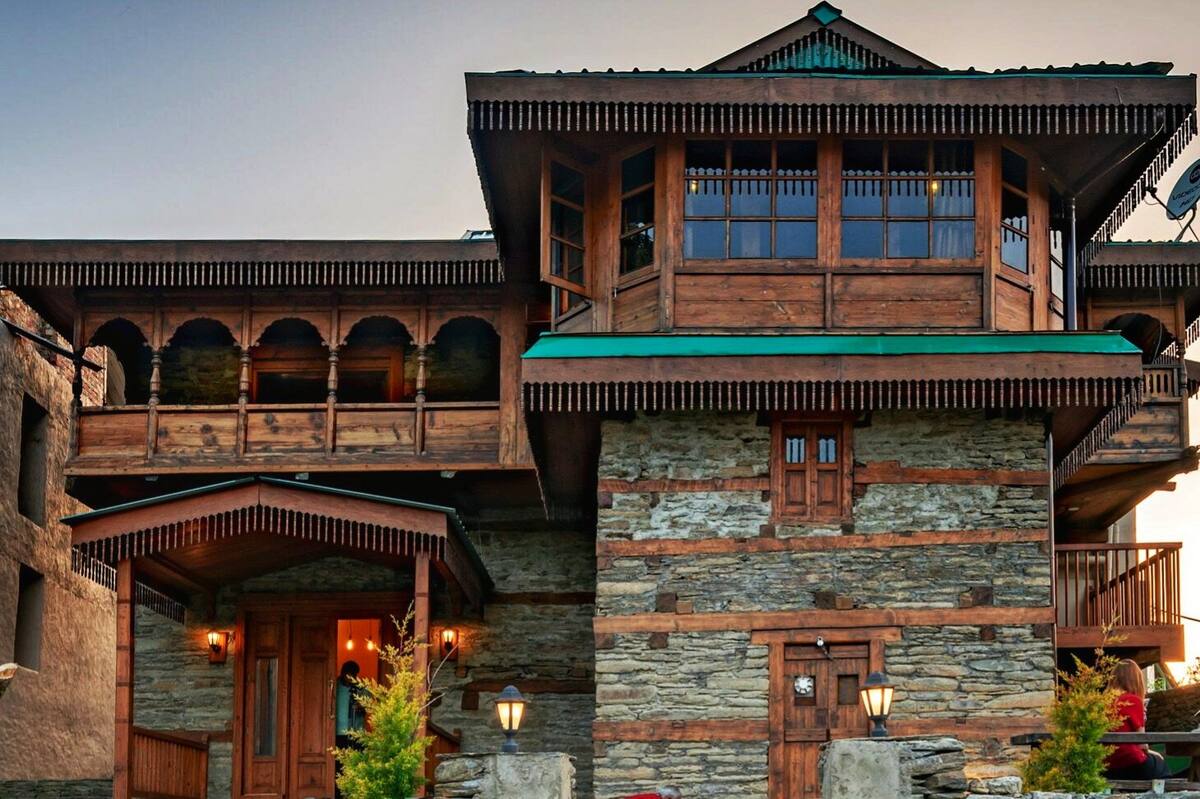 ---
​​The Apple Farm Stay by Airbnb, ​​​​Kot Khāi
Apple Farm Stay is located in the town of Kot Khāi, in the south of Himachal Pradesh. This bungalow was built by an erstwhile Wazir of the princely state of British India. Housing two bedrooms, the villa exhibits the traditional Kath-kuni style of architecture, which is prevalent in the Kullu Valley. Kath-kuni style of architecture incorporates stone and wood in the walls of the building to create one-of-a-kind patterns with structural wooden joinery at the corners. Moreover, wooden beams and columns with intricate carvings of local iconography support the roof and upper levels. Refurbished by Himanshu Suri of Architect Suri and Associates, this homestay is surrounded by beautiful apple orchards and offers unobstructed vistas of the Himalayas.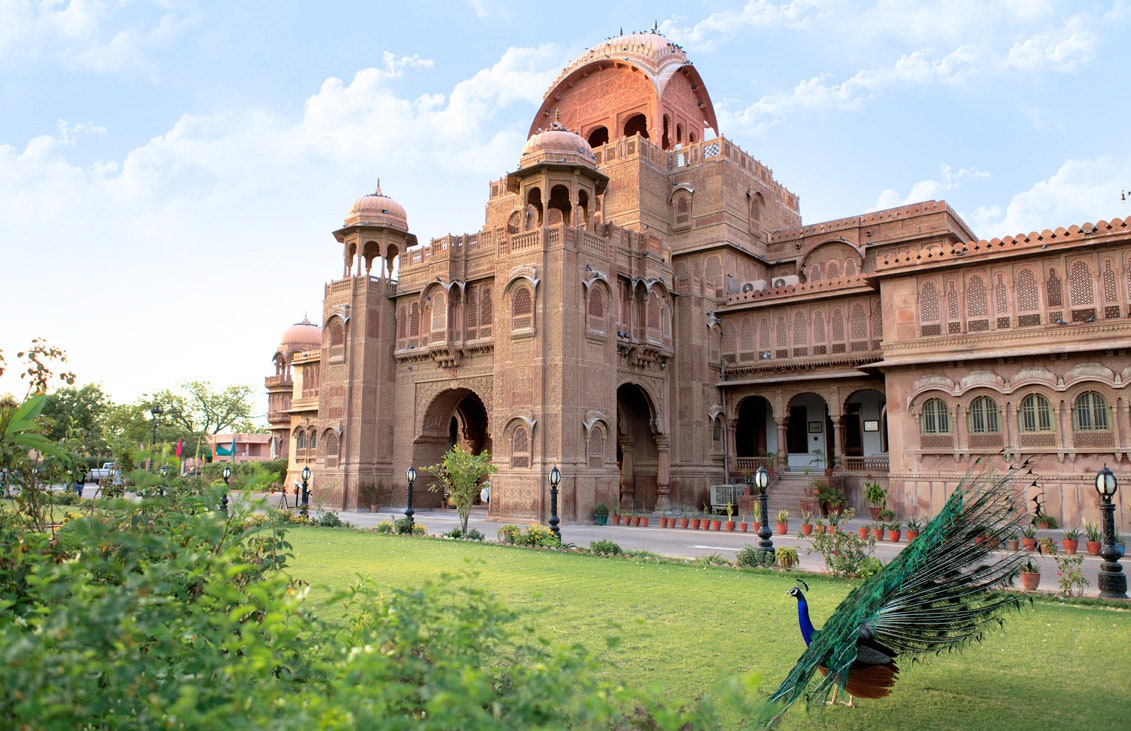 ---
Laxmi Niwas Palace, Bikaner
The erstwhile residence of Maharaja Ganga Singh Ji of Bikaner, Laxmi Niwas Palace ​​is a regal boutique hotel and museum. The hotel comprises 56 sumptuous rooms, including 23 suites, that are visually arresting and furnished with tasteful furnishings and objets d'art. The palace showcases Indo-Saracenic architecture, which is a mix of Indian, Islamic, and European architectural styles. It comprises majestic domes, ornate Victorian pillars with carvings and murals, striking sculptures, a large central courtyard, and jali windows. Furthermore, the hotel's Durbar Hall is an elegant room that features embellished chandeliers and jaw-dropping frescoes on the ceiling.
---