---
A family of three generations reached out to interior designers Priyanka Itadkar and Falguni Bhatia of firm The Act of Quad to conceptualise their second home located in a high-rise apartment building in Ghatkopar, Mumbai. The 3,500 sq ft apartment was conceptualised by merging two separate apartments, and it houses four bedrooms, a living and a dining area in an open layout, a kitchen, a mandir (temple), a study room, a family room and a theatre room. It is a vibrant and airy home with expansive floor-to-ceiling windows, and interiors that exhibit the clients' simple lifestyle.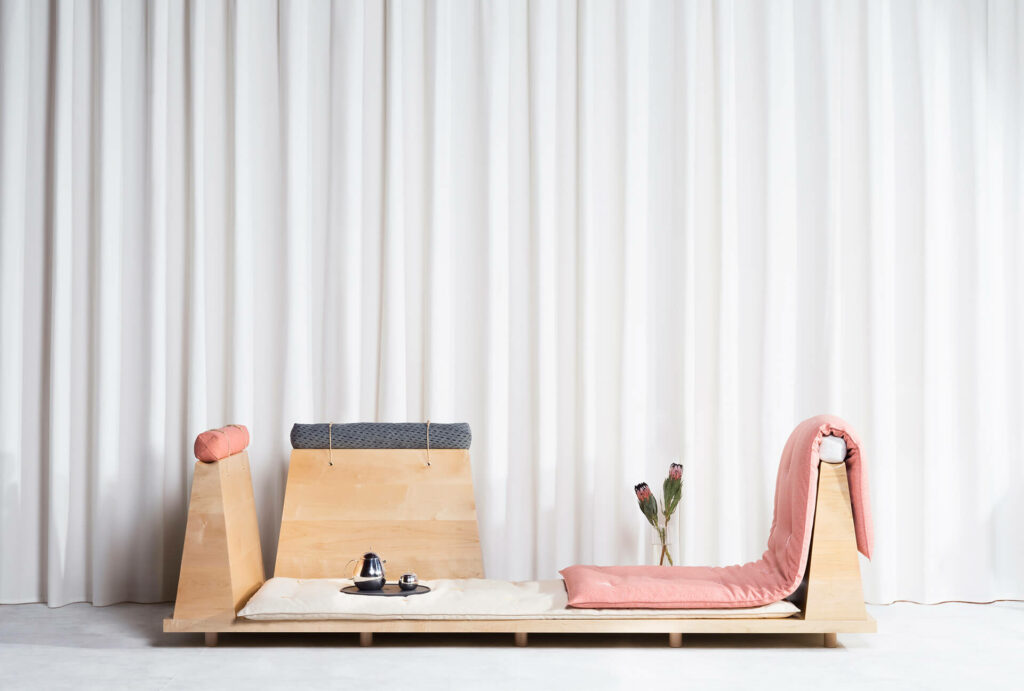 ---
Zabuton Sofa by Umé Studio
California-based design firm Umé Studio has conceptualised a modular sofa comprising traditional Japanese Zabuton cushions, which are usually placed on woven-straw mats known as tatami. The sofa includes a low, maple wood base with grooves, triangular-shaped dividers, Zabuton cushions and bolsters. The wooden partitions can be placed in the grooves in a variety of arrangements, resulting in different configurations such as a bed-like platform or a couch with two seats. Furthermore, a wooden divider can also be placed in the centre of the base. This central divider comes in two variations—a full-height backrest or a low table-like unit with a flat top for cups or plates. Umé Studio collaborated with Japanese furniture brand Takaokaya to make the cotton-filled Zabuton cushions for this design. The wooden frame of the sofa, with its base and dividers, is manufactured in California and coated in a water-based, clear polyurethane.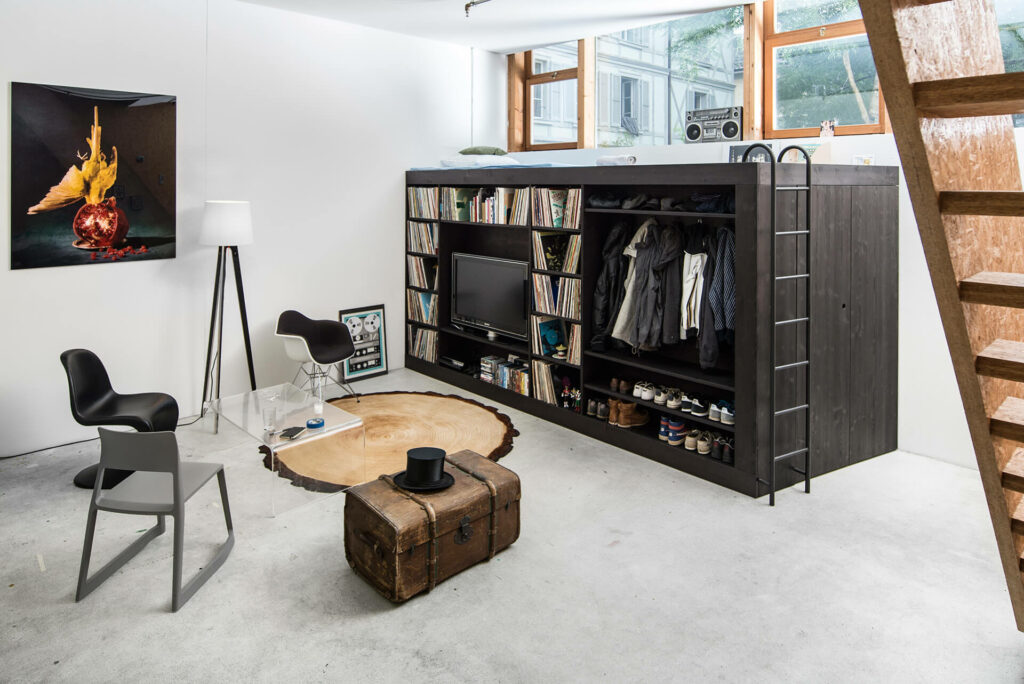 ---
The Living Cube by Till Könneker
Swiss artist and designer Till Könneker has created a compact, freestanding cube comprising a sleeping area and modular furniture elements for small studio apartments. Titled 'The Living Cube', this intelligent unit was originally designed by Könneker for his own one-bedroom apartment. 'The Living Cube' comprises a platform that features a queen-size bed and a room for storage or a workspace underneath. The walls have a series of compartments that can accommodate a 42-inch flat-screen TV, shelves, a fold-down desk, storage for clothes and shoes, and a minibar. These adaptable compartments can be customised depending on individual requirements. 'The Living Cube' units are made with three-layer spruce, stained black and finished with bio-oil.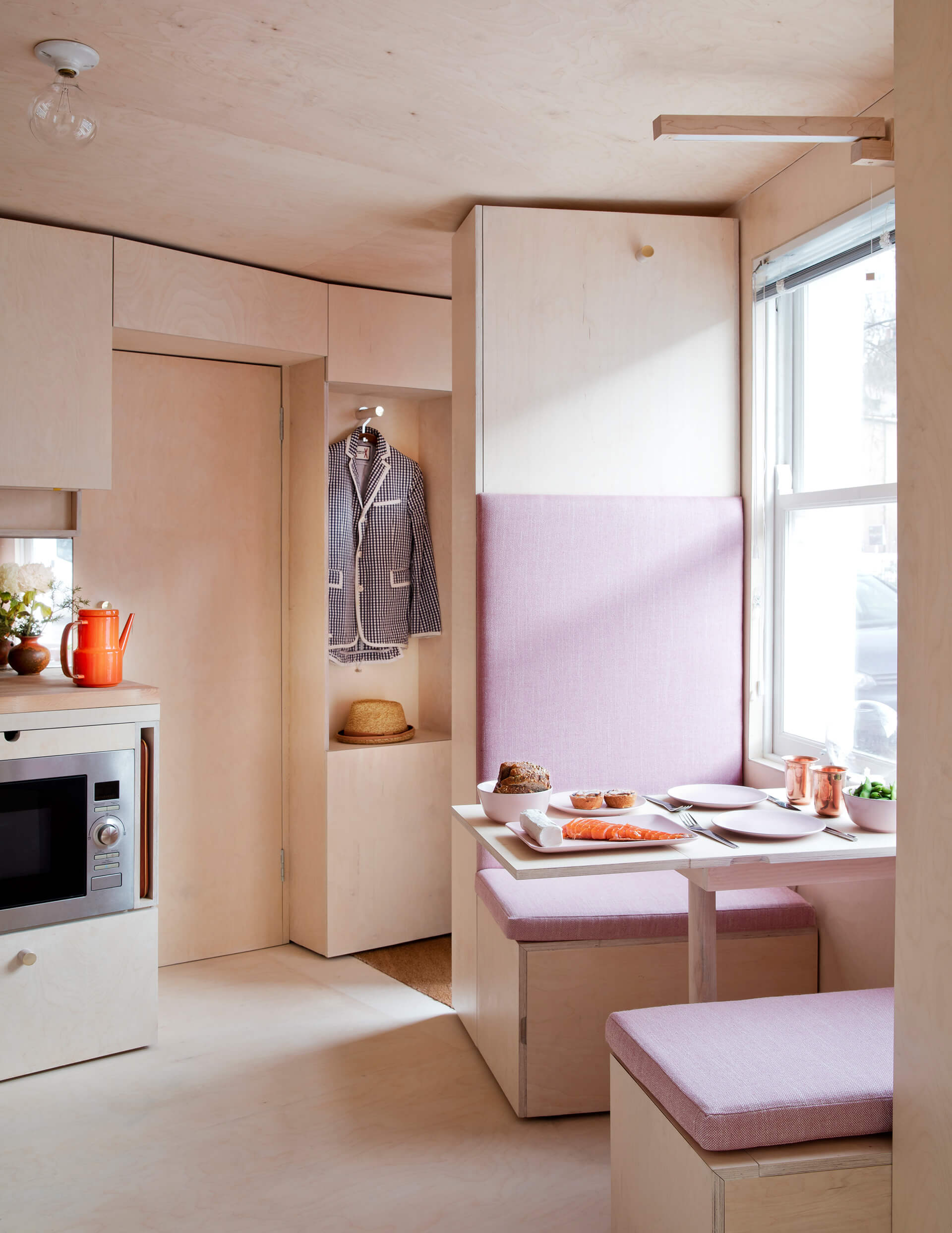 ---
13 Square Metre House by Studiomama
British design firm Studiomama revamped the interiors of a tiny single-storey house in London utilising customised, adaptable plywood furniture. Measuring just 13 square metres, the compact space was overhauled by the studio using a fold-out bed, a standing desk and extendable dining benches with pink cushions. "A tiny space like this has to be designed like one would design the interior of a caravan or boat. Everything had to be custom designed as there was no room for any off-the-shelf furniture, which was a great challenge. Furthermore, the use of one dominant material has made the space seamless – where floor, walls and ceiling come together as one," states Nina Tolstrup, co-founder of Studiomama.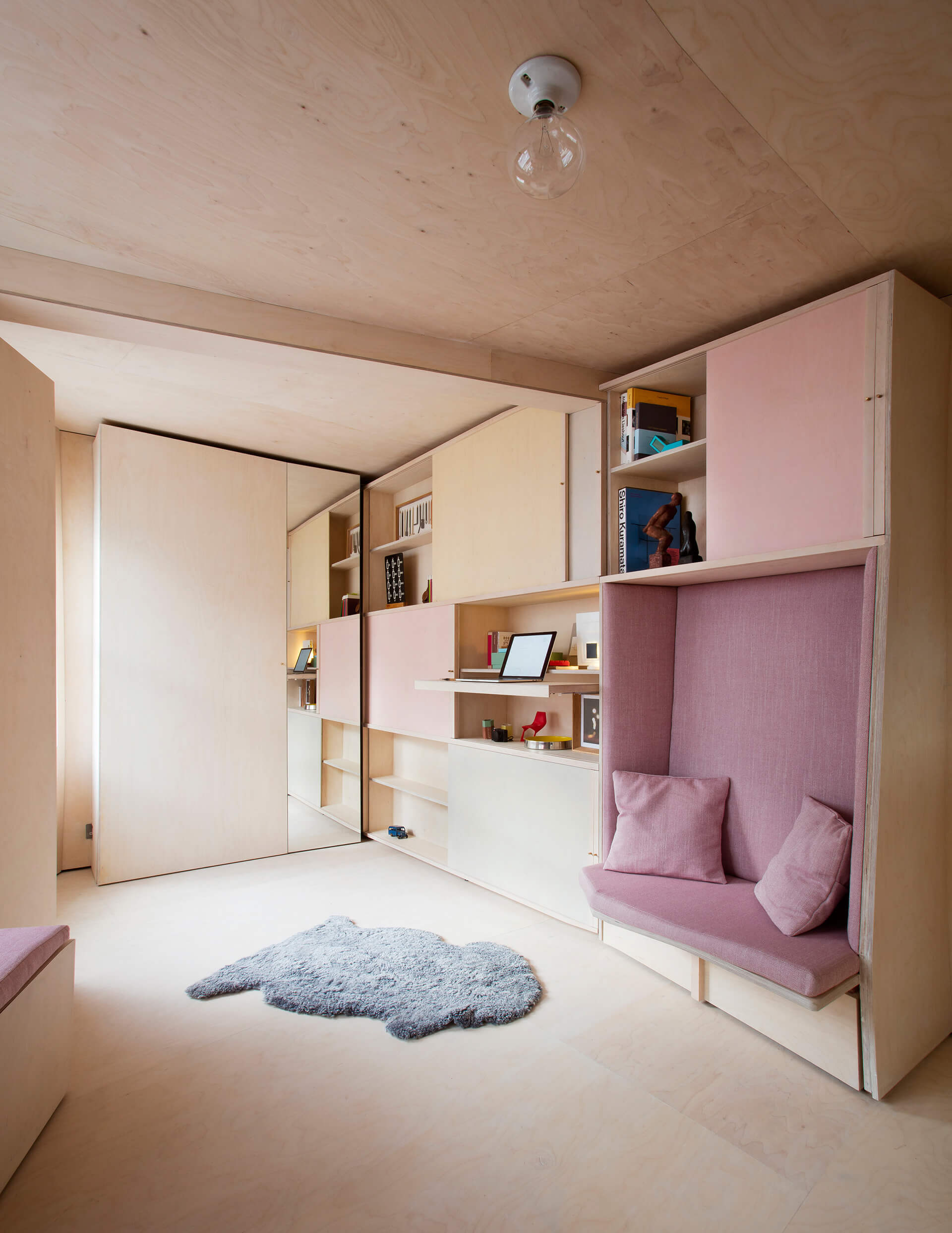 ---
The final cabin-like residence comprises custom-made, modular sections of plywood furniture. Each unit serves as a different space such as a bedroom, a work desk, a lounge, a kitchen, a bathroom, a closet storage and a dining area.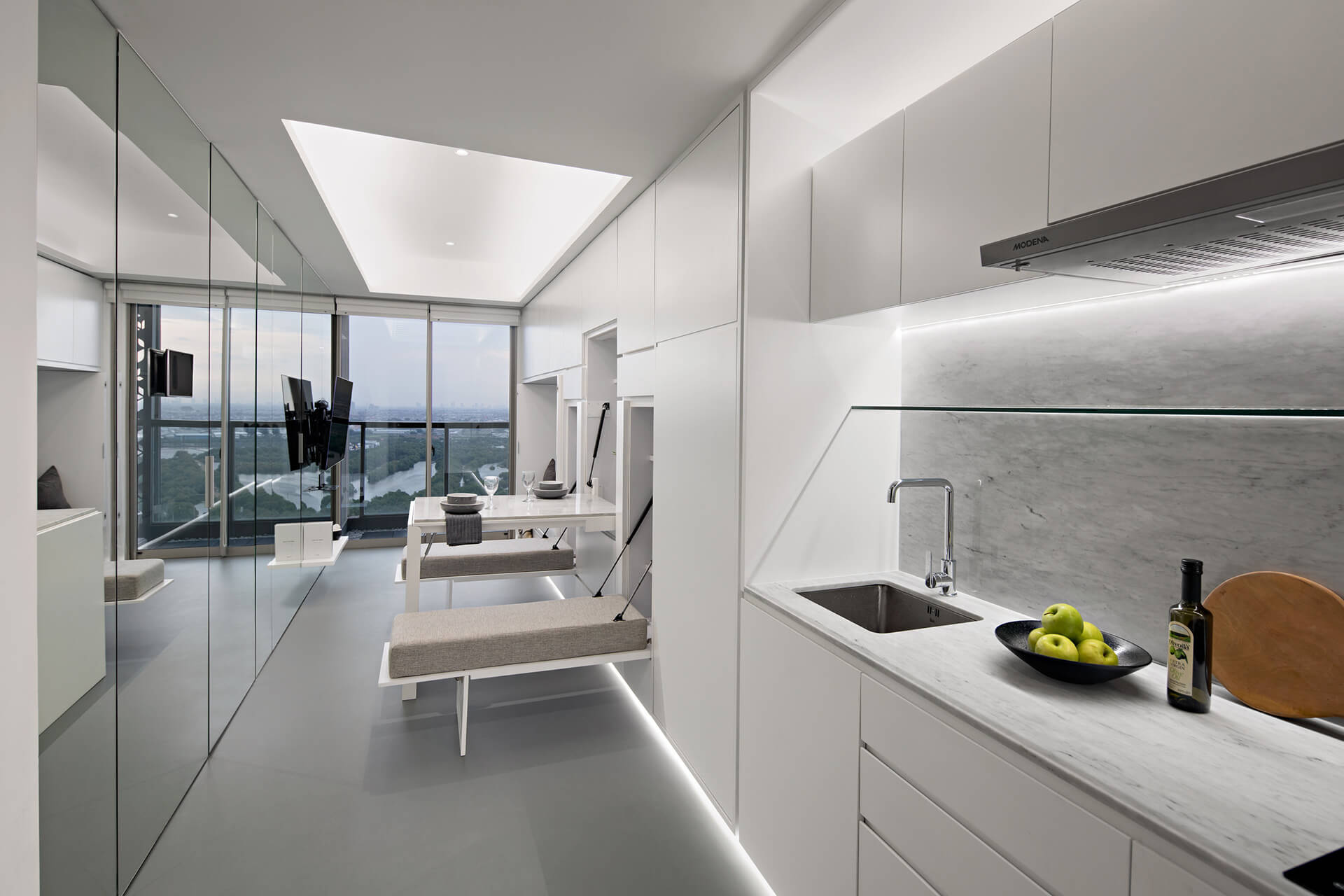 ---
The neutral hues, a minim
3-in-1 Living by K-Thengono Design Studio
Indonesian architecture studio K-Thengono was commissioned by a young couple to transform a 16 sqm living space into a kitchen, dining and living room. The firm constructed a transformable built-in cabinet, which is adaptable for various uses throughout the day. The cabinet includes fold-out furniture pieces such as a dining table and benches, a sofa, shelves and ample storage. Dining benches and table fold out of the wall to transform the space into a dining room. A sofa is embedded in the cabinet using the Bi-Fold system to save more space. When all the panels of the cabinet are closed, an empty living space is revealed, which can be used for the residents' home workouts and yoga practice.
Domestic Transformer by EDGE Design
Award-winning Hong Kong architect Gary Chang, founder of EDGE Design, remodelled his 344-square-foot studio apartment into a space with 24 room layouts and "endless permutations". The core of the design involves sliding wall units that are stacked to either side of a central space. These room dividers slide inwards to expose different potential rooms that lie between them. For instance, a panel can be shifted to open out a guest room, a full bath, a walk-in closet, and a home cinema. These moving panels are in fact not only walls, but rather bookcases-cum-cabinets, facing both into and away from the central space. Every space and purpose is similarly achieved through pushing or pulling these large wall-panels that are hung from the ceiling.
---