---
Adding handcrafted ceramic home décor pieces and tableware is an easy way to exhibit your personality and add a touch of intrigue to your home. Ceramics are not only visually arresting but are functional as well. Thus, we have curated this guide of the best ceramics and pottery studios in the country. Save this listicle if you're looking for unique ceramic products to add personality to your homes or want to learn pottery yourself. These are the 6 Indian ceramics and pottery studios that need to be on your radar!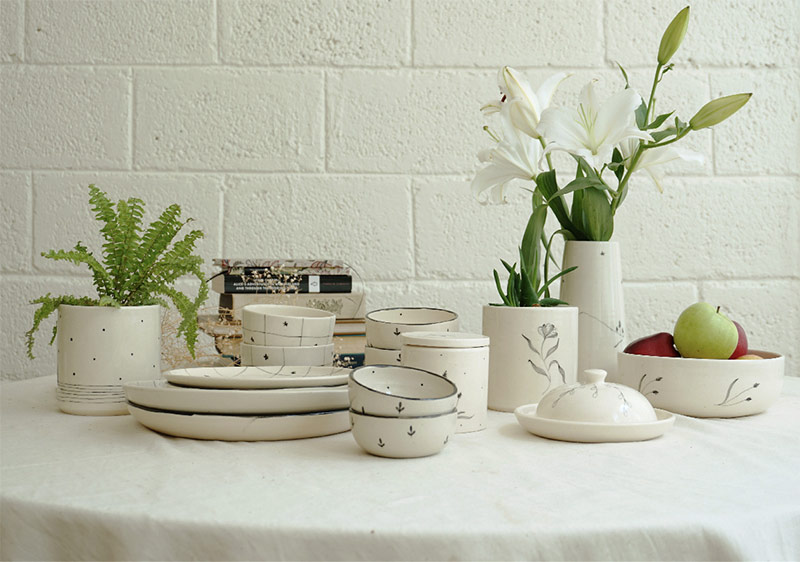 ---
1. Minimal Indian
Established in 2019 by Adrita Sarkar, Minimal Indian sells ​​ceramic tableware, home décor accessories, and table linen with a minimal design style. The Bengaluru-based company showcases Adrita's simplistic design sensibilities and eternal love for ceramics and textiles. Sarkar founded Minimal Indian to celebrate handmade artisanal products and the art of minimalism. The ceramics exhibit minimal yet complex motifs of florals, animals, and geometric forms. The pieces are handmade by expert potters and carefully hand-pained by Adrita. "I have always appreciated the beauty of the old world and am a believer of minimal living. Minimal Indian is conceptualised to celebrate these two philosophies.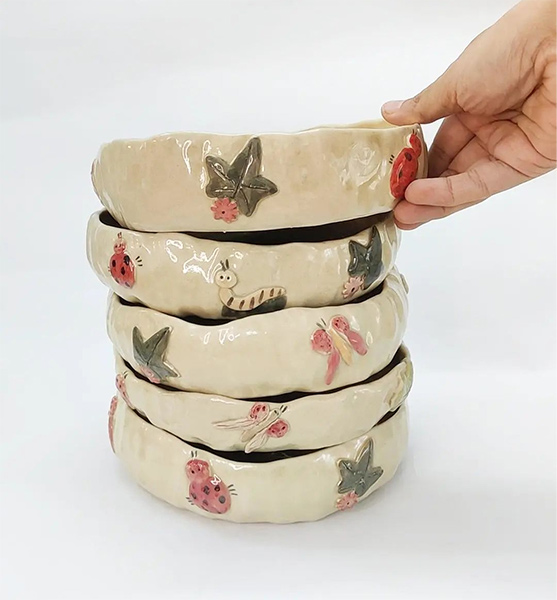 ---
2. Popup Stone Ceramics
Founded by Neha Jainabadkar and Neeraj Kapadia, Popup Stone Ceramics is well-loved for its quirky and experimental ceramics. Exhibiting organic forms and textures, the brand's portfolio includes distinctive ceramic tableware and décor pieces. Each handcrafted piece is a celebration of its imperfection and reflects a unique personality. Popup Stone Ceramics' products are fun and whimsical yet functional. They instantly add intrigue and character to any home. "We at Popup Stone Ceramics are dedicated to slow production techniques, ensuring that each object we create is one-of-a-kind. Our primary service is customisation. We absolutely love making our clients' visions a reality!" states Neha Jainabadkar, co-founder of Popup Stone Ceramics.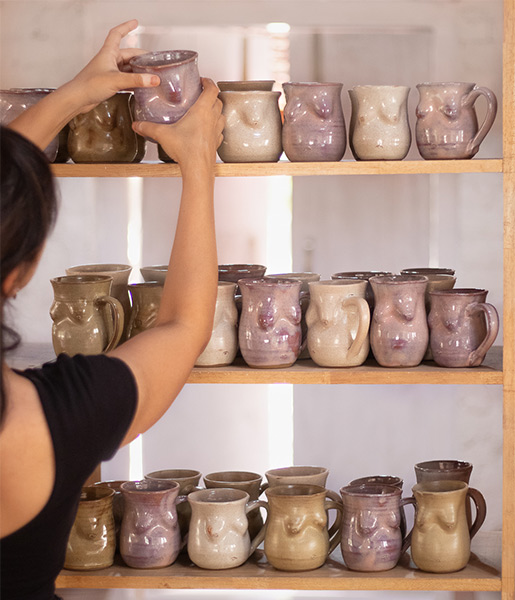 ---
3. Slow Pottery
Located on a mango orchard in a village in Andhra Pradesh, Slow Pottery is a retail store and pottery school. The studio's ceramic products include unique tableware evocative of the female body in soothing hues. As its name implies, Slow Pottery aims to promote hand craftsmanship and slow design. "We offer a 10-week intensive residential pottery course in the spring and autumn of every year, and a beginner's potters wheel online course. In addition to the ceramic products and courses, we like to have lots of conversations on adopting and living a slow lifestyle, which motivates and inspires us to do what we do. In short, I like to call us a pottery studio and store inspired by a slow life!" remarks Nikita Dawar, Founder of Slow Pottery.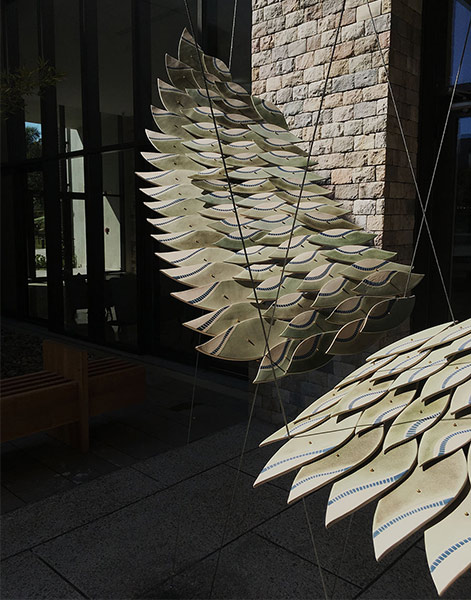 ---
4. The Pottery Lab
Rekha Goyal is a Mumbai-based artist and the founder of The Pottery Lab, a ceramics studio. Her body of work includes site-specific murals and installations. Rekha has done experimental projects in clay for immersive multi-disciplinary experiences and projects to showcase how art can be used as a meditative practice for therapy and well-being. "A few years ago, I started The Pottery Lab, a community art space for ceramics and pottery. The Pottery Lab has been my endeavour to make art and craft easily accessible, so that we all live a little more mindfully. Since its inception, over 2,000 people have experienced the various courses conducted by The Pottery Lab," adds Rekha Goyal, Founder of The Pottery Lab.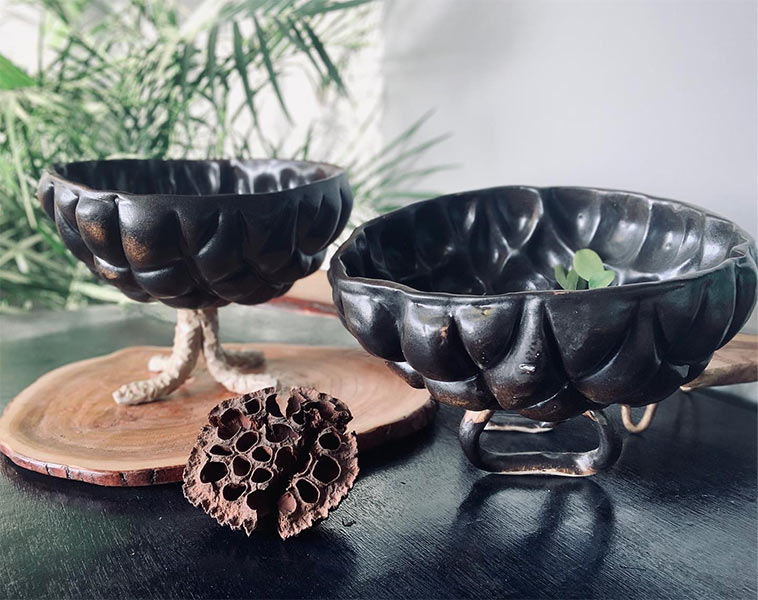 ---
5. Earth Fire Clay
Situated in Gurgaon, Earth Fire Clay is a ceramics studio and retail store helmed by designer Manu Randhwa. This studio is renowned for its tableware, serve ware, vases, and planters. The arresting ceramic offerings exhibit one-of-a-kind organic forms and vibrant hues. Manu primarily experiments in stoneware and terracotta.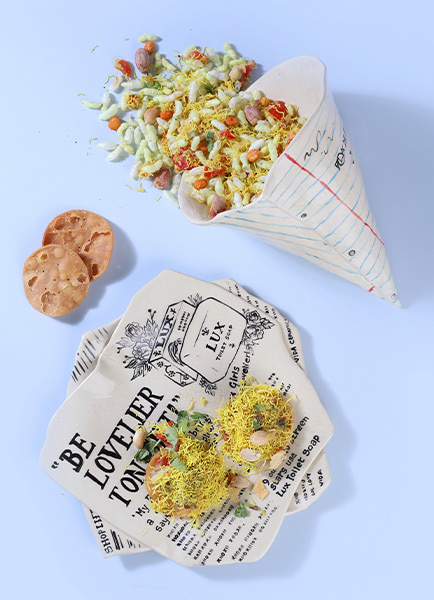 ---
6. Studio Vida
A Mumbai-based art studio by Vidhi Dedhia, Studio Vida retails ceramic pop art and tableware and offers pottery workshops. The collections include ceramic representations of products from our childhood and everyday life that can be used as serveware or art pieces. "Within the four walls of my quaint studio, imagination, creativity, and sometimes memories take life and form. That's why I thought of calling it Vida, Spanish for life. When I started, I created items in my studio as a form of self-expression. Knowing that they have found homes is a wonderful feeling. And that's why today I've established Vida for other like-minded souls to come and create and perhaps take back the same amount of tranquillity that pottery has given me," concludes Vidhi Dedhia, Founder of Studio Vida.
.
---