---
As the Indian summer continues, several travellers are perusing 'best hotels in the world' lists to spend their holidays in balmier climes. Those looking for a bit of home in cities abroad will be happy to learn that quite a few hotels showcase Indian design and architecture for their rich history and luxurious appearance. From plush city hotels to beach-side properties, here's our list of the best hotels in the world that exhibit India-inspired design.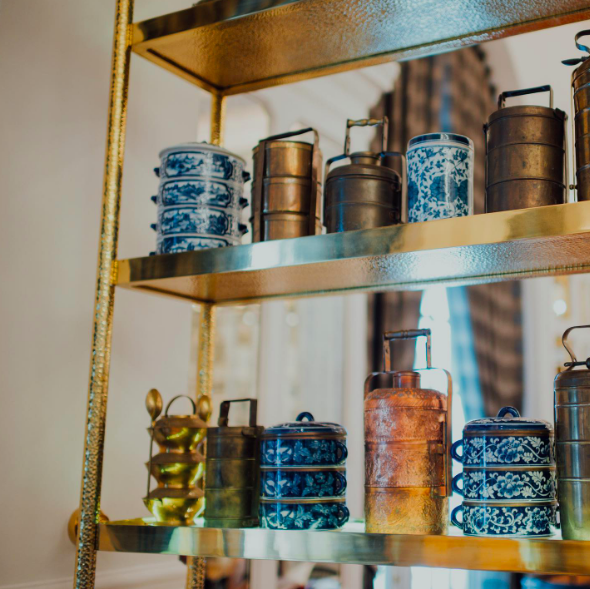 ---
The Raffles Hotel, Singapore
One of the most prominent India-inspired elements in this iconic hotel is the Tiffin Room, a renowned eatery that serves North Indian cuisine in an elegantly designed setting. The Tiffin Room offers a sophisticated ambience evocative of colonial-era India. Designed by interior design studio Champalimaud, this century-old restaurant features a white shell, which houses bespoke neutral furnishings—that are evocative of the coconut, ginger and cinnamon flavours in Indian cuisine—arresting chandeliers, antique Indian tiffin boxes and Chinese vases. At this eatery, Chef Kuldeep whips up delectable dishes from Kashmir, Lucknow, Punjab and Rajasthan. We highly recommend the Tiffin Room's beautifully plated Jhinga Kebab, Gosht Dum Biryani, Murgh Makhani and Malpua with Rabri. Furthermore, guests can eat from an actual tiffin when they order Mera Dabba, a delicious North Indian meal comprising ​​curries, rice, tandoori breads, chutneys and pickles presented in custom-made copper tiffin boxes.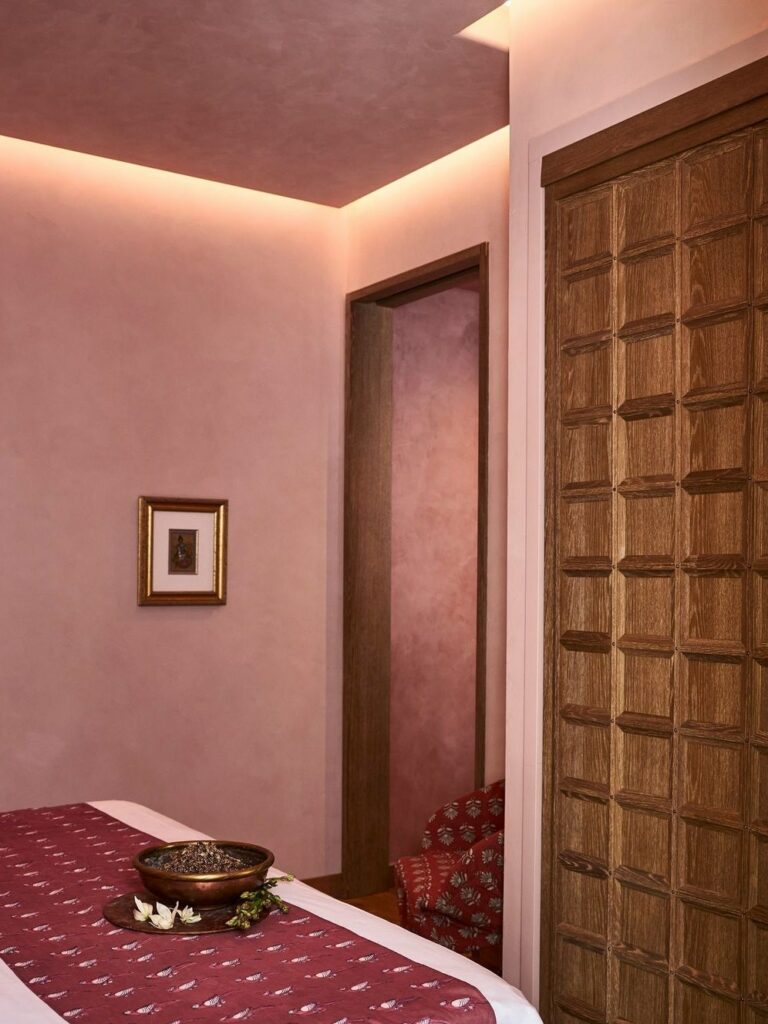 Santa Monica Proper Hotel, United States of America
Located in a scenic neighbourhood of Los Angeles, this upscale hotel's spa design is inspired by the ancient Indian healing practice of Ayurveda. Surya Spa, the wellness centre, offers treatments curated by internationally acclaimed Ayurvedic Panchakarma expert Martha Soffer. Crafted by well-known interior designer, Kelly Wearstler, the spa features six treatment rooms, a meditation room, patios, lounges, a kitchen and an interactive retail space. Wearstler studied Ayurveda and its history while designing the space so each of the treatment rooms features natural, earthy materials and textures, and is painted in hues evocative of the Ayurvedic doshas—Vata, Pitta or Kapha. Additionally, the space also includes additional Indian design elements, including vintage hand-blocked saris and sculptures of Indian deities. Surya Spa's four-handed massages, Ayurvedic cooking classes, yoga and transcendental meditation sessions, and on-site customised culinary experiences come highly recommended.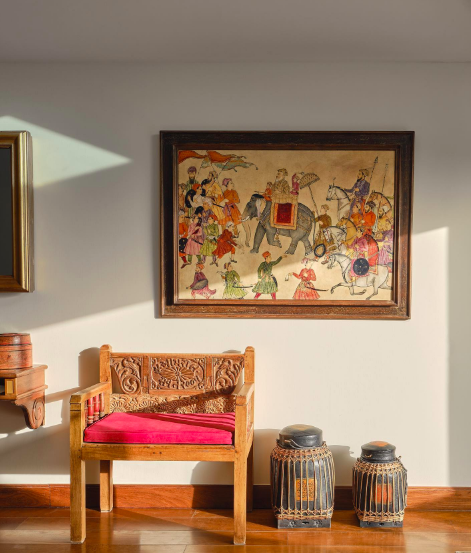 ---
Airelles Saint-Tropez, Pan Dei Palais, France
Built in 1835 by Jean-François Allard, a French general, this quaint hotel was a gift to his wife, ​​the Indian princess Bannu Pan Deï. Used as their private residence, the mansion was later converted into a luxury hotel housing twelve rooms and suites. Presently, this celebrity-favourite property offers guests a unique stay that merges Indian interiors with French hospitality. The hotel's colour scheme features vibrant hues like royal blues, deep purples, rich reds and golden accents. Each guest room and suite has a unique design inspired by and named after a different Hindu deity. The well-appointed stays comprise artworks, decor accessories and soft furnishings sourced from India. The wallpapers, fabrics and furnishings showcase traditional Indian patterns, such as paisley, ikat and delicate floral designs.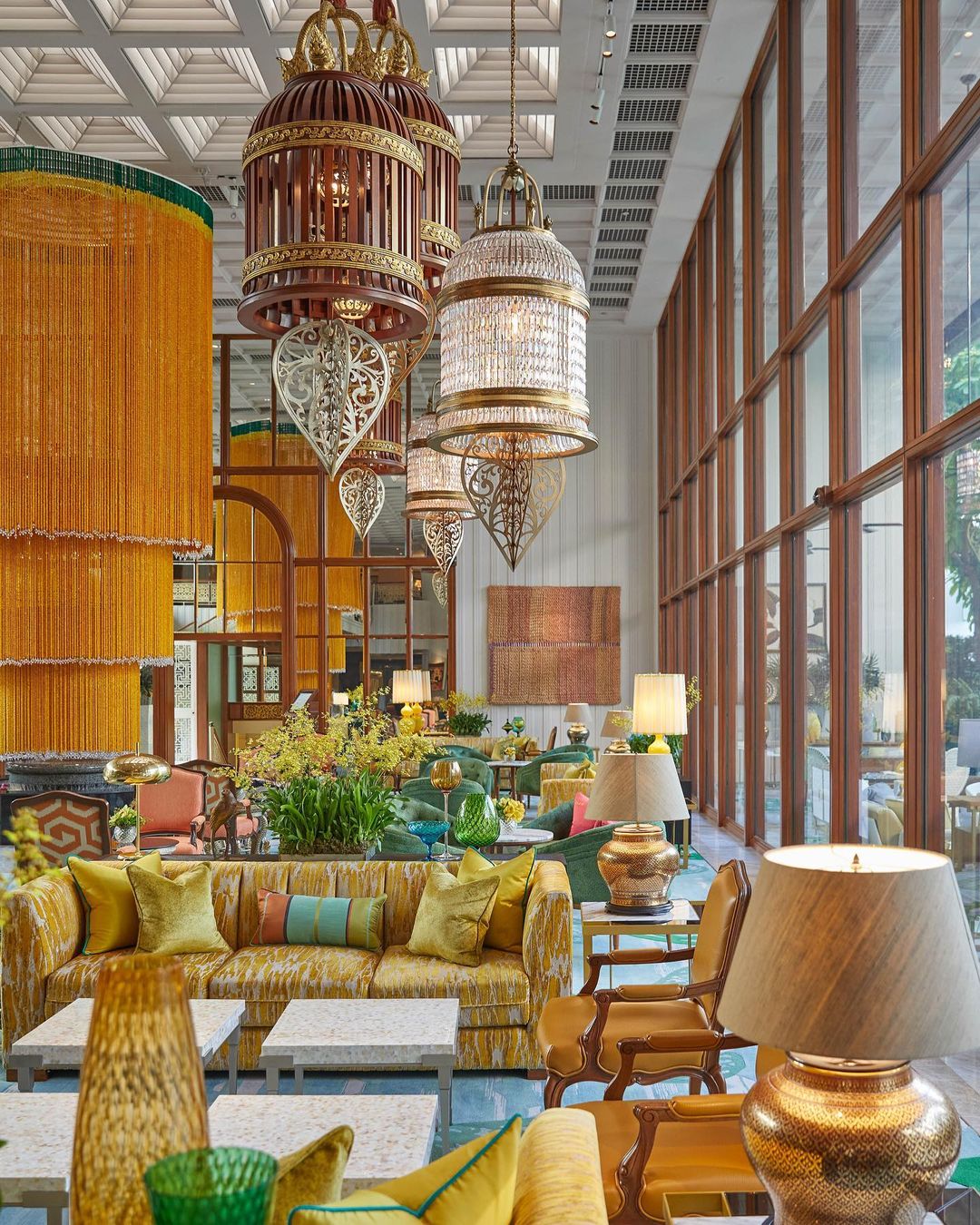 ---
Mandarin Oriental, Bangkok, Thailand
Refreshed by boutique interior design firm DESIGNWILKES, this lavish hotel is located on the banks of the serene Chao Phraya River in Bangkok. The property's architecture and interiors are a blend of Indian and Thai design and feature elements such as domes, arches and geometric patterns borrowed from Mughal architecture. Mandarin Oriental is also home to beautiful Indian artefacts, including antique furniture, sculptures and decorative pieces, and Indian textiles like silk, brocade and embroidered fabrics. The hotel's Insta-worthy Authors' Lounge is decorated with Indian furnishings and artworks, creating a cosy and intimate atmosphere. Furthermore, the property hosts Indian music shows, dance performances and themed dining experiences.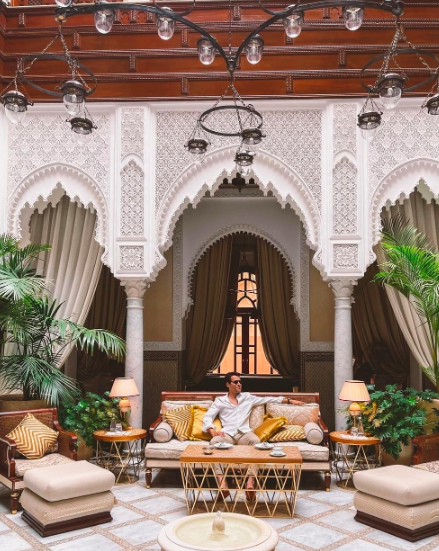 ---
Royal Mansour Marrakech, Morocco
The Royal Mansour Marrakech features a collection of 53 sumptuous riads (a traditional Moroccan and Andalusi interior garden or courtyard) with private plunge pools. While the property is a celebration of traditional Moroccan design and architecture, it showcases plenty of Indian design elements. This 5-star hotel features symmetric layouts, archways, ​​lattice screens and water features which are inspired by Mughal architecture. ​​The property's library also has Indian-inspired elements such as hand-carved wooden screens and antique furnishings.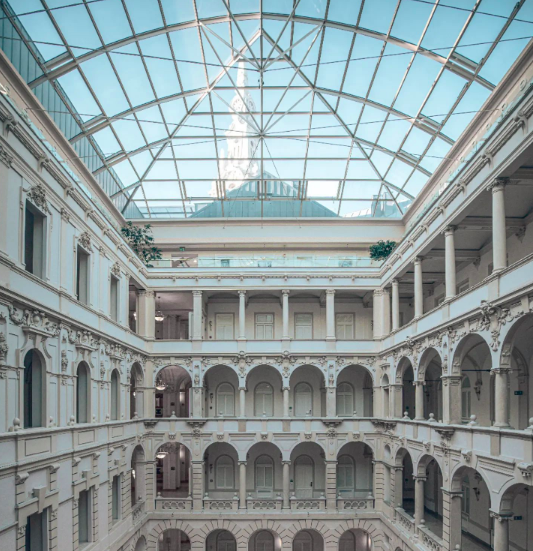 ---
Anantara New York Palace Budapest Hotel, Hungary
Situated in the historical downtown of Budapest, this high-end hotel consists of 185 magnificent guest rooms and suites. The property is housed in a building that was constructed in 1894 and blends elements of Italian Renaissance, Baroque, Gothic, Art Nouveau and Indian architecture. In particular, the hotel comprises a light-filled central atrium, which is a nod to the verandahs that are a common feature in traditional Indian architecture.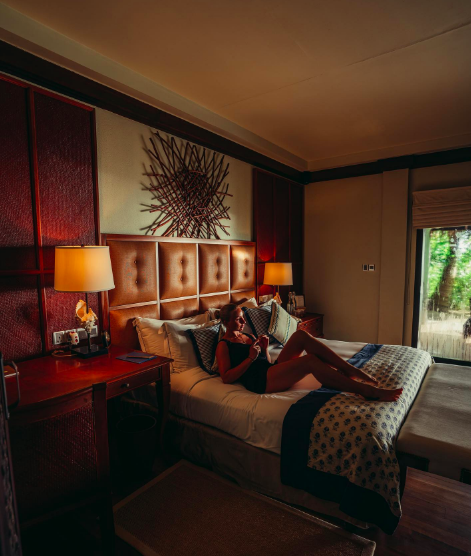 ---
The Taj Exotica Resort & Spa, Maldives
Located on the Emboodhu Finolhu island and encompassed by stunning coral reefs, Taj Exotica is a favourite of celebrities like Taapsee Pannu and Lara Dutta Bhupathi. This tranquil resort offers over-water and on-the-beach villas that provide unobstructed vistas of the Indian Ocean. While the hotel's architecture is Maldivian, its interiors feature vibrant textiles, mosaic tilework, carved stone details, intricate woodwork and luxurious textiles, which are influenced by Indian design.
---