---
A nursery is an important room in any home. ​​It offers a safe and comfortable space for your kids to sleep, play and learn. It is also where you and your children spend most of your time together. Thus, it should be a room that is aesthetically pleasing yet functional. We have curated a guide of striking children's bedrooms and nurseries designed by renowned Indian interior designers.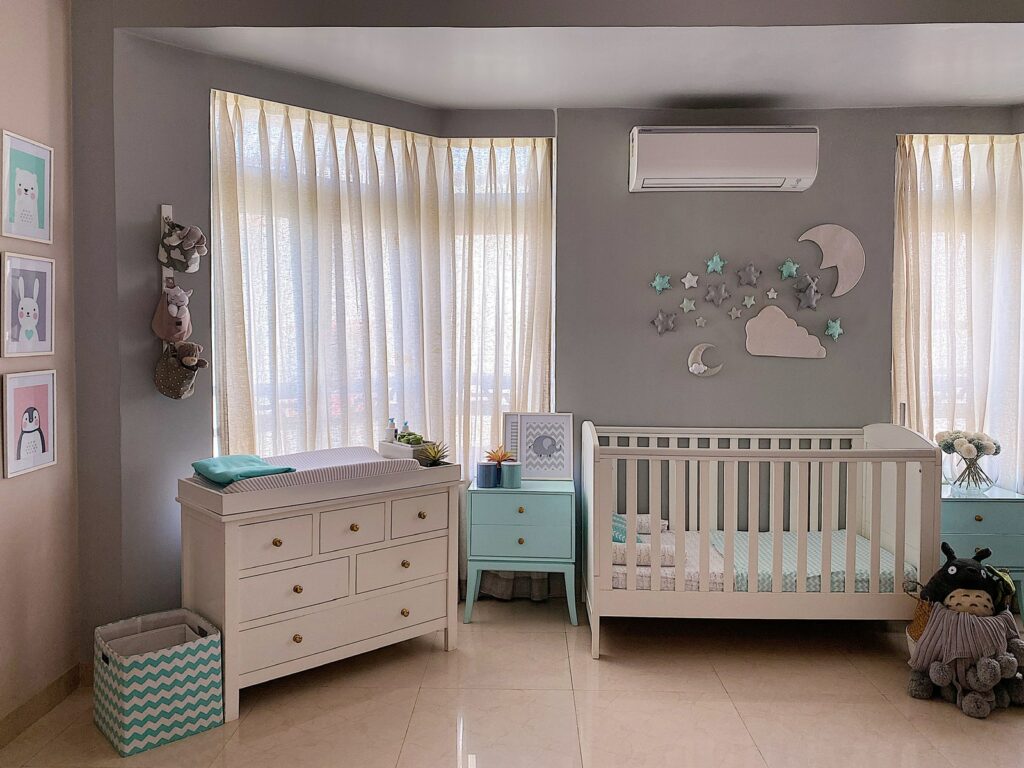 ---
An Elegant Nursery By Walls and Things
Interior stylist ​​Janavi Javeri, founder of Walls and Things, has crafted a tranquil nursery room. This serene space has a grey-and-white colour scheme, the ideal foundation for colourful accents and accessories. It features a crib, a diaper changing station cum chest of drawers, a day bed, and an armchair and pouffe. Decor pieces such as star motifs above the crib, soft toys, and knit throws add a sense of playfulness and comfort to the room. Furthermore, the nursery comprises innovative storage solutions. The furniture and soft furnishings are from brands such as Bharat Furnishing, Mothercare, Etsy, Urban Ladder, Pepperfry, Amazon India, and CB2 by Crate & Barrel. "Storage is an absolute must for every baby's room, and we came up with creative solutions such as a wall diaper caddy and neatly styled bookshelves. The addition of decorative storage baskets and pouches, which are placed around the room, ensure a clutter-free space. Overall, the nursery is playful and functional," says Janavi Javeri, founder of Walls and Things.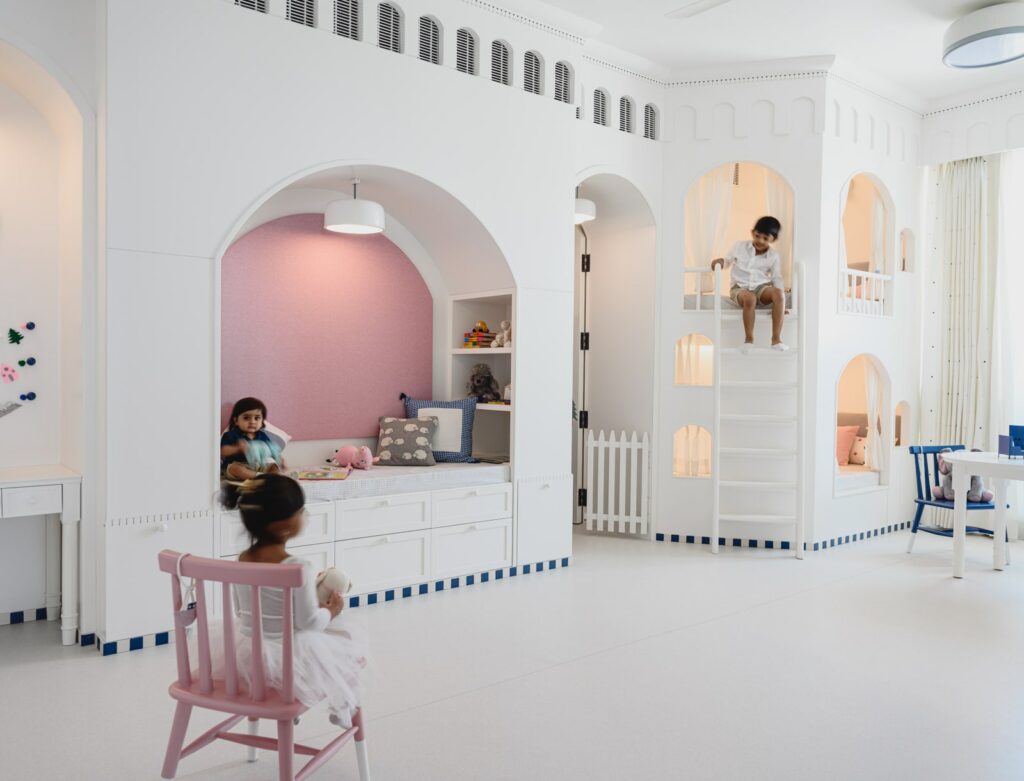 ---
The Winter Castle By Eshita Marwah
Situated in Surat, this child's bedroom takes inspiration from children's fairytale books. Known as The Winter Castle, it features bespoke bunk beds reminiscent of a white castle, a canopy-covered dressing table, and a central play area. In addition, the bedroom features a terrazzo-type white vinyl flooring by Forbo and a colour blocked mosaic tile skirting, which is ideal for the children to play on. "My favourite elements are the canopied dressing area, and the lovely little picket fence in front of the hand-painted door of the dressing area and bathroom. I designed the artwork on the wall and the door in collaboration with Rogan Designs, and they executed it on-site. The ceiling was designed to showcase the castle theme, and the air conditioner ducts placed on one side were made to look like little mouse houses," says interior designer Eshita Marwah.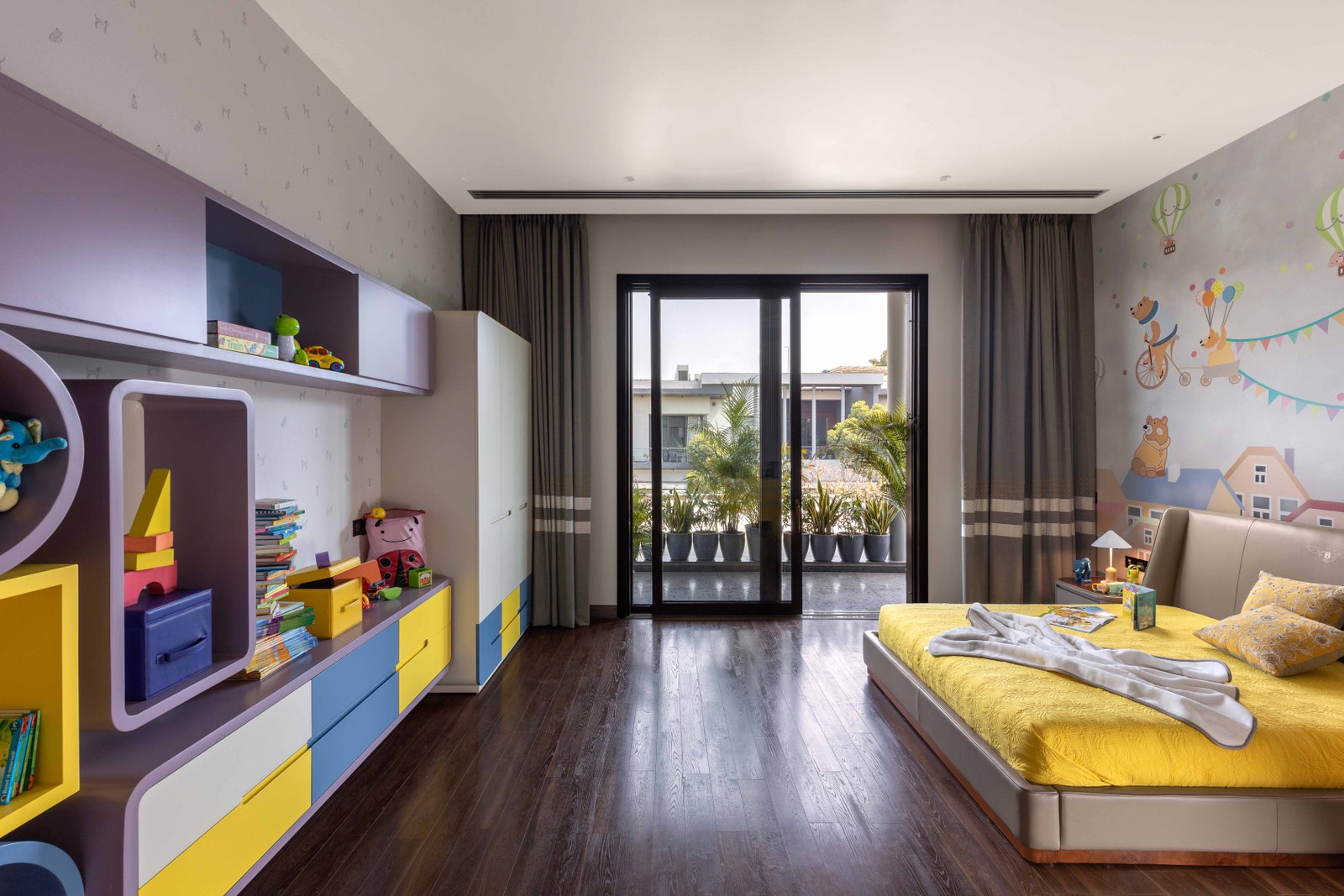 ---
An Airy Child's Bedroom By Design Deconstruct
New Delhi-based Monica Chadha and Rishabh Kapoor of Design Deconstruct have crafted an inviting bedroom for a child. The space houses fun, animal-themed wallpapers, bespoke furnishings in geometric forms, bright yellow bed linen, and floor-to-ceiling glass windows. The standout element of the bedroom is the custom-made desk and storage area that comprises open, geometric shelves in arresting hues to house the child's toys. Moreover, the wooden flooring brings warmth to the bedroom. Bright hues and simple geometric forms help craft an inviting space.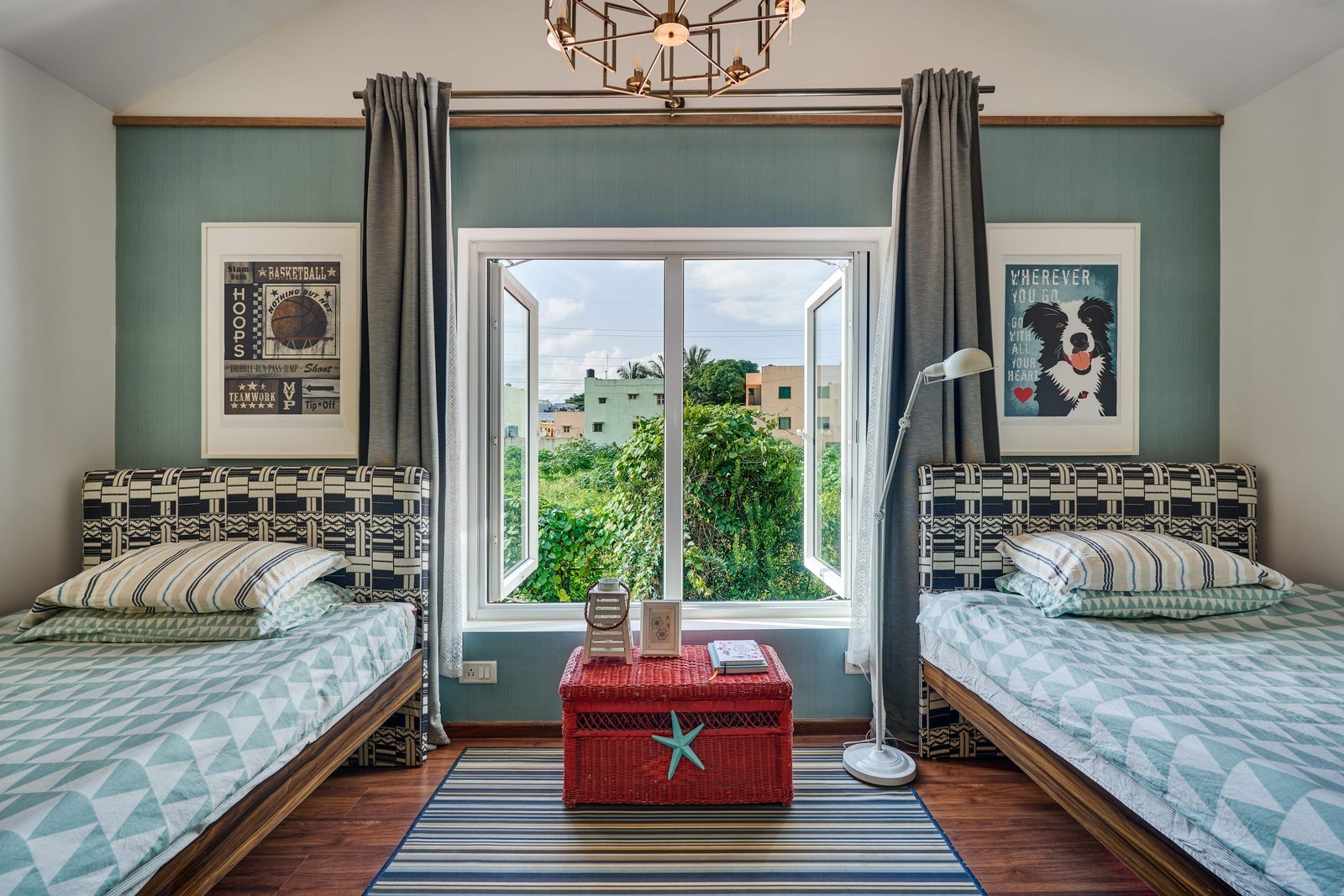 ---
A Symmetric Bedroom For Two Kids
Ganesh Nair, the founder of Whitespace, has conceptualised the interiors of his own home in Bengaluru. The lavish bungalow has a bedroom and a study area for his two children. The bedroom comprises two single beds and showcases a play of symmetry. This room has a contemporary design aesthetic with dark green wallpaper, white-framed glass windows, a modern chandelier, and bed sheets from Ikea. Additionally, the study room is a warm space equipped with ​​​​​​two grey desks, a low seat overlooking the garden below, bookshelves, and a comfortable yellow sofa. The furnishings were custom-made in Bangalore.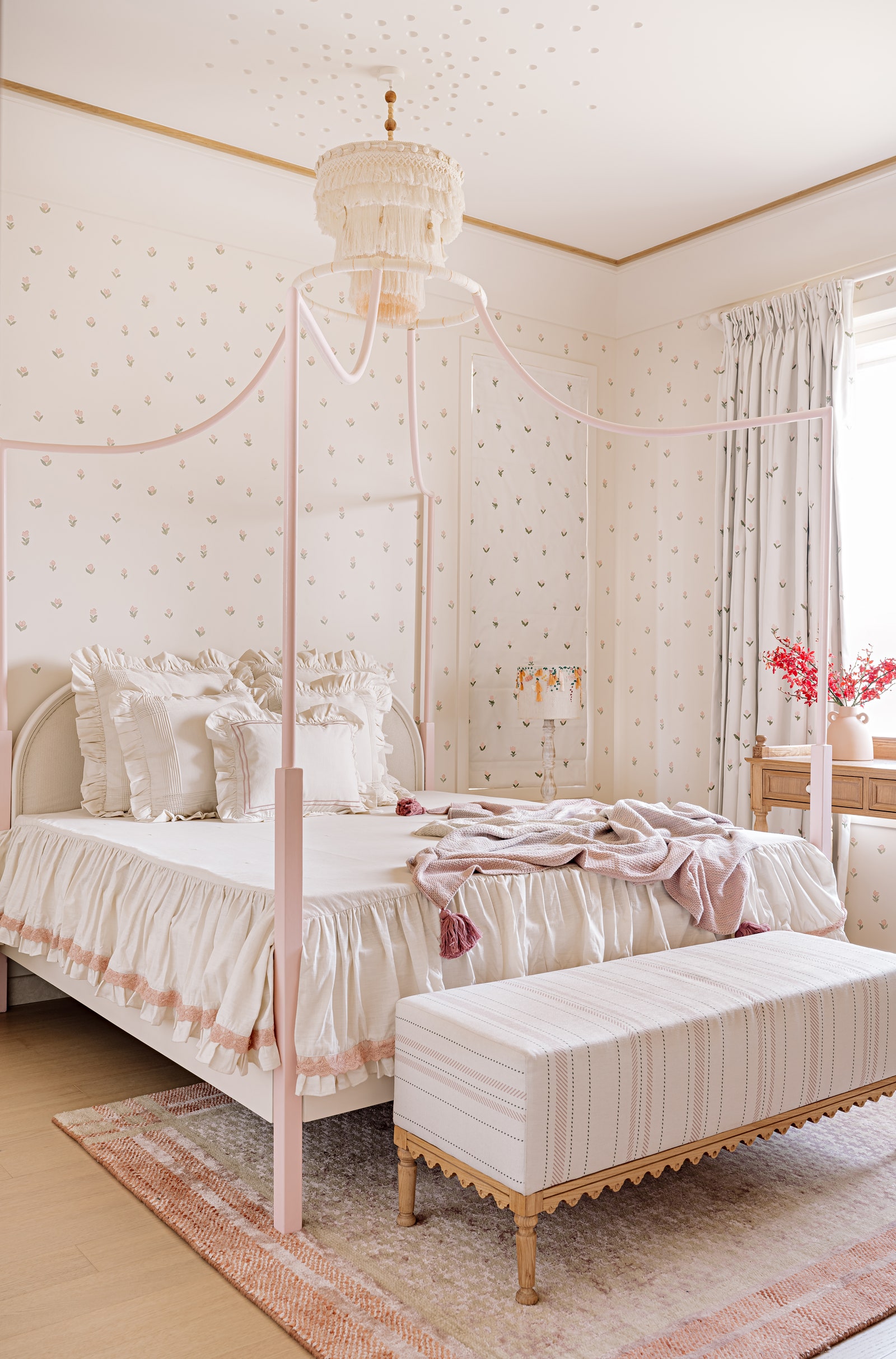 ---
​​
The Storybook By Eshita Marwah
The Storybook is a pastel pink bedroom for a young girl. Highlights of the room include a four-poster bed, bed linen with frills, a charming dressing table, and a floral motif hand painted on the walls that extend to the curtains. "For this bedroom, we have used bespoke hand-painted motifs on the walls and continued them to the curtains. We worked with different teams to ensure the colours, patterns, and the exact sizing of the hand-painted motifs on the walls matched those embroidered on the curtains," remarks interior designer Eshita Marwah. This bedroom houses custom-made furnishings. The bed linen is custom-made by Cottons and Satins, and the rug is from Jaipur Rugs.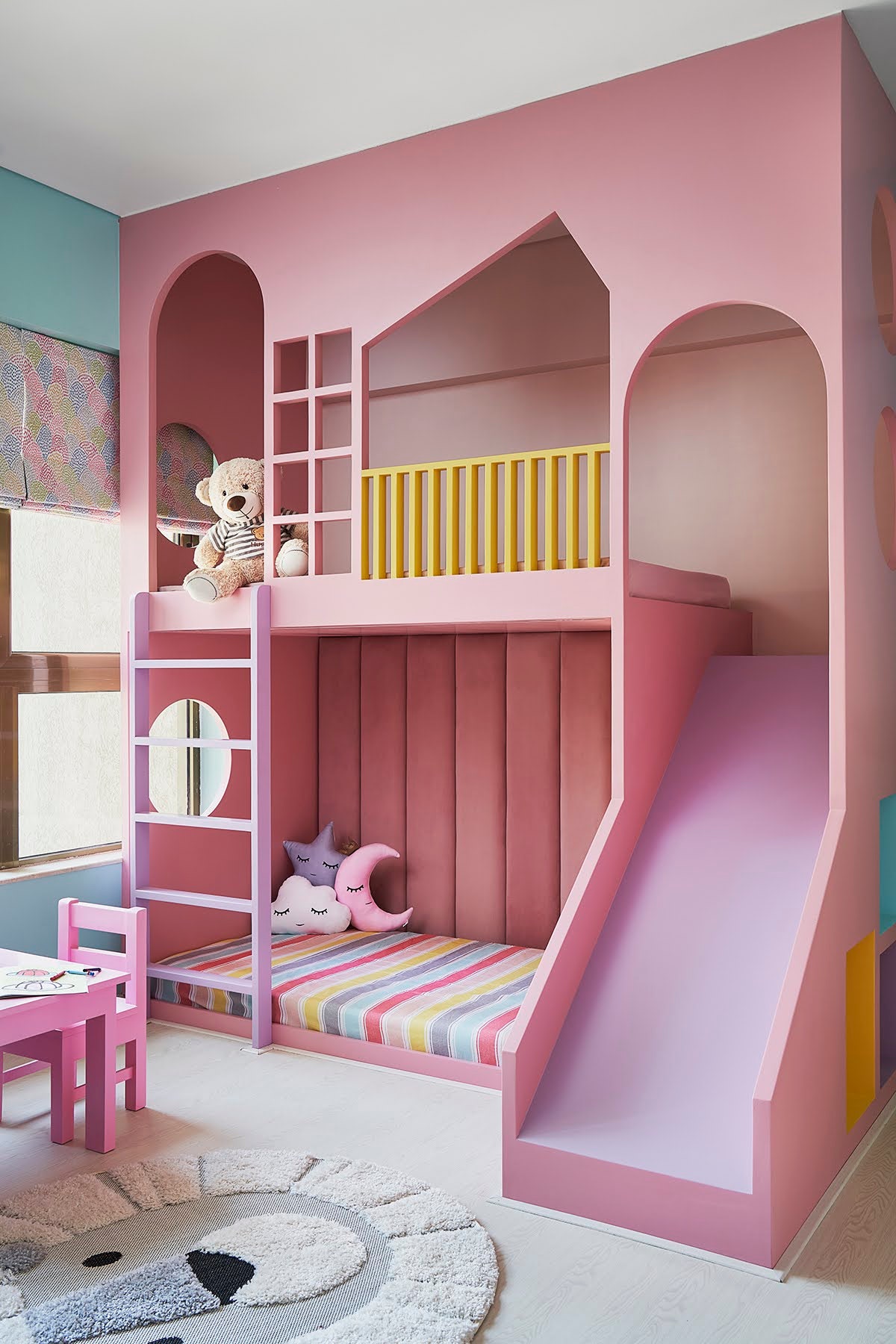 ---
​​​​A Playground-themed Room By ZERO9
​​Architects and designers Anu and Prashant Chauhan of ZERO9 have crafted a fun pink bedroom for a young girl. Located in Mumbai, this unorthodox bedroom is inspired by a playground. The space exhibits a pastel colour palette, including light shades of pink, purple, and blue. The room features a custom-designed bunk bed, which is evocative of a slide in a child's playground. It also houses a desk, a drawing table, and climbing bars. "The daughter's bedroom is a fantasy land with a bunk bed, which gives her extra space to read, play and sleep in the same structure. The customised wallpaper and wardrobe add to the dreamy vibe of this space," remarks Prashant Chauhan, co-founder of ZERO9.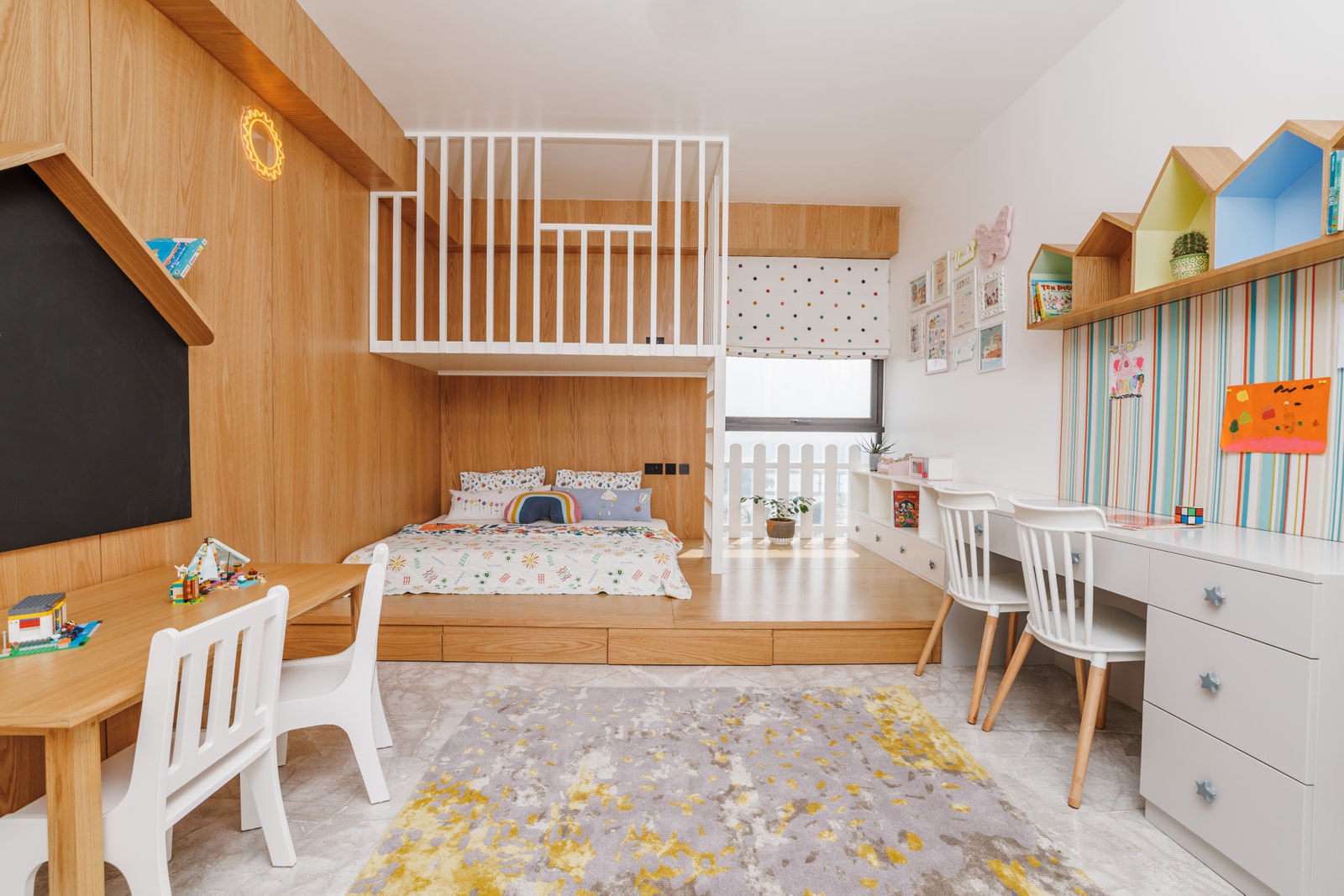 ---
A Whimsical Kids' Bedroom By Peekaboo Interiors
This light-filled bedroom has a platform bed with tons of storage and a lofted nook for the child to read or play board games in. The room has a dedicated space for schoolwork with a bulletin board and house-shaped open cubbies in vibrant colours. Opposite the desk, is a concept activity corner with a matching house-shaped blackboard, an activity table, and chairs that can withstand the weight of adults as well. "The client's key concern was safety. So we cordoned off access to the large glass windows, with a picket fence that enables the children to admire the stunning views in a safe manner. We designed the room to be an oasis of peace and tranquillity, peppered with little accents to spark imagination and encourage originality," concludes Garima Agarwal, founder of Peekaboo Interiors.
---