---
To meet the need for things to do when the weather is bad, numerous indoor amusement parks have been constructed around the world to provide year-round fun. Some of these parks are new and others have been around for a while, but are offering novel offerings. From the best water rides to virtual reality adventures and even an indoor rainforest, these 9 indoor parks offer a wide spectrum of fun experiences. weekend getaways showcase arresting architecture and scenic natural landscapes, and offer quietude. From picturesque beach hotels to charming mountain retreats, this list of weekend getaways has something for everyone!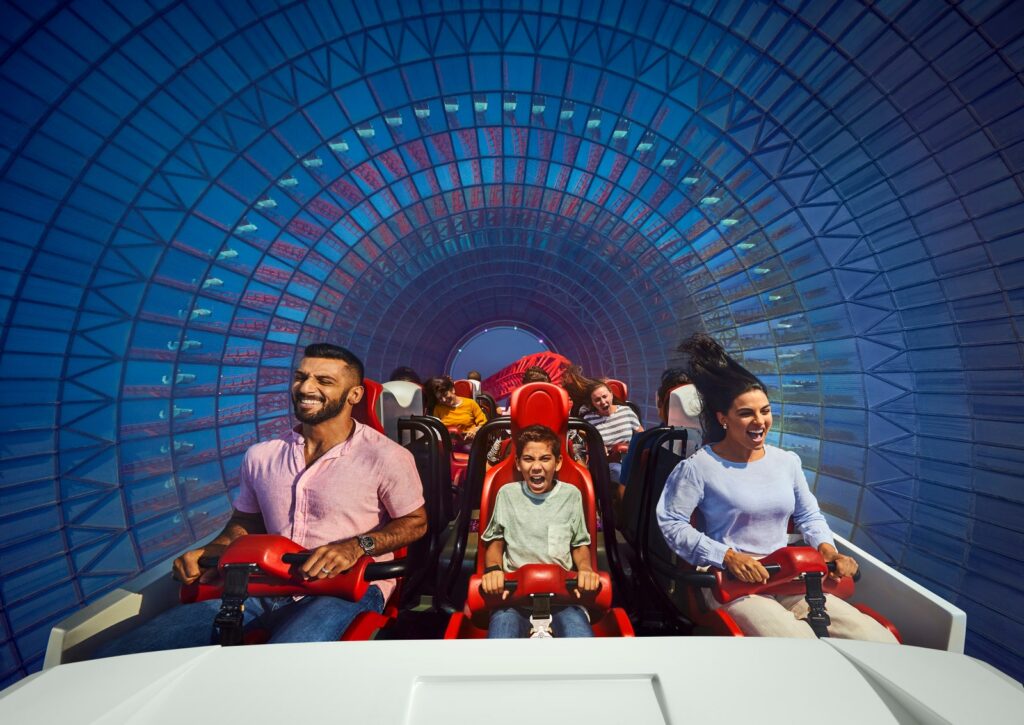 ---
1. Ferrari World Abu Dhabi
Situated on Yas Island, and open 365 days a year, the first Ferrari-branded theme park is ideal for all adrenaline-seekers. This indoor park features the Formula Rossa, the fastest roller-coaster, which takes people from 0 to 240 km/h in 4.9 seconds while soaring to heights of 52 metres. Furthermore, the adventure park also comprises more than 20 exhilarating and educational rides and attractions. We highly recommend Ferrari World's Roof Walk experience. Guests can soak in the spectacular views of Yas Island and Abu Dhabi's skyline while walking along the theme park's structure. Visitors can also go zip lining, which takes them through the highest roller coaster loop.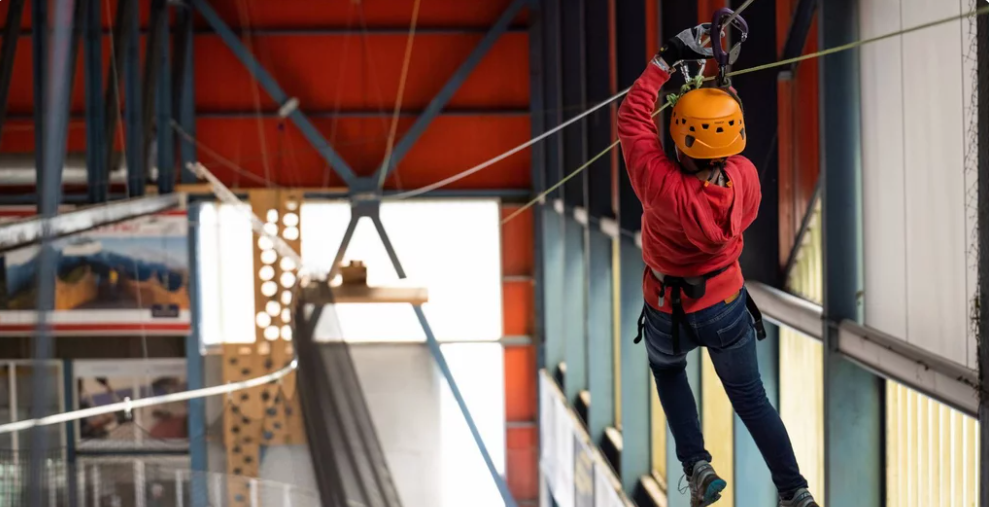 ---
2. Indoor Rope Adventure Park Grindelwald, Switzerland
The Indoor Rope Adventure Park in Grindelwald, Switzerland provides adventure seekers a one-of-a-kind indoor climbing experience. The largest indoor rope park in Europe, Indoor Rope Adventure Park Grindelwald, is the ideal place for families to complete various rope courses. This park provides introductory circuits for beginners as well as tough routes that require slightly more strength and courage. Moreover, the park has safety equipment and experienced instructors who ensure that visitors can safely participate in exciting indoor climbing adventures.
3. Aquariaz, France
Aquariaz is a tropical-themed indoor waterpark with a lazy river, several slides and several pools of different depths, located in an upscale ski French mountain resort. Around a water tree, the youngest ones can enjoy water jets and slides. The more adventurous ones can try the rock climbing wall or the 'Slidewinder' for extreme sliding. To relax, guests can enjoy the lazy river with weak currents, the massage bubble baths, or the outdoor jacuzzi. Aquariaz's expert team also provides swimming lessons, and this temperature-controlled water park is enjoyable in the winter months after a day of skiing. Whether you know how to swim or not, you are bound to have fun at this indoor park.
​​https://www.instagram.com/p/BNwCciMj3GY/
4. Ski Dubai
Located in the ​​Mall of the Emirates, Ski Dubai is the only indoor ski resort in the Middle East. In 2022, for the seventh year in a row, Ski Dubai was awarded the 'World's Best Indoor Ski Resort' by the World Ski Awards. Featuring an indoor ski area of 22,500 square metres, Ski Dubai ​​features slopes for beginners and advanced skiers. At this indoor ski park, visitors can learn skiing or snowboarding from some of the finest instructors. The park also hosts the 'March of the Penguins' show daily, where visitors can interact with penguins.
​​https://www.instagram.com/p/CoB7dvGOyb5/
5. Jewel Changi Airport, Singapore
The Jewel, a lifestyle destination in the heart of Singapore Changi Airport, greets visitors with a majestic indoor waterfall that serves as an arresting, dramatic centrepiece of the building. An jaw-dropping indoor rainforest and luxury mall hybrid, Jewel transforms the dreary airport experience. It houses a striking geometrical shape to face all three existing terminal buildings with the sky train track running through it. The Jewel comprises more than 2,000 trees and palms and over 100,000 shrubs. These plants include approximately 120 species and originate from countries such as Australia, China, Malaysia, Spain, Thailand, and the USA. The building also features award-winning lifestyle, dining, and retail options from a variety of international and local brands.
https://www.instagram.com/p/Co8nbAjL27M/
6. DreamWorks Water Park, New Jersey
The largest indoor water park in North America, Dreamworks Water Park features a large wave pool, a bubbly lazy river, and a number of DreamWorks-themed water rides and attractions. This theme park's water bodies are set to temperatures of around ​​27 °C, making it a great experience in the winter.
​​https://www.instagram.com/p/B9jRQLdneUE/
7. Lotte World, Seoul
Lotte World is an expansive recreation complex in Seoul, South Korea. It comprises a large indoor theme park—Lotte World Adventure, an outdoor amusement park known as Magic Island, an artificial island connected by a monorail, high-end shopping malls, a high-end hotel, an aquarium, a water park, a Korean folk museum, sports facilities, and movie theatres. Lotte World Adventure is the world's largest indoor amusement park, with fun rides, parades and performances, and food from around the world.
​​https://www.instagram.com/p/CoEuAXlhufG/?img_index=1
8. The Adventuredome Indoor Theme Park, Las Vegas
Situated inside an awe-inspiring purple structure, Adventuredome is a 5-acre indoor amusement park that is located inside the ​​​​Circus Circus Hotel and Casino on the Las Vegas Strip. Along with rides and attractions, this indoor park is renowned for its circus performances and scary roller coasters.
https://www.instagram.com/p/BDJz-v5k8Xk/
9. Joypolis, Tokyo
Tokyo Joypolis in Odaiba is a roofed theme park that is well-loved for its full-room-scale virtual reality (VR) experiences. Guests can enjoy exhilarating rides and the latest virtual-reality content in over 20 attractions. Tokyo Joypolis also hosts events created in partnership with Japanese anime and artists.
​​https://www.instagram.com/p/CgtJChDvThP/
---