A professional doctor reached out to Mumbai-based interior designer Sarah Sham, founder of Essajees Atelier to design the interiors of her first home, a 2,100-square-foot apartment in Juhu, Mumbai. The client wanted a home evocative of Scandinavian design, with ​​simplicity, minimalism and functionality at its core. ​​"We have used white as the main colour in our design with only one shade of wood. I would say this space is a zen home, serene and soothing at every turn," states Sham, who executed the project with team members Palak Shah, Sanjna Seshadri, and Aditi Savani.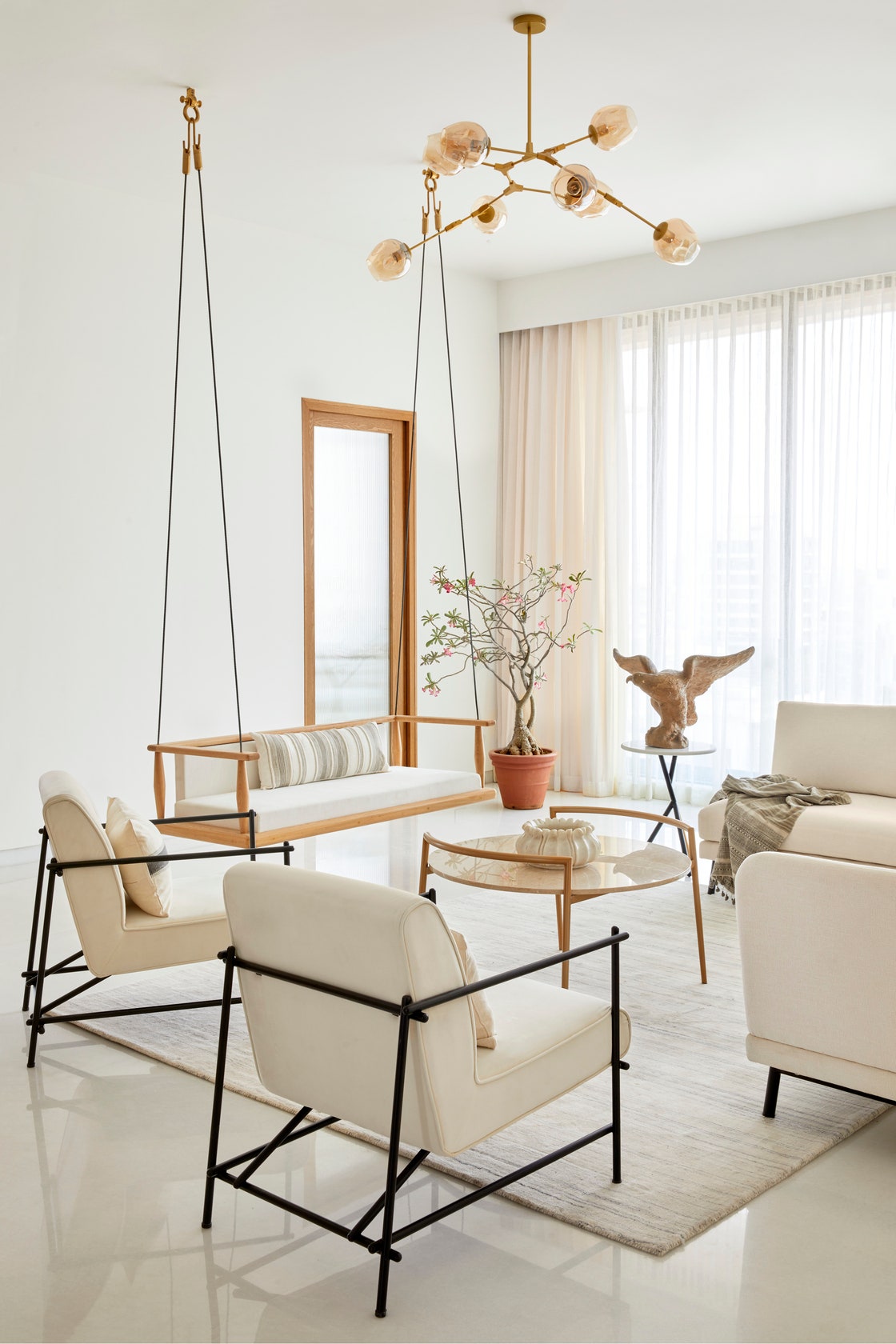 ---
The home had five bedrooms, which were transformed to three spacious rooms. Sham conceptualised a large main suite, a home office, and a guest bedroom with an expansive living area and an elegant kitchen and pantry. "We made a lot of changes to the layout. Turning these really tiny rooms into larger layouts and razing everything to the ground and making it fresh has been extremely gratifying for me," the designer adds.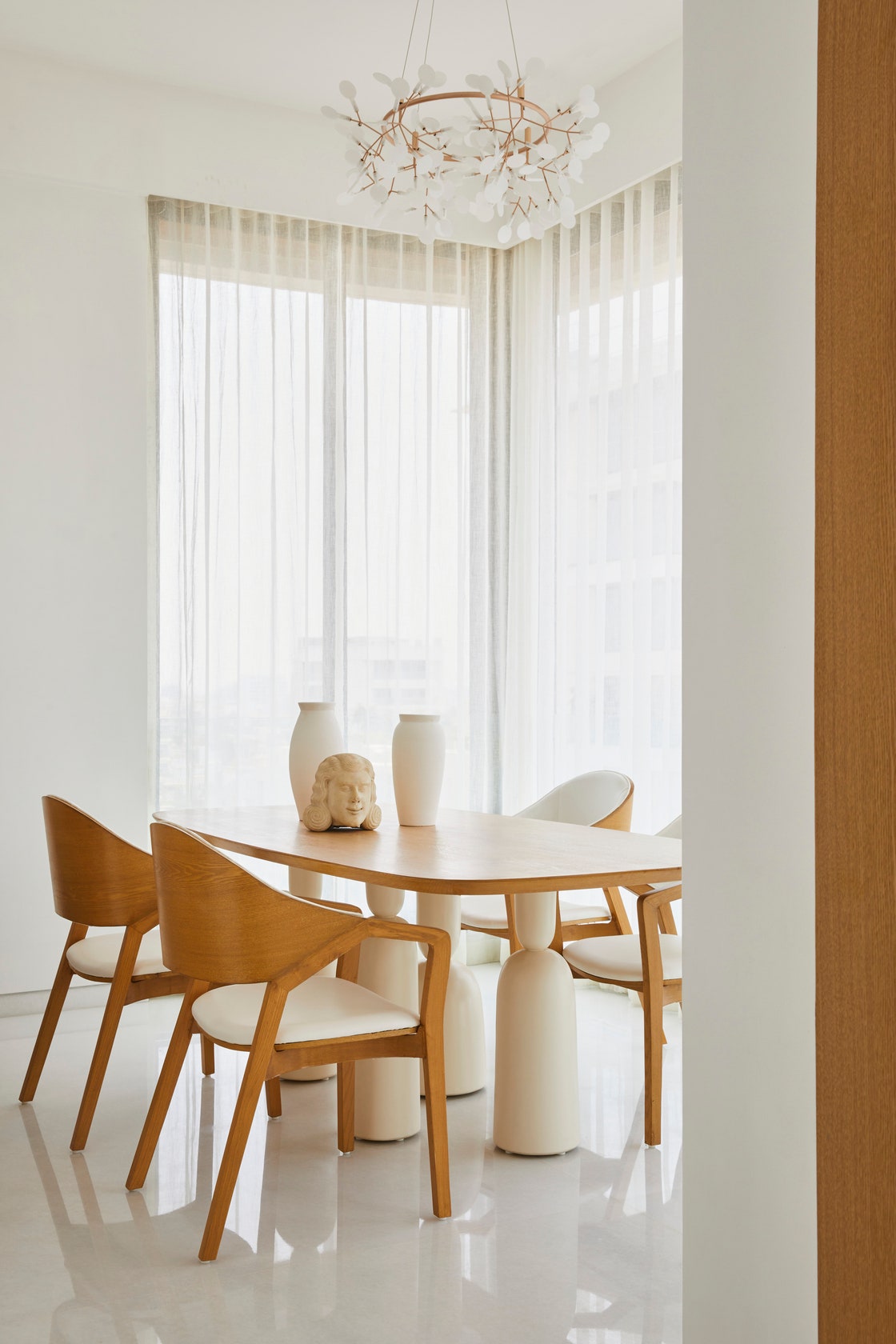 ---
Contemporary yet Timeless
The living area is a bright space with minimalist, contemporary furniture, a subtle colour palette and chic details like textured walls, fluted patterns and monochromatic artworks. The white sofas add a sophisticated touch to the area and the swing adds liveliness to the overall living room.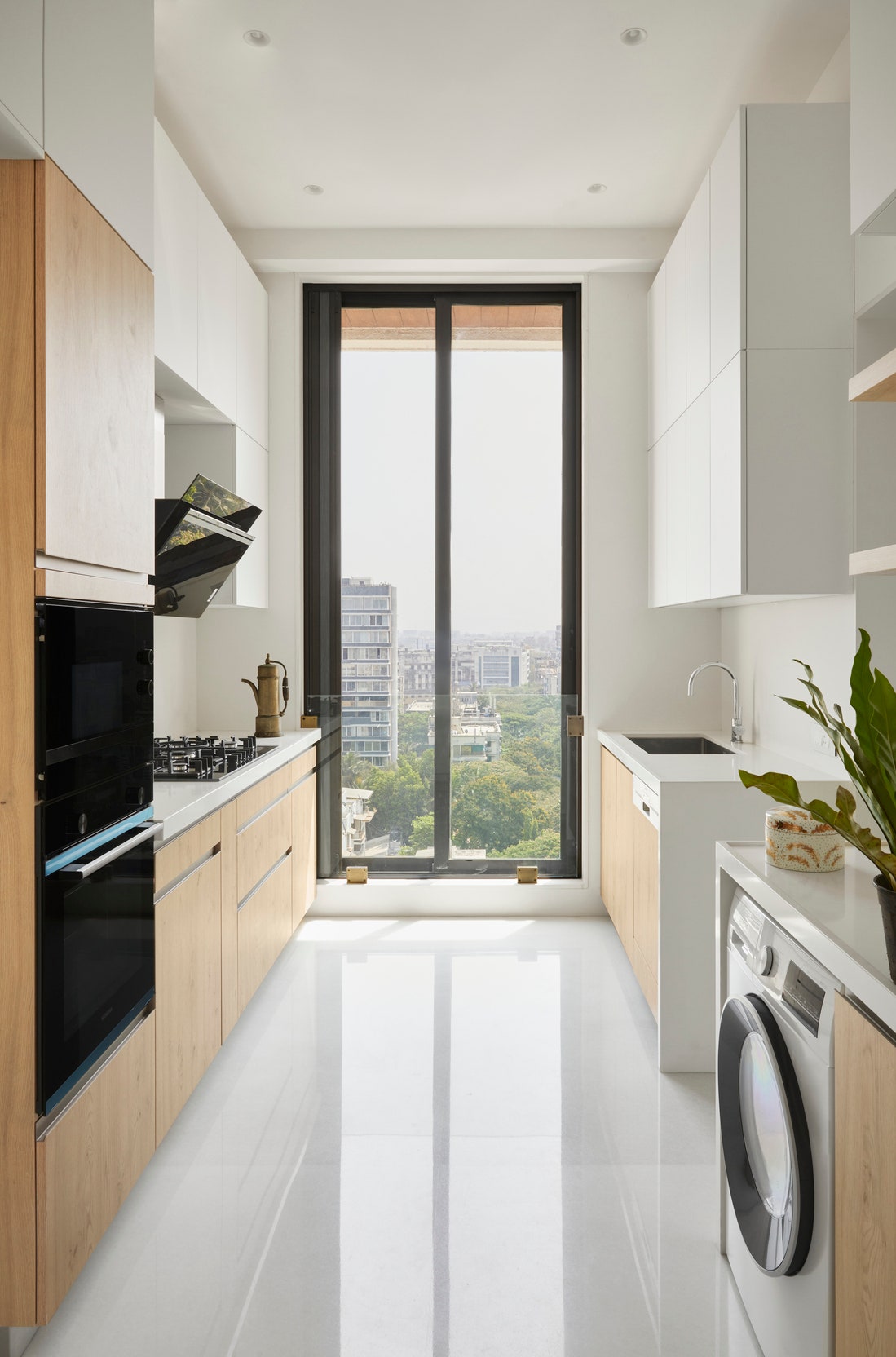 ---
"In terms of design, as soon as you enter there are two private elevators that have been closed off with wooden fluting. The large living room is done up in all white. The swing is a highlight here and adds to the charm and elegance. Another design aspect we were very particular about was to ensure we get a lot of natural light into the home, as it enhances the energy of the place and helps create a happy mood!" mentions Sham.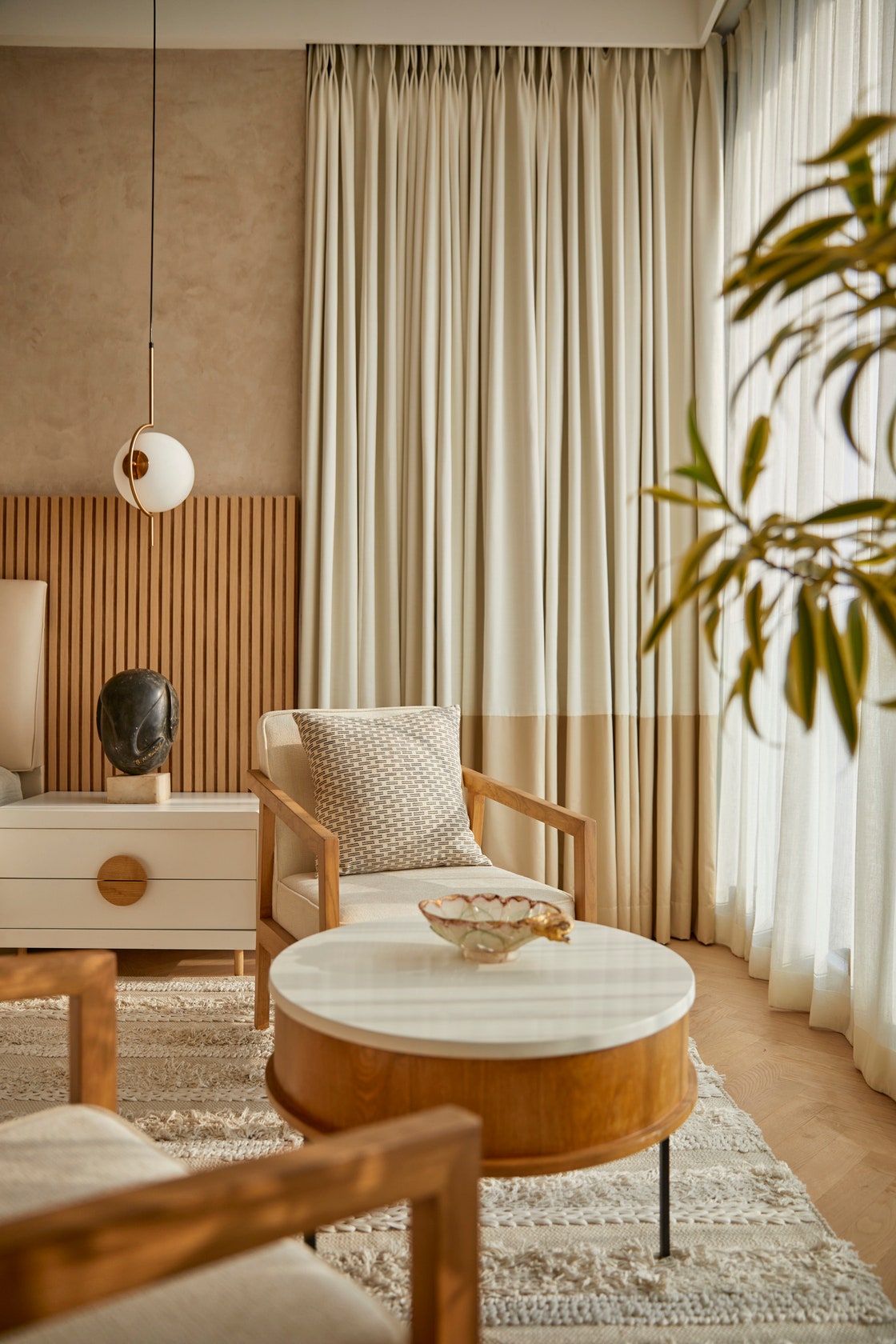 ---
The living area opens into the dining area, making it a perfect space for hosting. An arresting, contemporary chandelier hangs about a four-person dining table with a wooden tabletop. The dining area features large windows, which let in plenty of natural light. The kitchen is an airy space with sleek white cabinets with ample storage, off-white countertops, state-of-the-art appliances and a floor-to-ceiling window.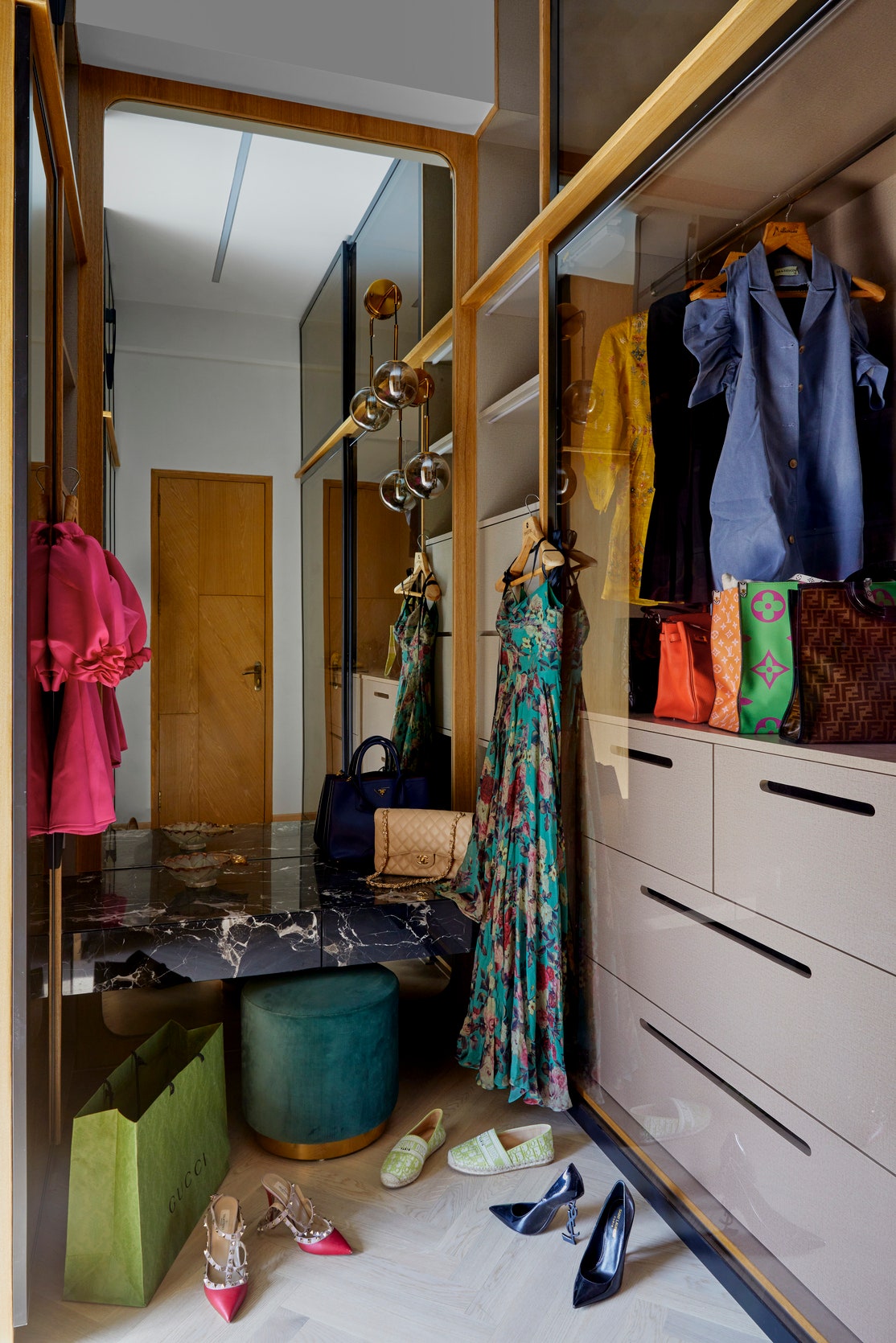 ---
Minimal yet Elegant
The primary bedroom has elegant brown undertones and functional furniture. It is a welcoming space with the same Scandinavian design aesthetic as the rest of the home. The room remains warm thanks to additions such as a fluted wooden headboard, textured wall, contemporary chandelier and soft furnishings. Furthermore, as the client loves dressing up, the bedroom houses a large walk-in closet to accommodate all her clothes and accessories. The main bathroom features a double vanity and is an elegant and relaxed space.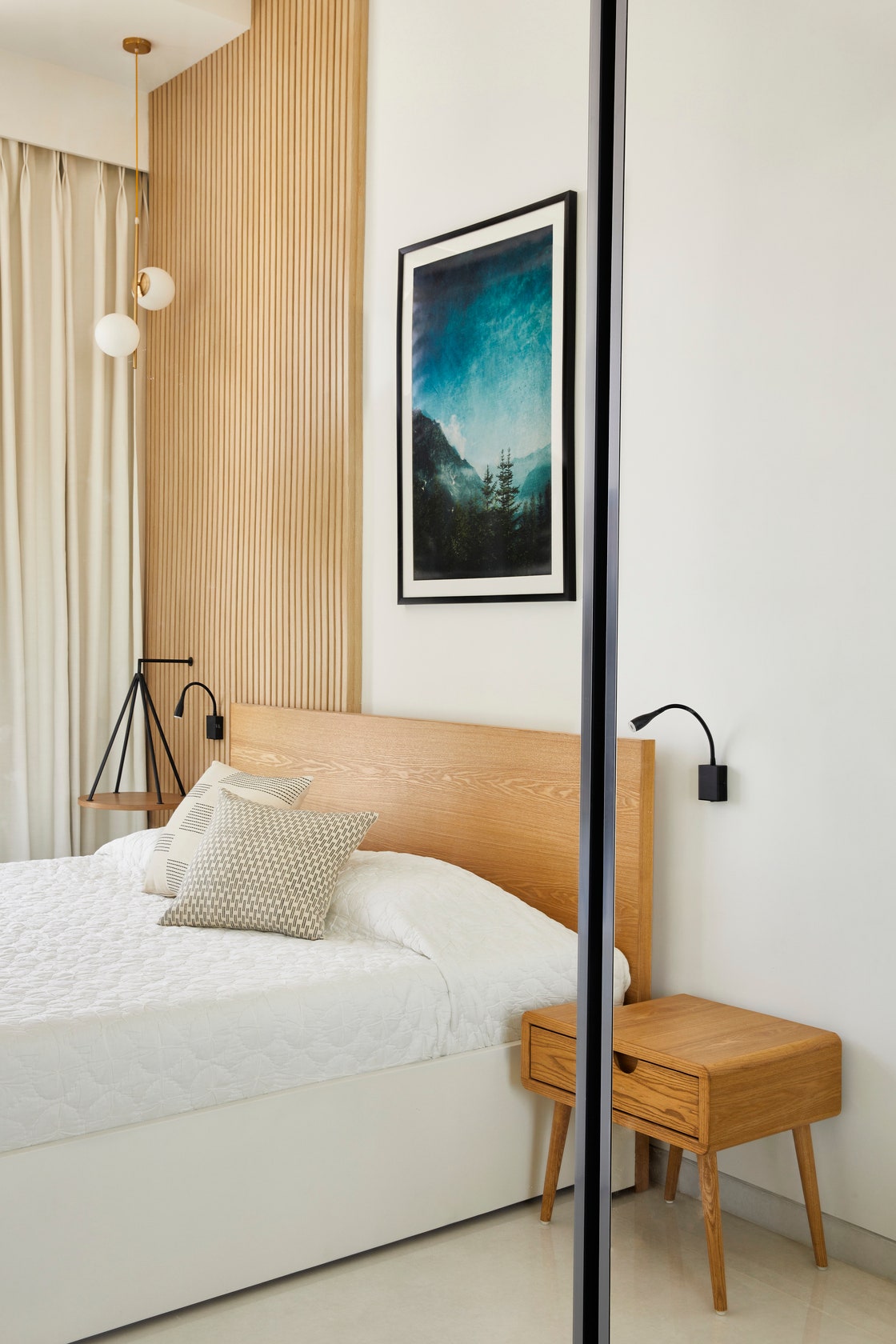 ---
"My client is a doctor and she absolutely knows what she wants and how it should be! Her brief was pretty specific and we are happy we could follow it well to reflect her personality and lifestyle. From the start of our project, she was crystal clear about the brief, and trust me, it didn't change even once through the entire process. This project has definitely been a true collaborative effort between our design aesthetic and her style. The space that reflects her lifestyle would be the home office space where you will find her studying and reading during her free time," concludes Sham.