The season of celebrations is here, and you would be eager to furnish your home with the latest designs and sensibilities. Moreover, a number of leading Indian brands have unveiled new collections or shared their best tips, which are sure to bring the right amount of light, warmth, luxury, and festivities required for the upcoming season of fun and frolic. Bookmark these brands to refresh your home this Diwali!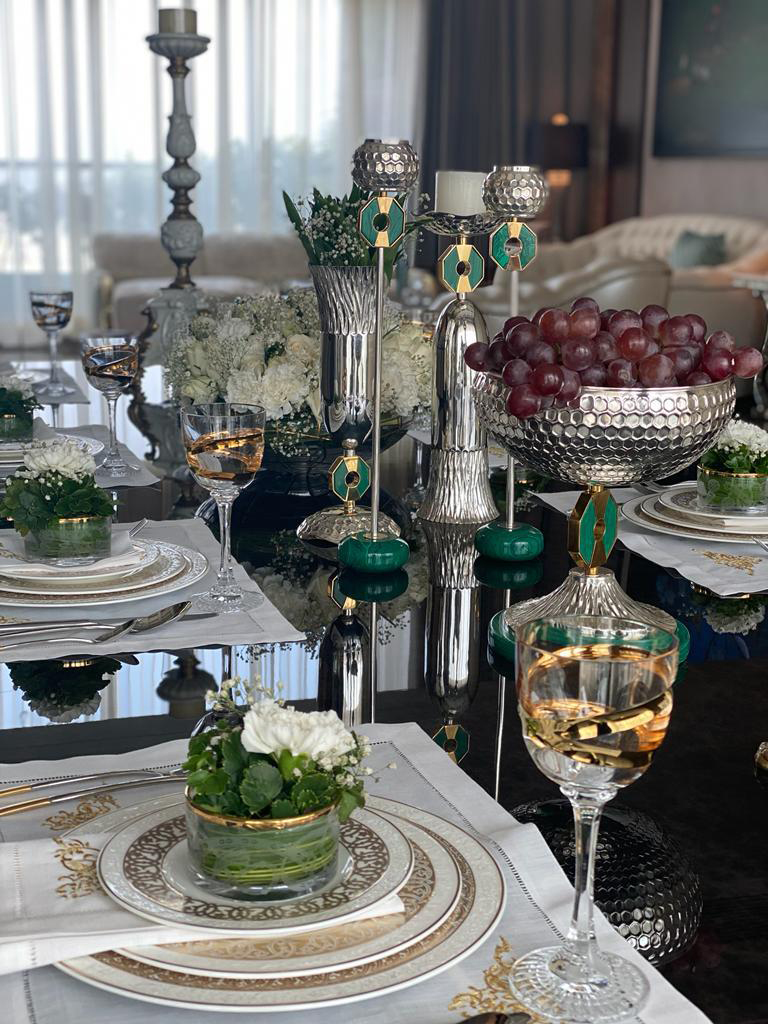 A Square Designs' enchanting table setting
---
1. A Square Designs : With the festive season around the corner, Designer Ajay Arya has unveiled an enchanting table setting that brims with elegance and grace. The dining space is a part of a luxurious residence designed by A Square Designs. The sleek and chic tableware in silver gorgeously drained in the festive vibes of the season delivers a statement of its own. The flavourful composition of green and white further enhances the charm of this graceful setting. The candelabras and fruit baskets in the silver tone complement the entire setting perfectly. Bringing together the old-world charm of the festivities in a contemporary way and combining the eclectic elements harmoniously, the designer has sealed the regal environment flawlessly.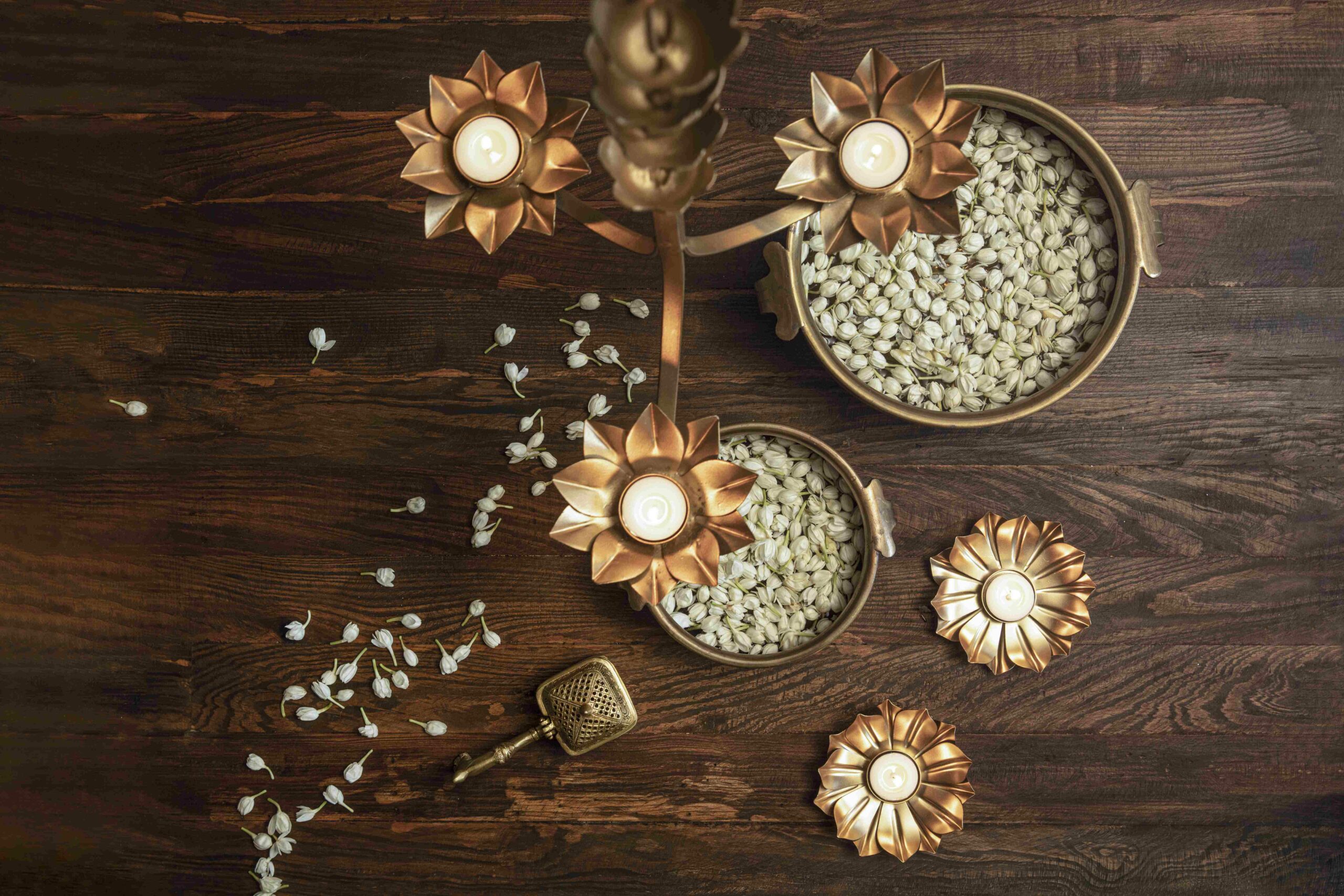 Amoliconcepts' beautiful festive setups
---
2. Amoliconcepts : Amoliconcepts showcases beautiful set-ups for the upcoming festive season. The new range of festive decor covers a range of products required to light up every corner of one's house and decor needs. From elegant cake stands, to candid candle holders, luminous lanterns, and last but not the least beautiful urlis, the collection creates a mood of the symphony — like a musical note which will fill the surrounding with harmonious shades of warmth, joy, exuberance, and lighting. Further, the collection caters to the Indian sensibilities of festivities with a touch of international class and elegance, making it modern yet homely. The mood created is grandeur yet rooted, luxurious yet individualist covered with a mist of warmth and fun.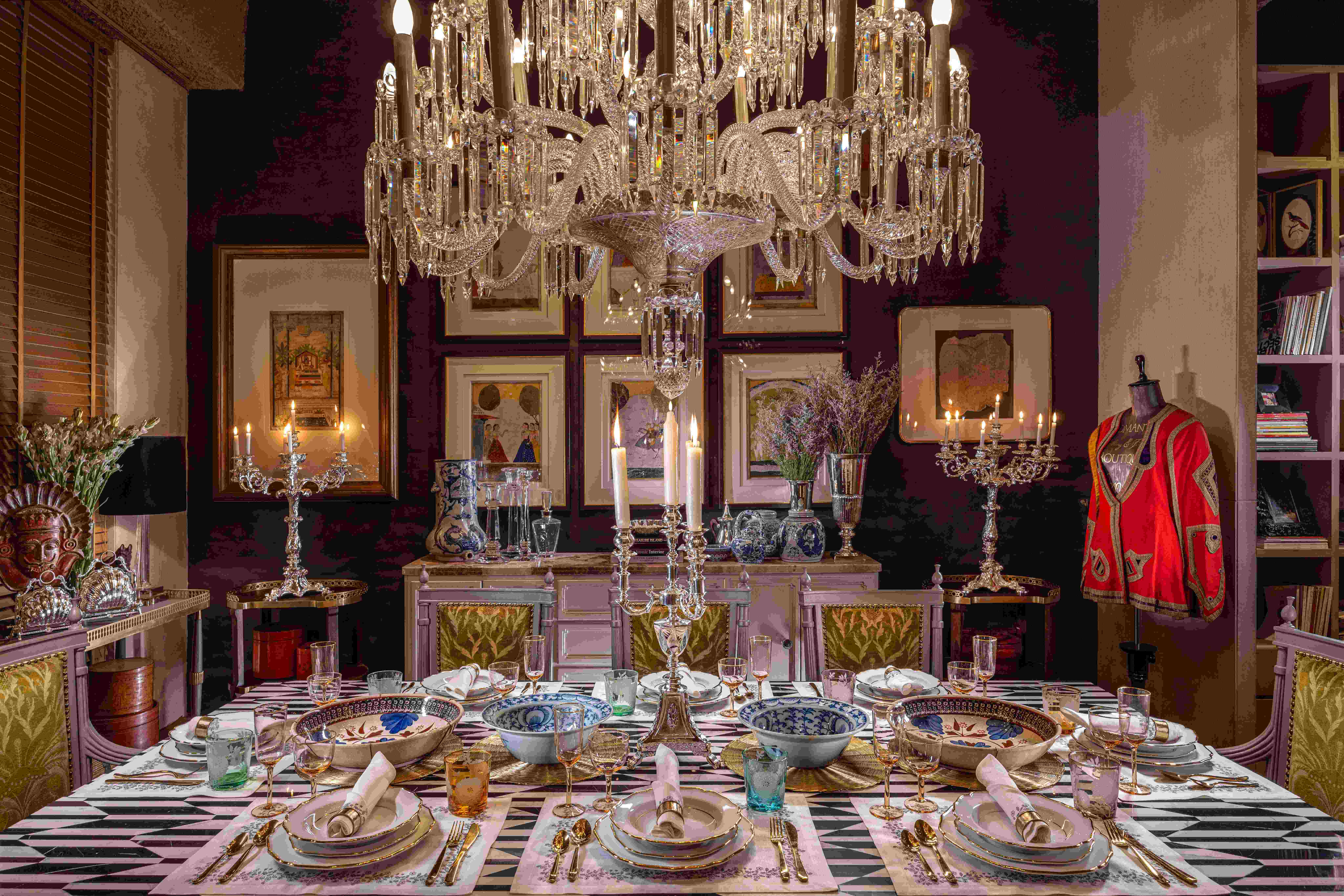 Beyond Designs' striking festive table setting
---
3. Beyond Designs : Beyond Designs has unveiled richly laid-out festive table settings that reek of decadent opulence. Employing extravagant design features in an artistic manner, the stunningly bedecked table settings celebrate fine craftsmanship, art and high-quality materials. Magnificently crafted chandeliers hold together a geometric-pattern marble inlay table resulting in a vibrant setting. Intricately crafted candle stands, opulent dinnerware, serveware, cutlery and crystal ware enhance the rich elegance of the setting. The upholstered chairs finished in silver tone in a classic style, complement the table beautifully. The surroundings are sumptuously decorated with artworks, antiques and collectables from across the world.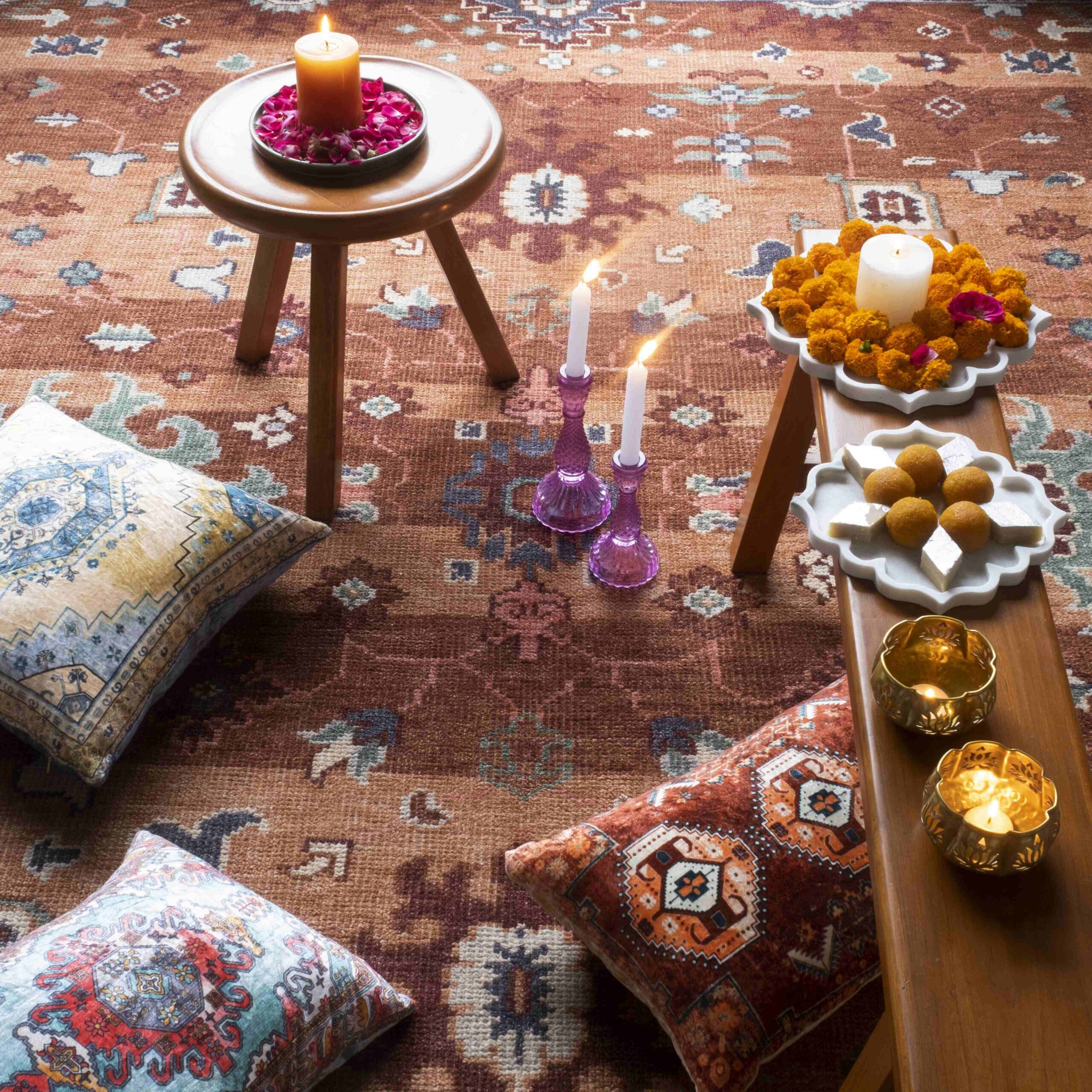 GharGhar's festive mood board with arresting rugs and cushions
---
4. GharGhar : GharGhar is exhibiting a festive mood board with striking rugs and cushions from their latest collection. The bold prints and mosaic-like designs are curated keeping in mind the decorative needs. The cushions are equally vibrant in their design and appeal. The colours range from fuchsia, tangerine, and corals with deep undertones of brown and are inspired by mesmerising colour combinations present in nature. The latest collections showcase distinctive workmanship and a unique aesthetic. The arresting range comprises rugs and cushions in floral and intricate patterns that render an elegant yet modest touch to any space.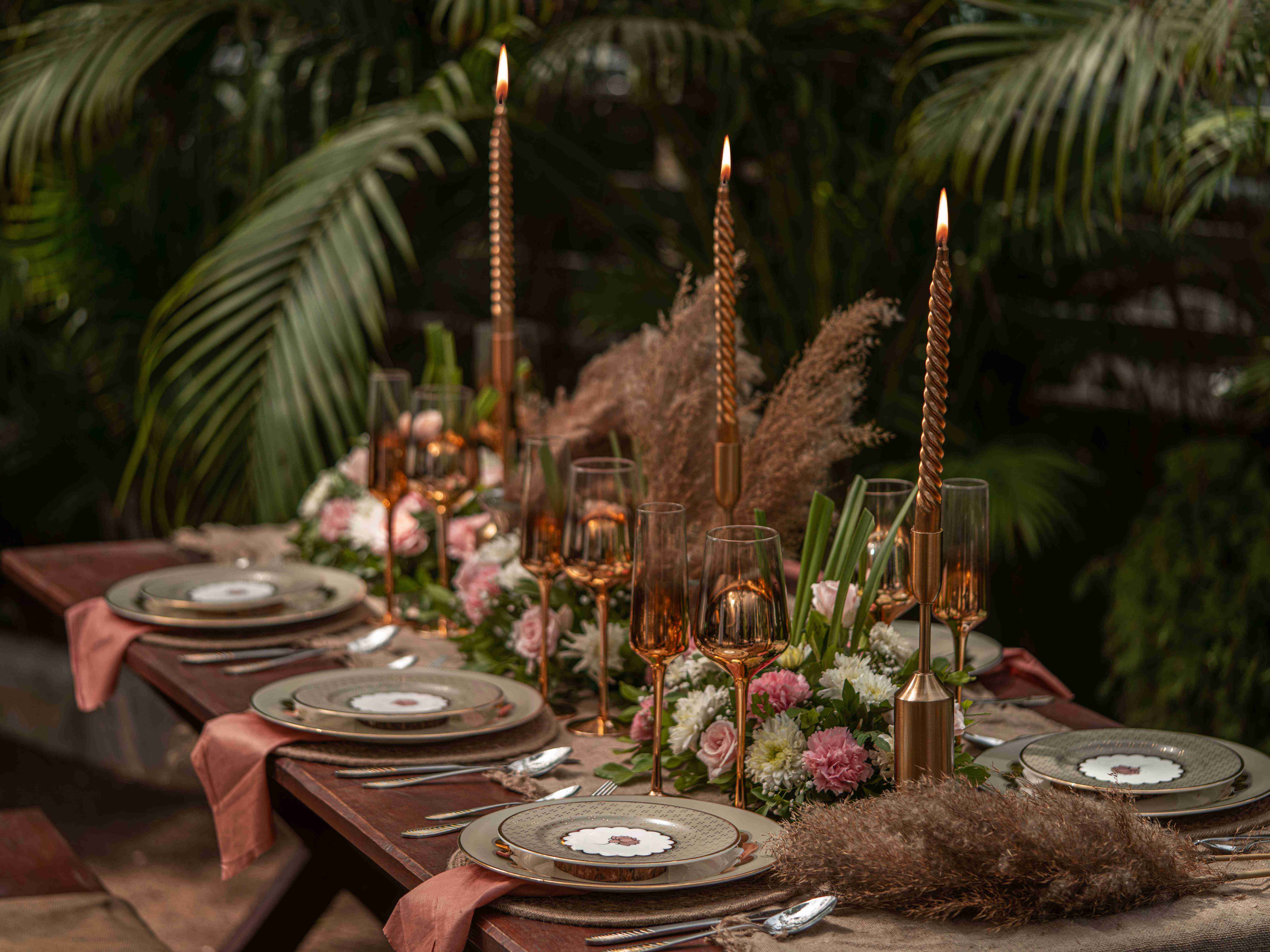 Kaunteya's elegant table setting using the 'Pichwai Collection'
---
5. Kaunteya : To ring in the festive season, luxury tableware brand Kaunteya crafts an elegant table setting using its 'Pichwai Collection' of bespoke tableware. This awe-inspiring tablescape is for an informal holiday lunch or a brunch. The earthy hues of the setting depict how it is inspired by nature, using products from Kaunteya's elegant Pichwai Collection. Use of pampas grass and jute coconut fibre placemats give a bohemian look to the table setting. At the same time, the use of high candles, classic cutlery and fresh flowers adds a classic chic look to the table. The tableware collection's pink colour complements the flowers, while the motifs add to the charm of the table and bring a traditional element.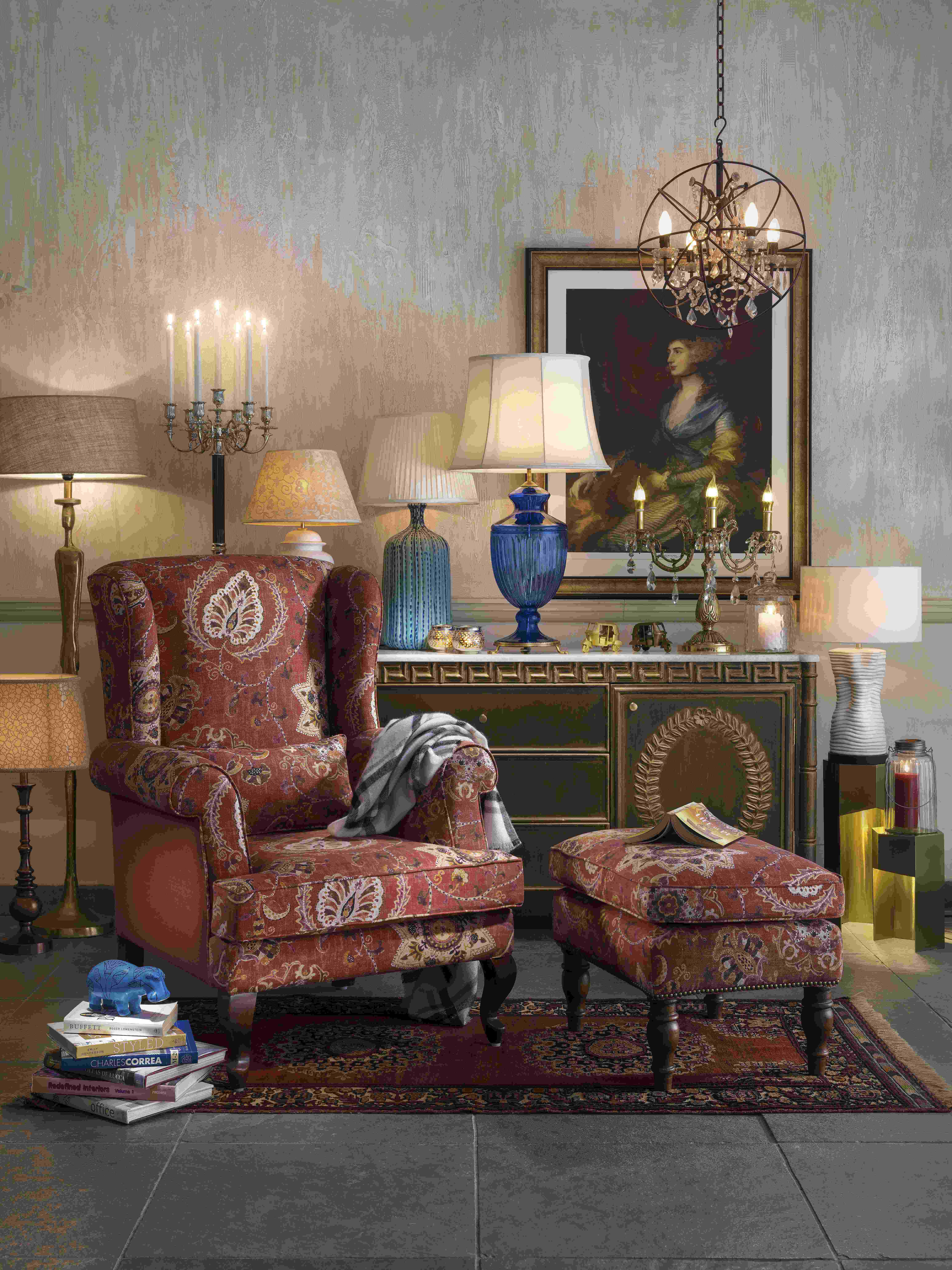 Nivasa's awe-inspiring Red Wing Chair and Footstool
---
6. Nivasa : Nivasa Classic is showcasing arresting home setups that comprise a revival of traditional furniture design in a new avatar. Get-togethers and dinners are a huge part of festive celebrations. Nivasa Classic shares some striking home décor setups using their furniture that will create a lasting impression at your festive get-togethers with your loved ones. The exquisite festive settings feature Nivasa Classic furniture pieces such as the Glass and Fret Dining Table, Venice Bar Unit, Prague Sofa, Fret Dining Chairs, Kane N Abel Dresser and Study Chair, Granada Single Seater, Red Wing Chair and Footstool and Oxford Wing Chair.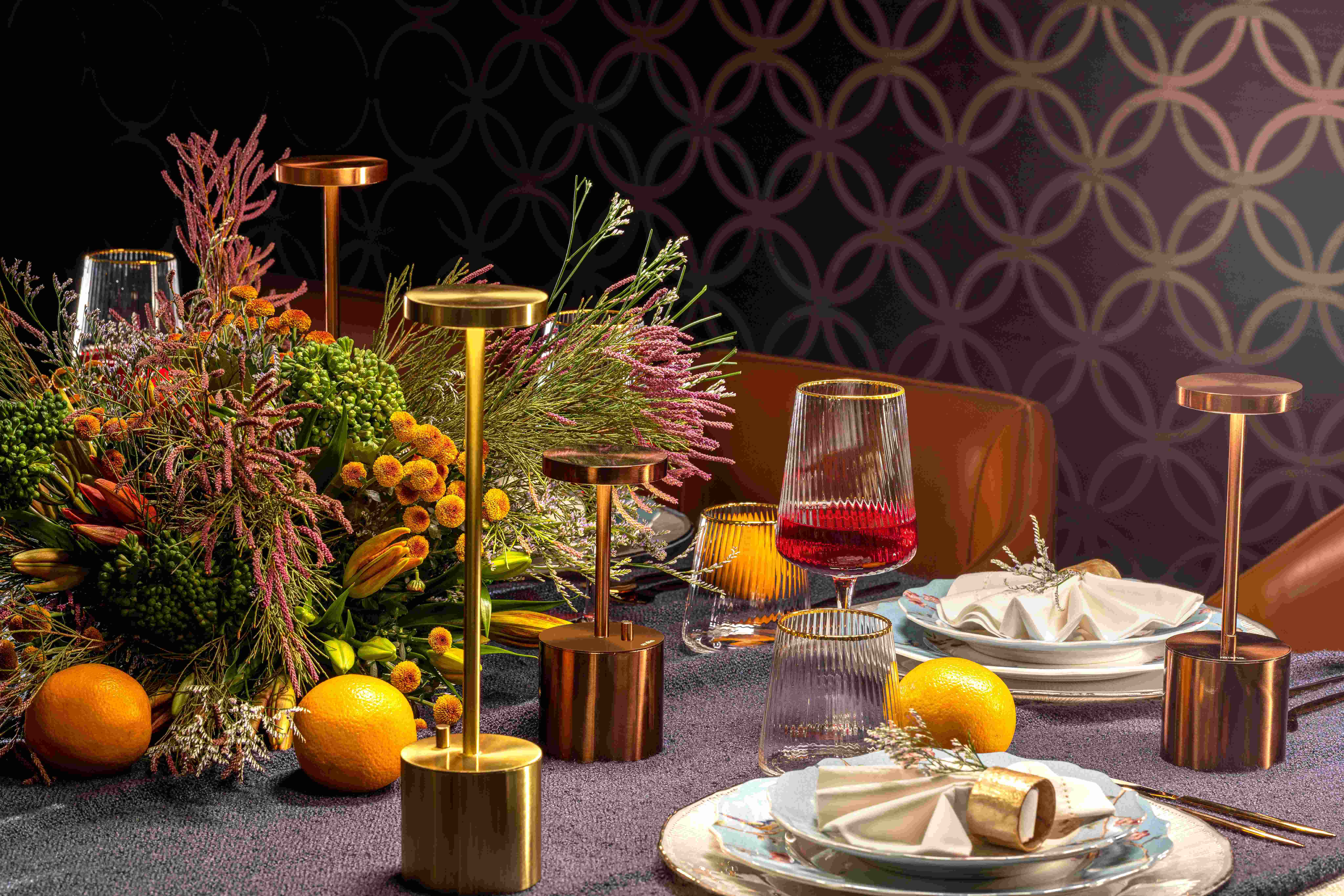 Rosha's festive portable table lamps
---
7. Rosha: Rosha has launched their latest collection of festive portable table lamps for Diwali. The collection is an amalgamation of minimalistic designs that meet opulence and makes for a perfect gifting option this season as a stand-alone category of class and elegance. The Ivory table lamp catches the attention with its opulent design. The Lior speaks for its simplicity and minimalism which are new forms of luxury. The Lucent is crystal combined with aluminium alloy exquisitely designed and crafted table light perfect to compliment any room and style. The Pyramid is a sleek table lamp in a gleaming copper finish imparting modern opulence to your interiors.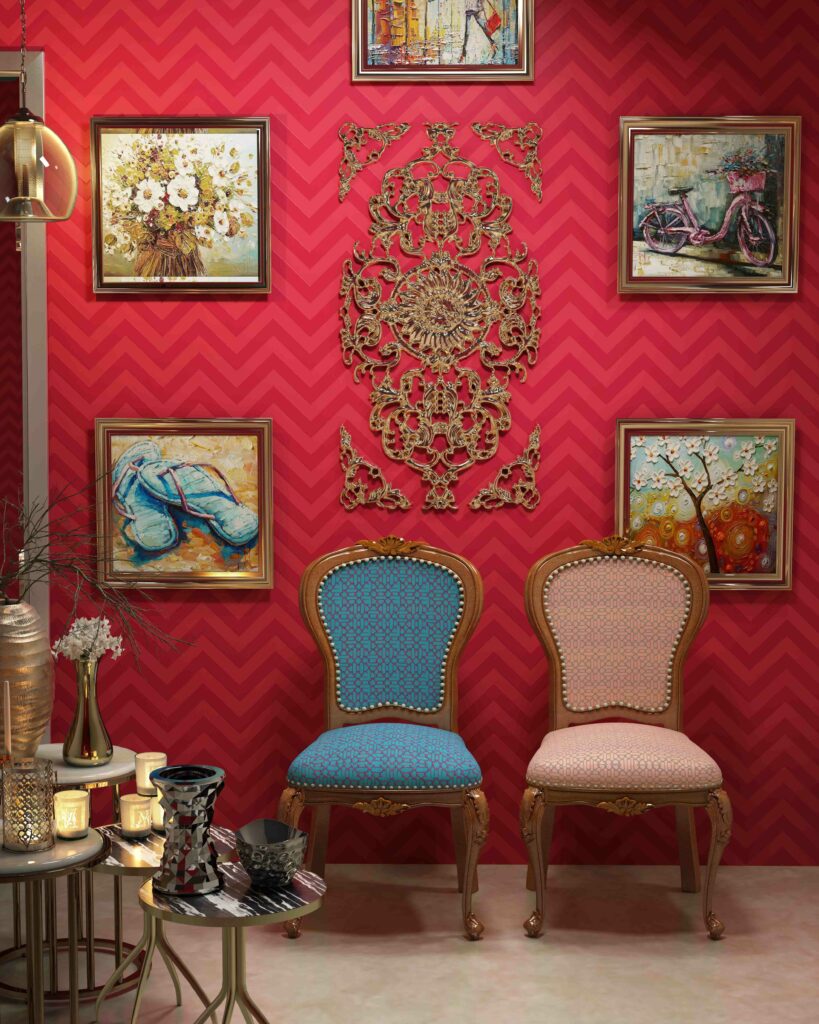 ---
8. RR Decor: RR Decor's new festive collections of fabrics offer a wide range of rich and ornate selections ideal for sprucing up your home. RR Décor's new collections, Miraas, Kensho and Serah are conceived keeping the festivities in mind. Miraas and Kensho are made up of polyester jacquard fabrics with a smooth satin feel. The intricate geometric pattern has been woven to give an embossed look. The collections are offered in neutral tones and vibrant hues perfect for festivities. Serah is a compilation of digitally printed velvets suitable for upholstery, curtains, cushions and wall cladding. Exquisite Kilim pattern has been well-coordinated with stripes, small geometrics and plains.