Isn't there something so liberating and relaxing about dining on the beach during sunset with your loved ones? Valencia-based design firm Clap Studio's aim was to bring that exact sentiment to their new project—Baovan restaurant. Five partners of an artisanal, bao focused food truck reached out to award-winning Clap Studio to conceptualise the interiors of their first brick and mortar restaurant in Valencia, Spain. Clap Studio crafted an immersive restaurant design that transports visitors to a unique sunset setting on a beach. The focal point of the interiors of the eatery is a half-moon-shaped screen, which is programmed to replicate the changing colours of a sunset. This new restaurant is located in a modernist building in Valencia's Ruzafa neighbourhood. The eatery exhibits a neon colour palette and one-of-a-kind light installations that add a fun and playful vibe to the space.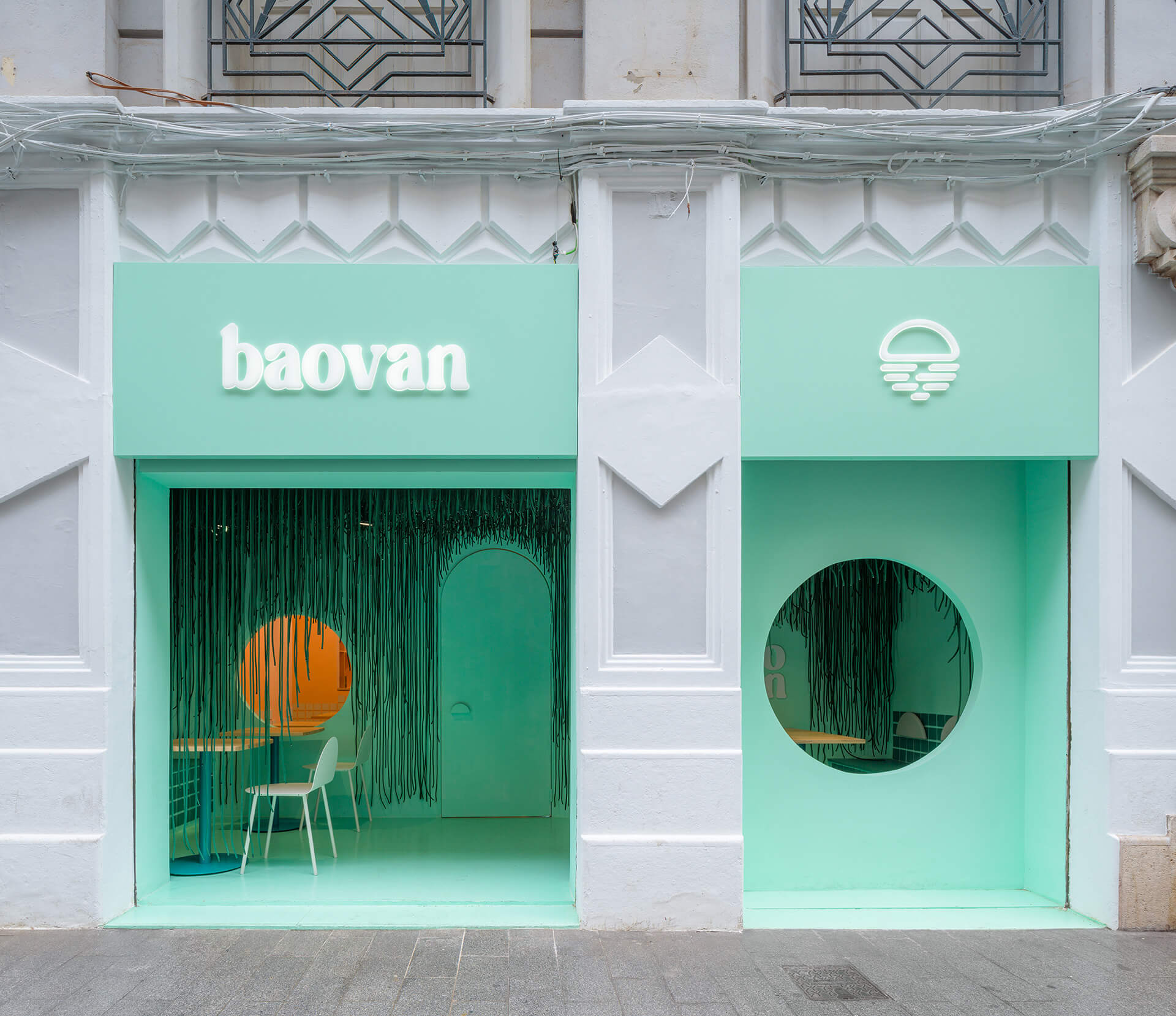 ---
The Baovan restaurant does not showcase any particular design aesthetic. Instead, the interior design of the space is a result of Clap Studio's creative process and Baovan's brand philosophy. "Our work reflects three key values—simplicity, elegance and playfulness. Once we start a project, we always try to simplify and reduce the client's brand philosophy in shapes, colours and materials. At Baovan, the colours transport visitors to different spaces in nature, and the shapes help create a unifying design. With every project, we try to connect with the user, by making them feel that they are experiencing something different and new. At Baovan, our half moon screen is always changing its colours, and showing a dynamic sunset atmosphere," mentions ​​Àngela Montagud, Director at Clap Studio.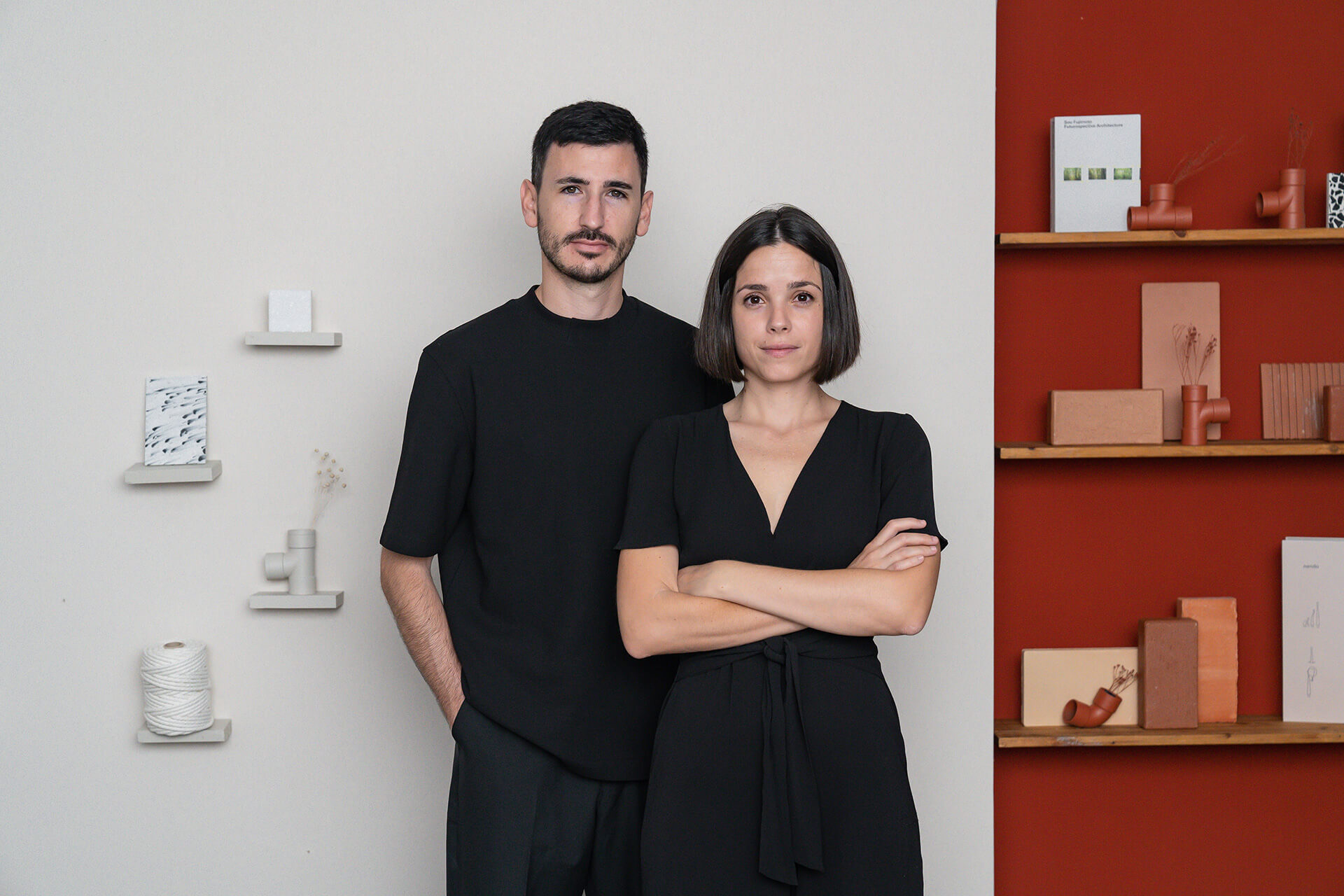 ---
The Baovan food truck was launched during the coronavirus pandemic by five founders who had extensively travelled together in Asia, America and Africa. Their brand's ethos is 'beers, beach and baos', which is a reflection of their lifestyle. With the new restaurant, the owners desired a space that reflected this same brand spirit. Keeping this in mind, Clap Studio designed an aesthetically pleasing space that is evocative of a magical sunset setting on a tranquil beach.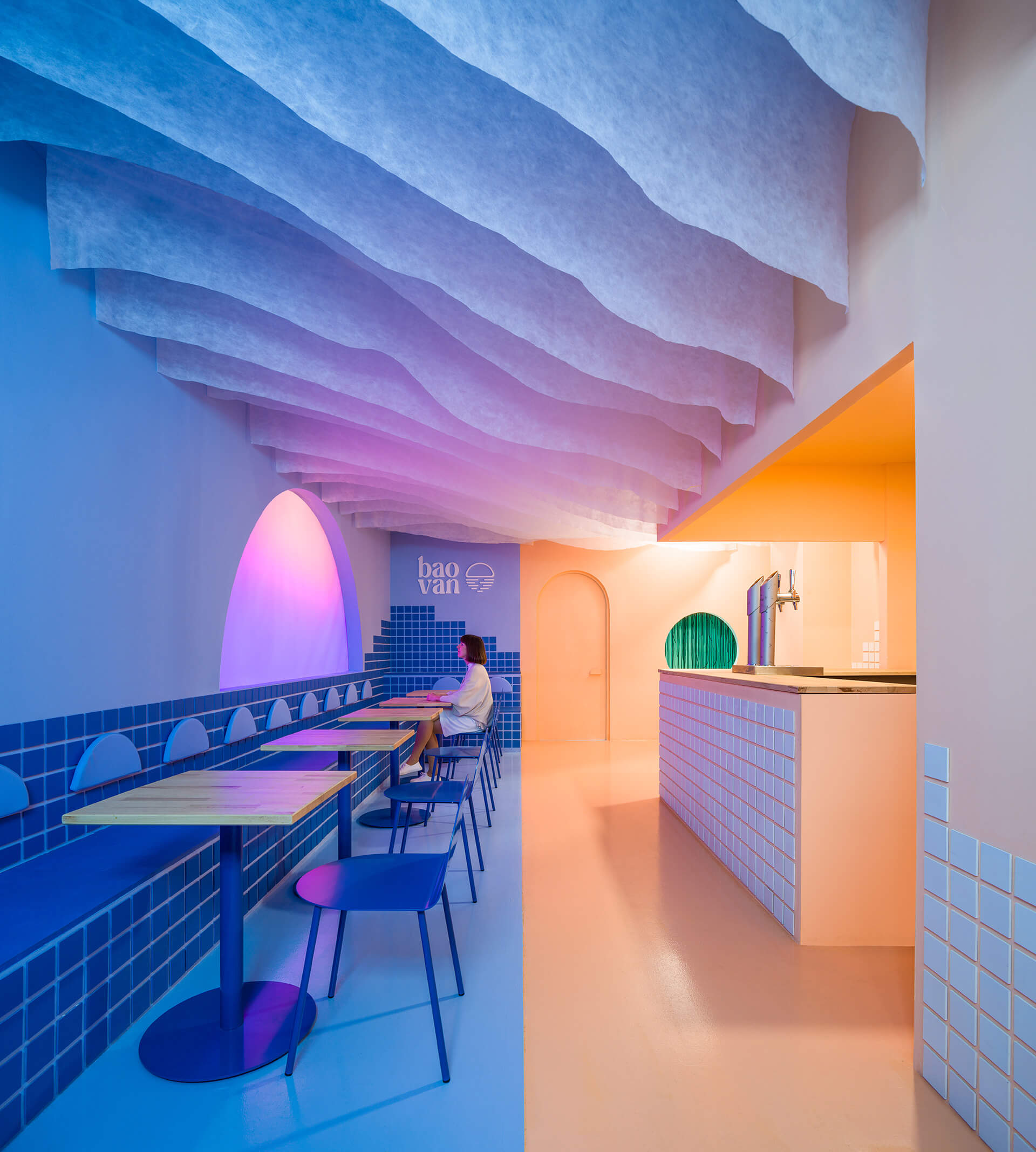 ---
This new restaurant is divided into three distinct areas that the visitor discovers as he or she enters the space. From the outside, guests discover 'forest', which is a green porch full of ropes that fall from the ceiling. This space is reminiscent of dense vegetation in a verdant forest. Once the visitor crosses the lush green forest, and enters the restaurant, he discovers the secret beach and its majestic sunset. Inside the eatery, one side is evocative of a beach and features a sandy peach colour, and the other mimics the ocean with a deep blue hue.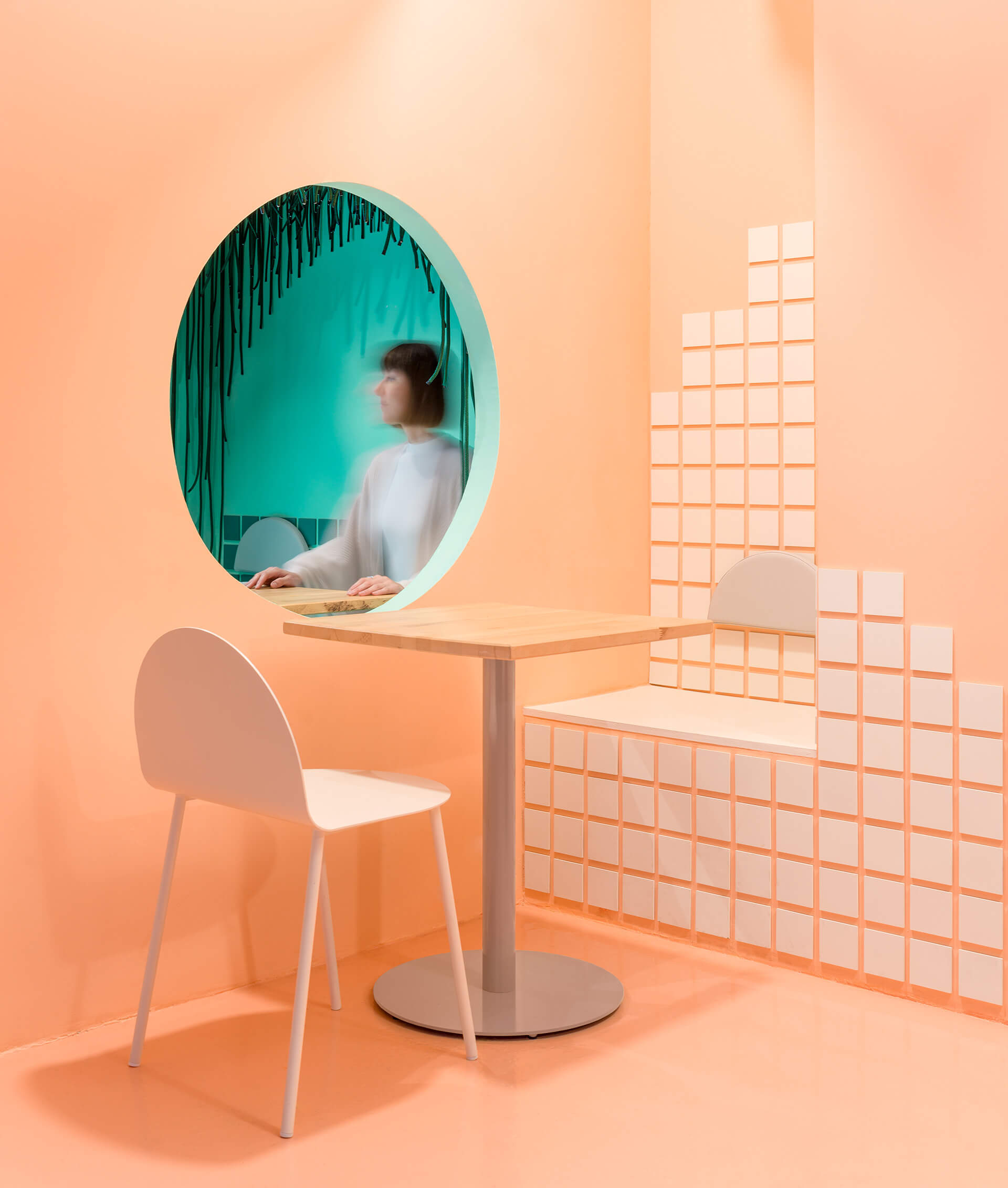 ---
The interiors of the Baovan restaurant showcase a constant duality of colours that gives the impression of taking guests in and out of the ocean. A screen in the shape of a half-moon grabs the visitor's attention immediately. Conceptualised by Vitamin Studio, the screen recreates the hues of a sunset, and is programmed to match its duration to a typical dinner service. On the ceiling, wavy fabric panels create rolling clouds that filter the light from the sunset, which is in constant movement. This light installation helps create a positive and upbeat ambiance in the restaurant.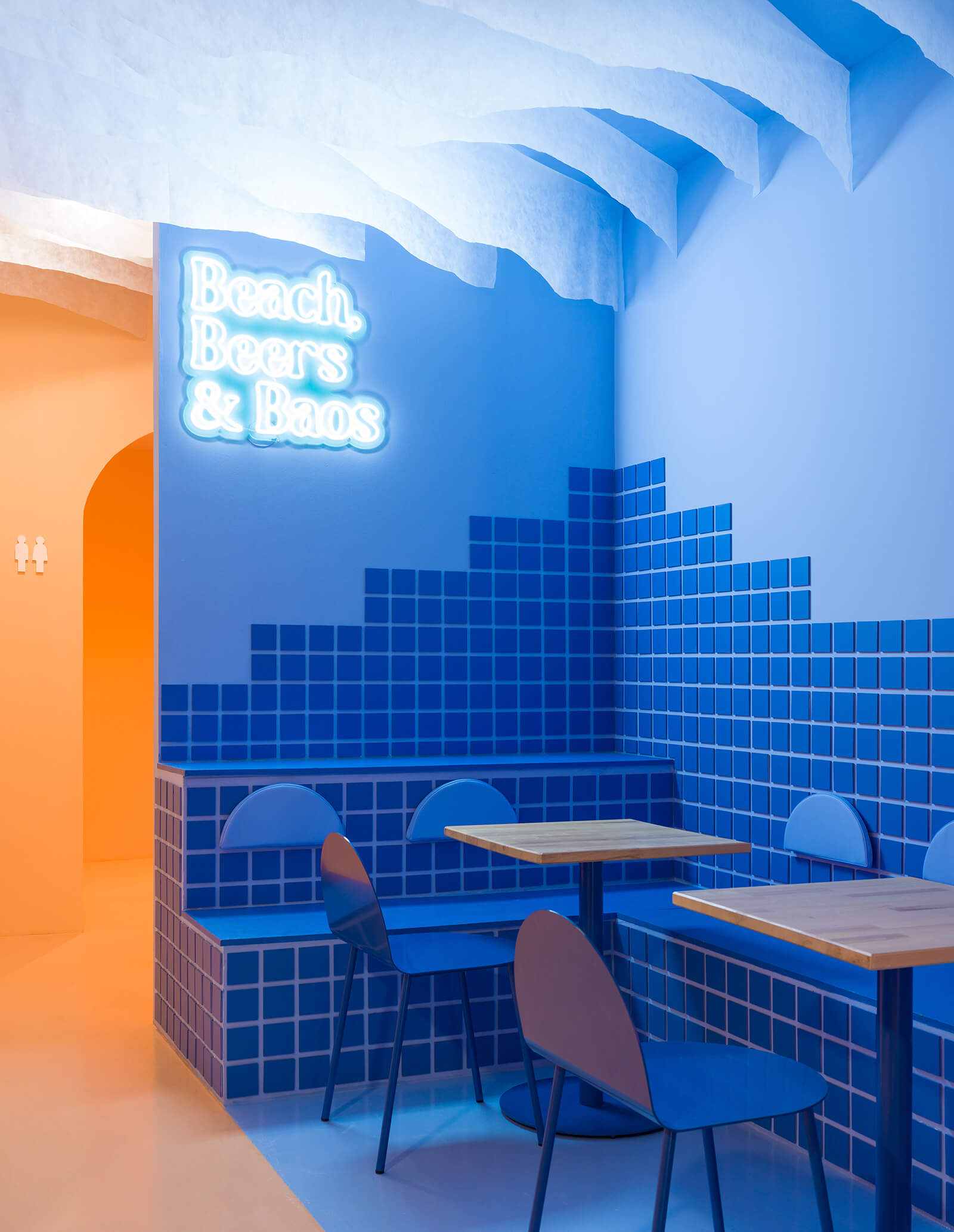 ---
Moreover, the sunset light installation is not only visually appealing, it is a practical solution as well. "The shape of the space was a challenge, as we were faced with a narrow, elongated floor plan with no natural light. We decided to transform the restaurant's lack of natural light into a positive feature. We designed an immersive interior that makes guests feel as if they have stumbled across a secret beach during sunset. In this way, we invite the user to enter and interact with the interiors in their own way," concludes Montagud.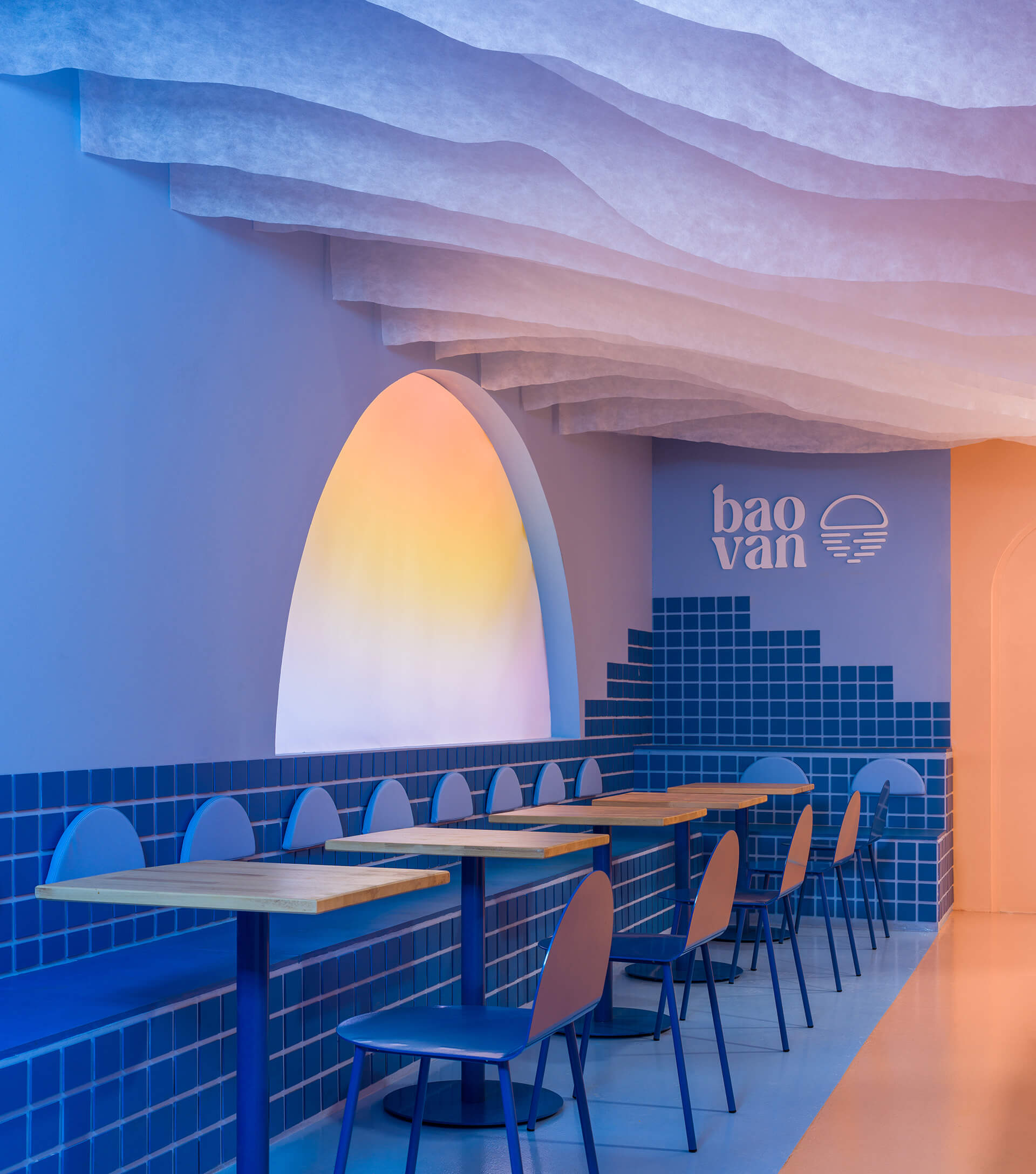 ---