A couple of years ago, people visiting John F Kennedy (JFK) International Airport, New York were able to stay at an abandoned airport terminal that was renovated into a fashionable, mid-century, modern-inspired hotel that is evocative of the golden age of flying. Now, a new bar has opened up here and it's every bit as captivating as the terminal.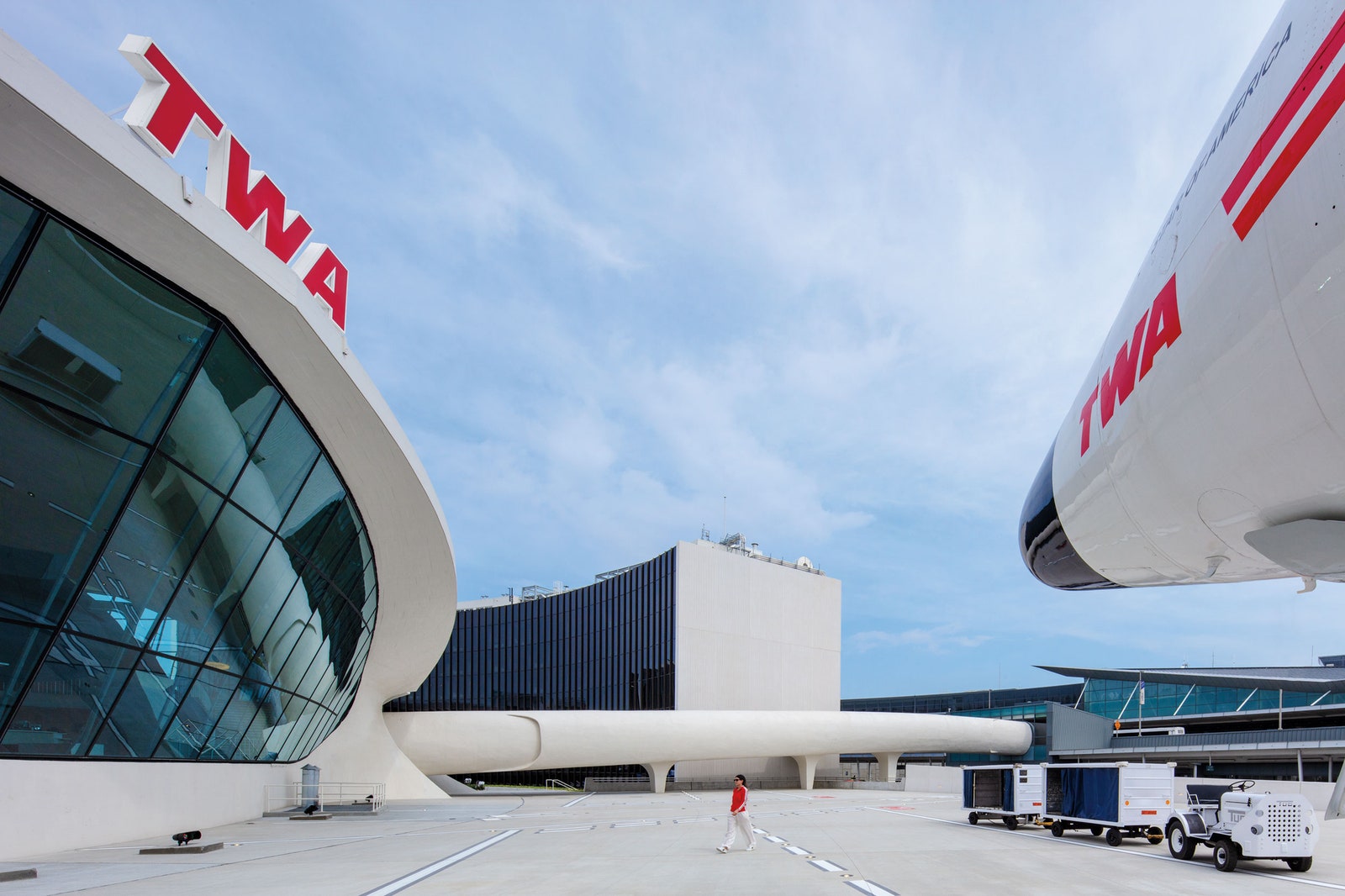 Evocative of the Golden Age of Flying
Situated between Eero Saarinen's iconic TWA Flight Center (presently the TWA Hotel) and the Terminal 5 at JFK Airport, Connie is a bar and lounge transformed from a 116-foot-long original Lockheed Constellation "Connie" L-1649A Starliner—one of only four of its kind left in the world. MCR Morse Development and Atlantic Models restored the airplane in 2018. The cockpit and navigator's chair were also replaced, while the airplane's deteriorated exterior was repainted to showcase the 1950s logo.
---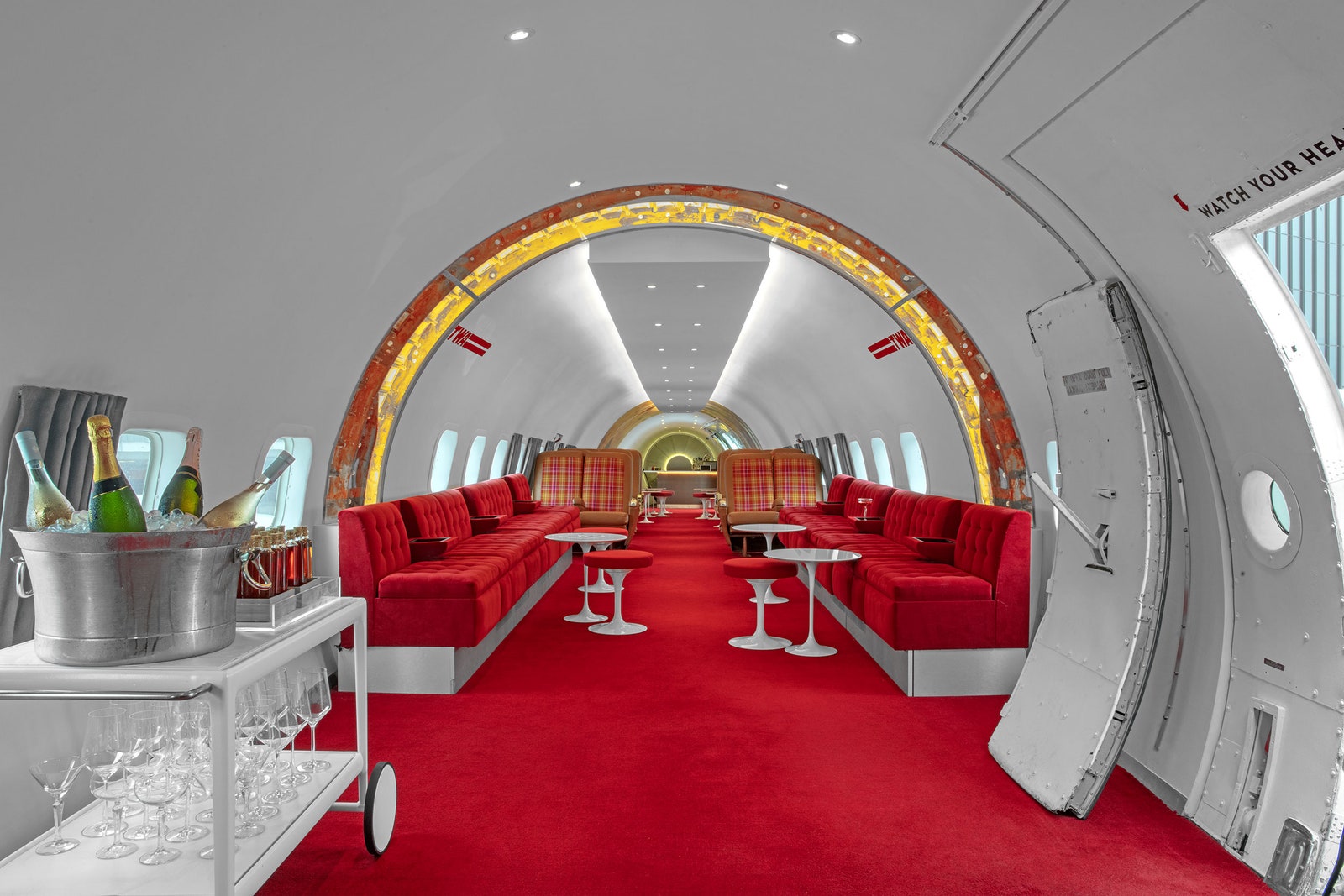 1960s Interiors
For the interiors, leading New York City-based architectural and interior design firm, Stonehill Taylor, blended a modern guest experience with design details that evoke the glamour of the 1960s. Climbing up an original staircase with playful 'Up, Up, and Away' lettering, guests enter Connie through the forward hatch, arriving just behind the pilot's cockpit. Once inside, the main cabin exhibits the TWA Flight Center's recognizable terminal 'tube' design, with soft glowing ceilings and Eero Saarinen's 'Chili Pepper Red' carpeting running underfoot.
---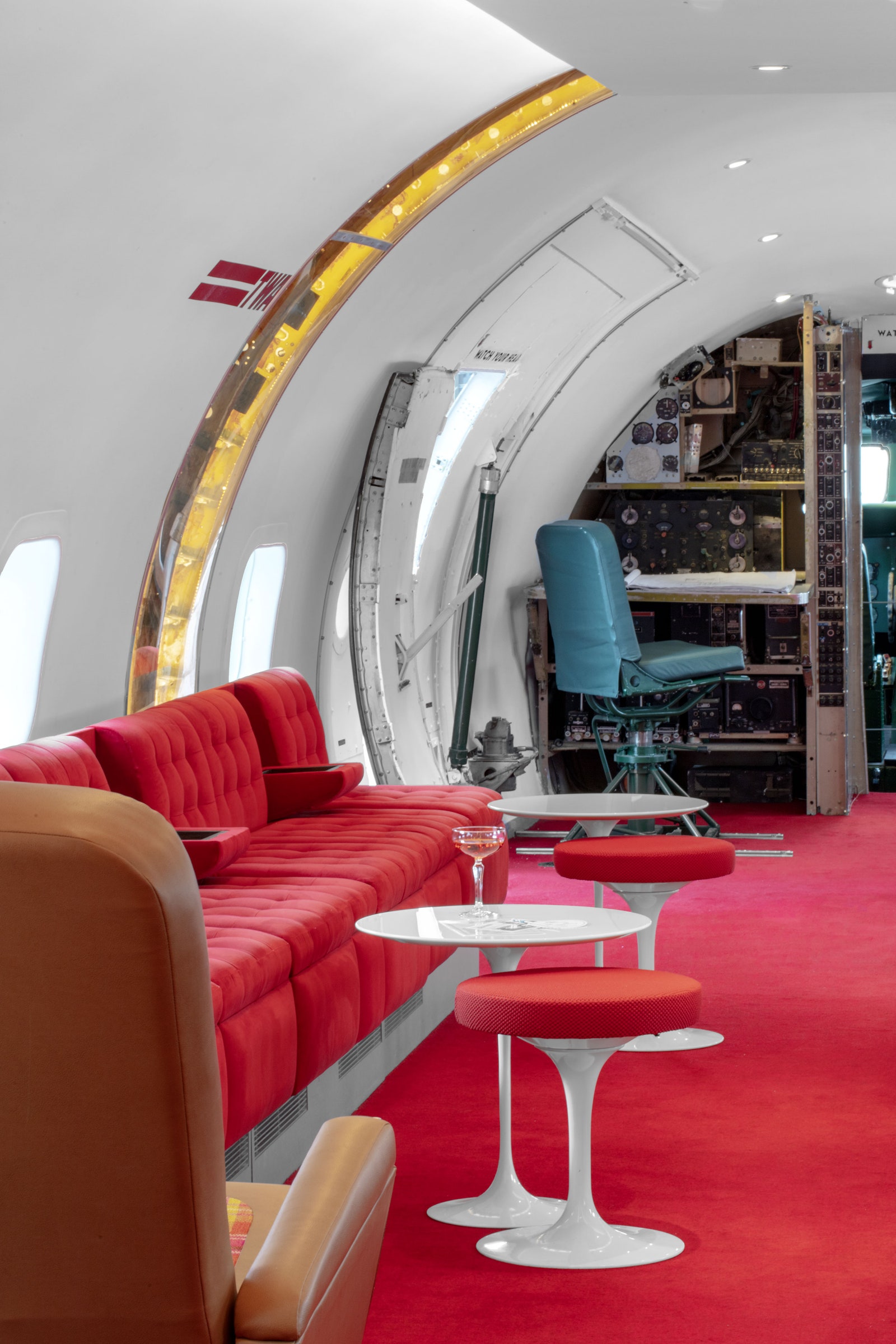 Back In Time
Stonehill Taylor partnered with Samuelson Furniture to design and produce red sofas, in addition to restoring the plane's original seats. The red sofas are reminiscent to the original styling of the TWA Commodore Club where 'Chili Pepper Red' banquet seating complete with fold-down drink holders and Saarinen's Tulip tables and stools invite guests to gather around for drinks. Alternatively, visitors can sit in one of the 16 reupholstered original airplane seats, and await drink service from a vintage bar cart fit for first class.
---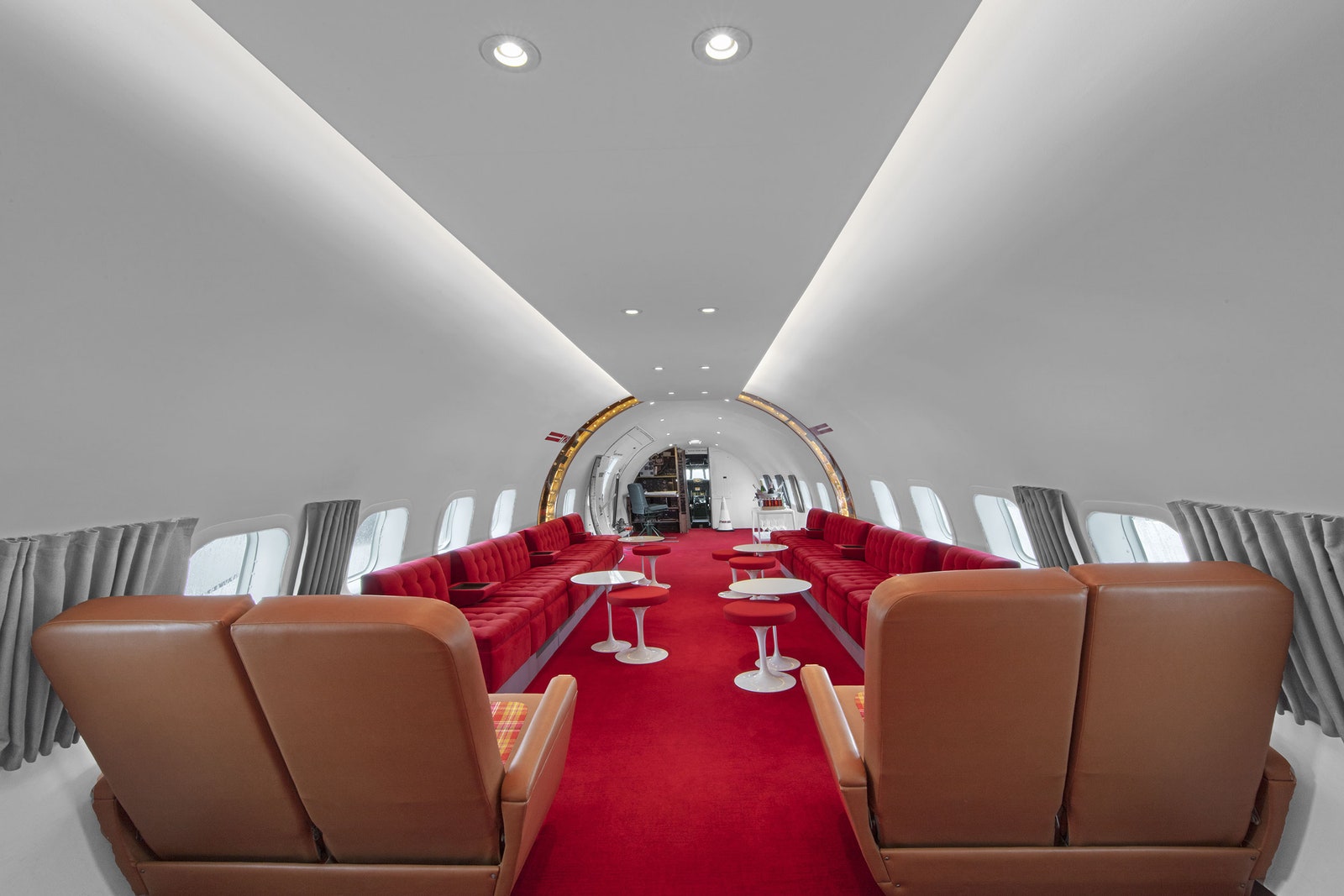 Running almost the full circumference of the cabin, a one-foot-wide backlit wall uncovers the raw bones of the plane, while the tambour-clad bar separates the lounge from a rivet-lined, brushed-steel backdrop inspired by both the airplane's fuselage and Saarinen's 'Gateway Arch' elevators in St. Louis.
---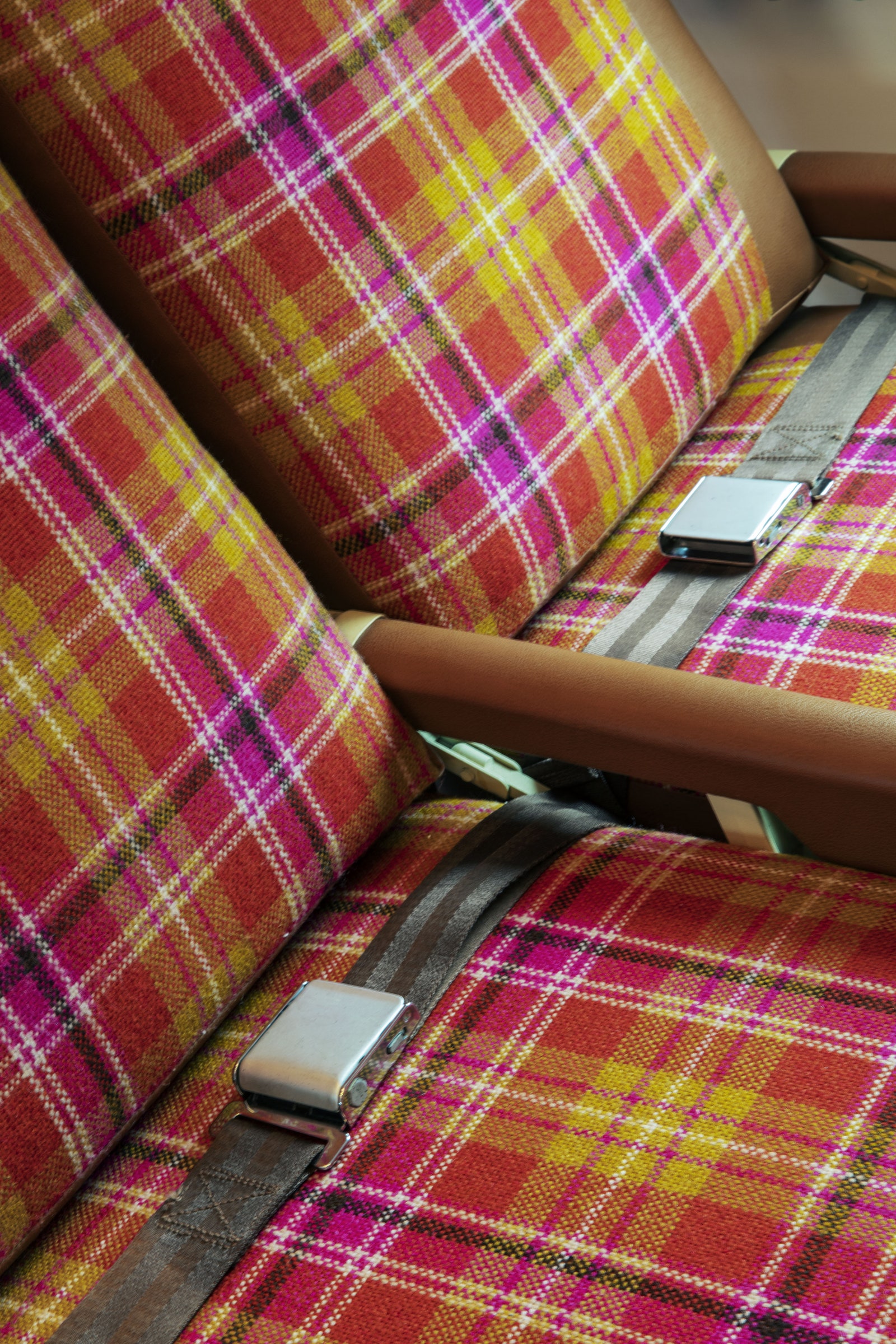 For The Love of Flying
"For those interested in exploring (or for the perfect Instagram shot), guests can take their Negronis and sit behind the original navigator's desk besides the open cockpit. Here they can capture a picture-perfect moment looking out onto the TWA Hotel's sweeping sculptural forms or simply look up and out through the original 'constellation' window, once used to guide the plane by starlight on overnight flights," says a spokesperson for Stonehill Taylor.
TWA Hotel guests and JFK airport passengers from every terminal can reach the Connie cocktail lounge via the AirTrain as well as through the Saarinen passenger tubes that connect directly to Terminal 5.