While designing the interiors of her new apartment, Nikki Galrani, who recently married fellow actor Aadhi Pinisetty in an intimate ceremony in Chennai, reached out to interior designer Farah Agarwal of Chestnut Storeys. Located in the centre of Chennai, the three-bedroom 3,500-square-feet home offers unobstructed views of the Indian Ocean. An Indian actor and model who works primarily in Tamil and Malayalam films, Galrani wanted a home that echoed elegance without compromising on sophistication.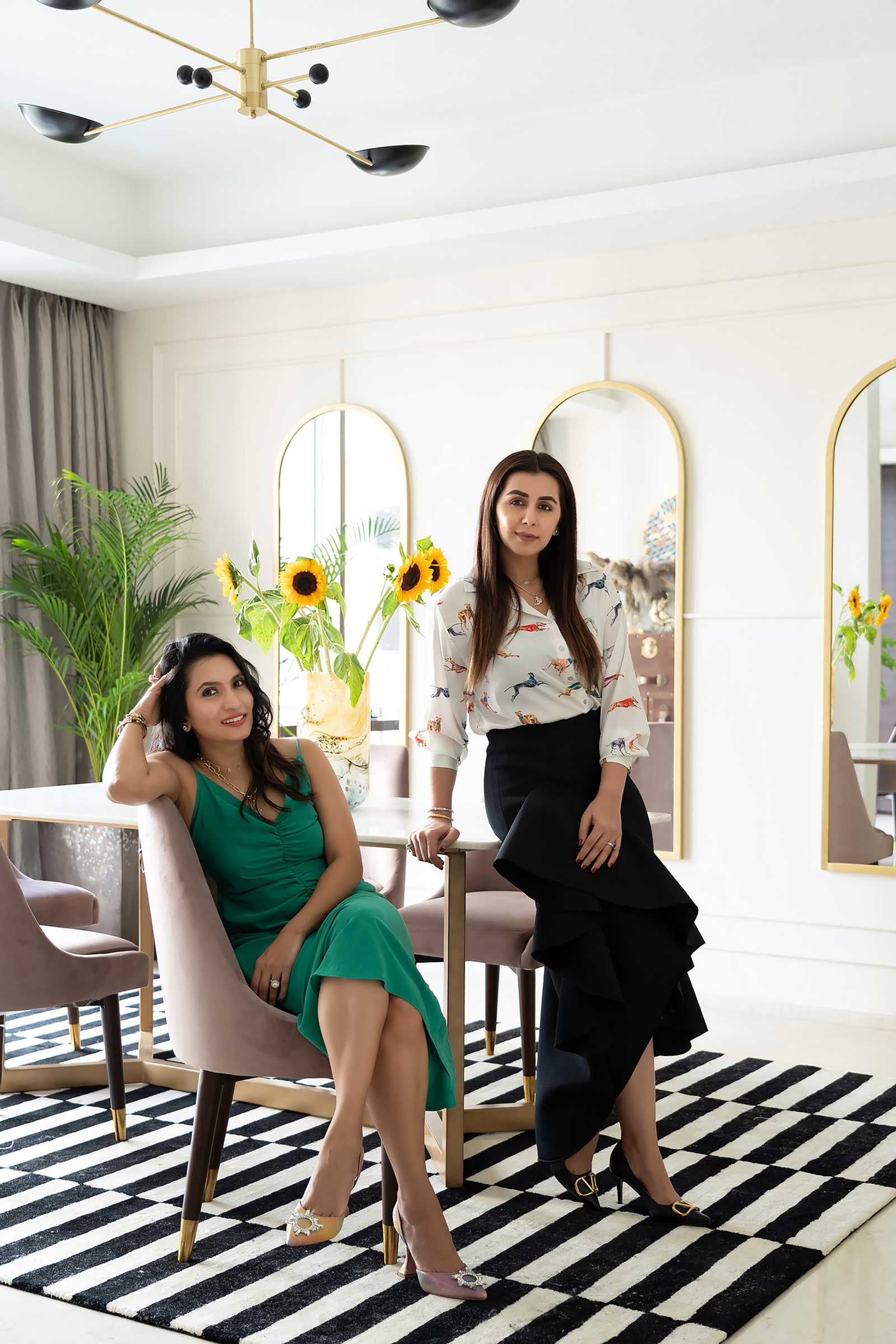 ---
"I played up the natural light and let it form a clean, minimal backdrop. The interplay of bold colours with soft neutral tones really helped make the space understated without looking drab. Not being afraid to use pops of colour and statement pieces ultimately brought the entire look of the home together," mentions Farah Agarwal, Founder and Principal Designer at Chestnut Storeys.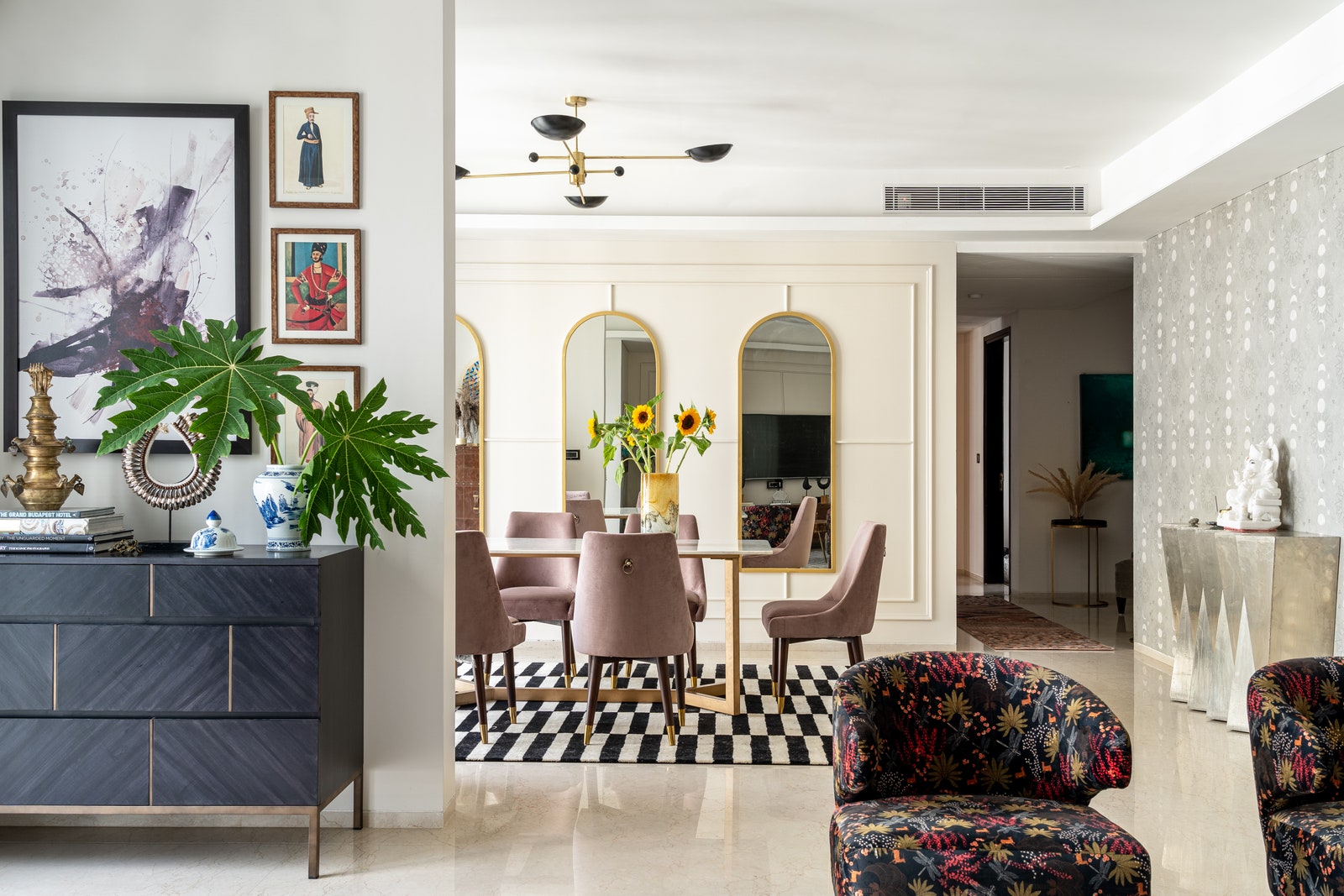 ---
While the apartment mainly exhibits a minimal design aesthetic, distinctive artworks and arresting furniture pieces add personality to the space. "I've been following Farah's work for quite some time now and I absolutely love her approach, sense of styling and vision. I love glitz and glam—anything that shimmers and shines. But I always overdo it, which is not a good thing. By working with Farah, I've learned how to channel my love for glamour the right way. This home completely defines who I am—very minimalistic, tidy and neat, which is why it was important for it to be practical and have ample storage solutions," adds Galrani.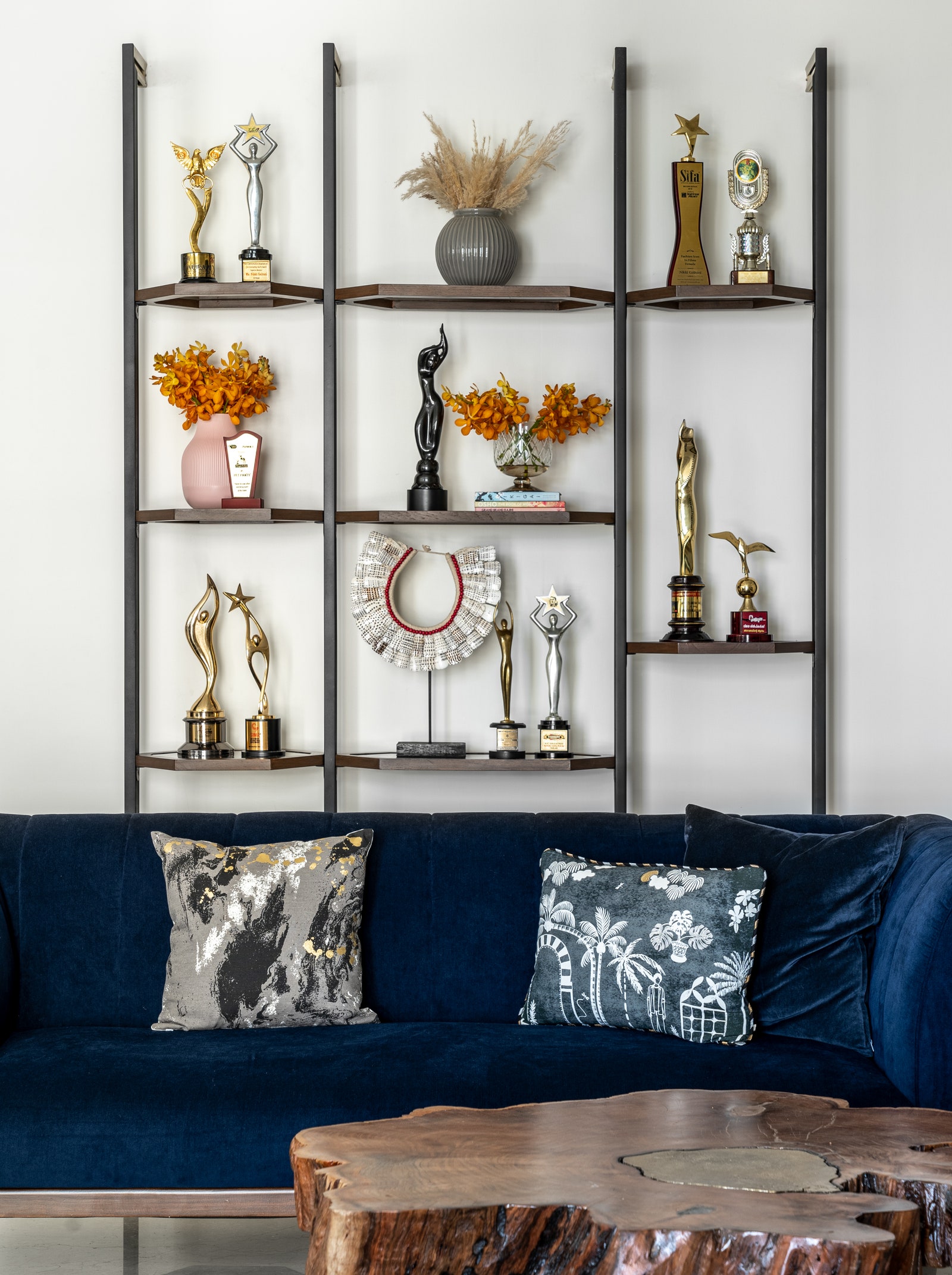 ---
Past the entrance, visitors are welcomed by a foyer exhibiting an eclectic yet chic gallery wall adorned with thoughtfully curated objets d'art. The centre of the wall features an abstract artwork surrounded by prints representing unique characters from different eras and cultures. The foyer opens into the living and dining area: the former exhibits a delightful mix of materials, colours and prints best showcased through the juxtaposition of the gleaming velvet blue sofa with the leather credenza and the abstract botanical printed single-seaters from Magari. Galrani's awards decorate the walls, standing proud amidst the furnishings.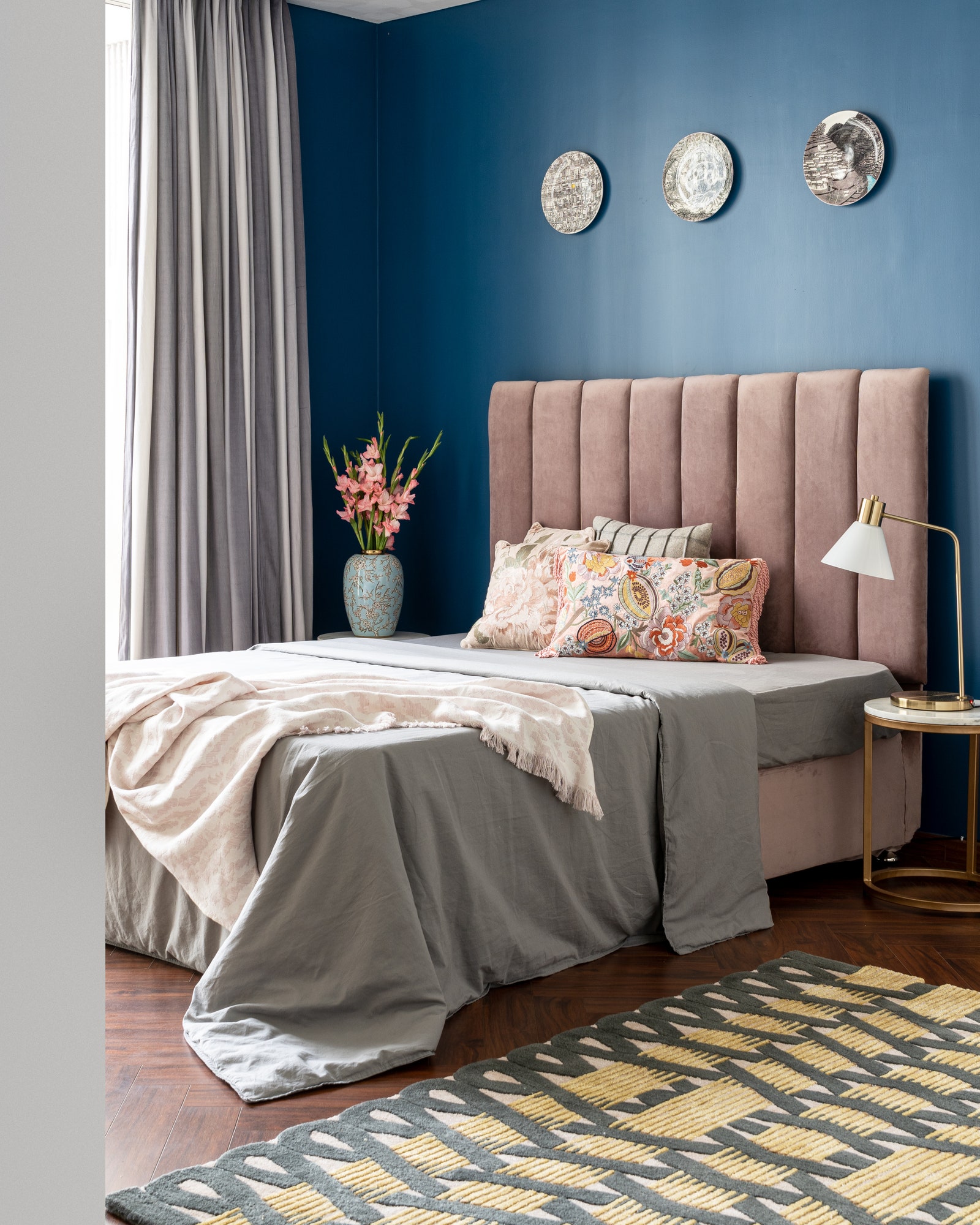 ---
The warm and welcoming living room flows into the dining space in an open layout, ​​making it an ideal space for hosting. The dining area comprises an exquisite table and pastel suede chairs, a monochrome rug from Jaipur Rugs, a modern chandelier and mirrors with gold rims. In the corner is a bar area housing a classic leather trunk from Studio Ochre, with gold Makaras from HB Studio and artwork by artist Amit Lodh.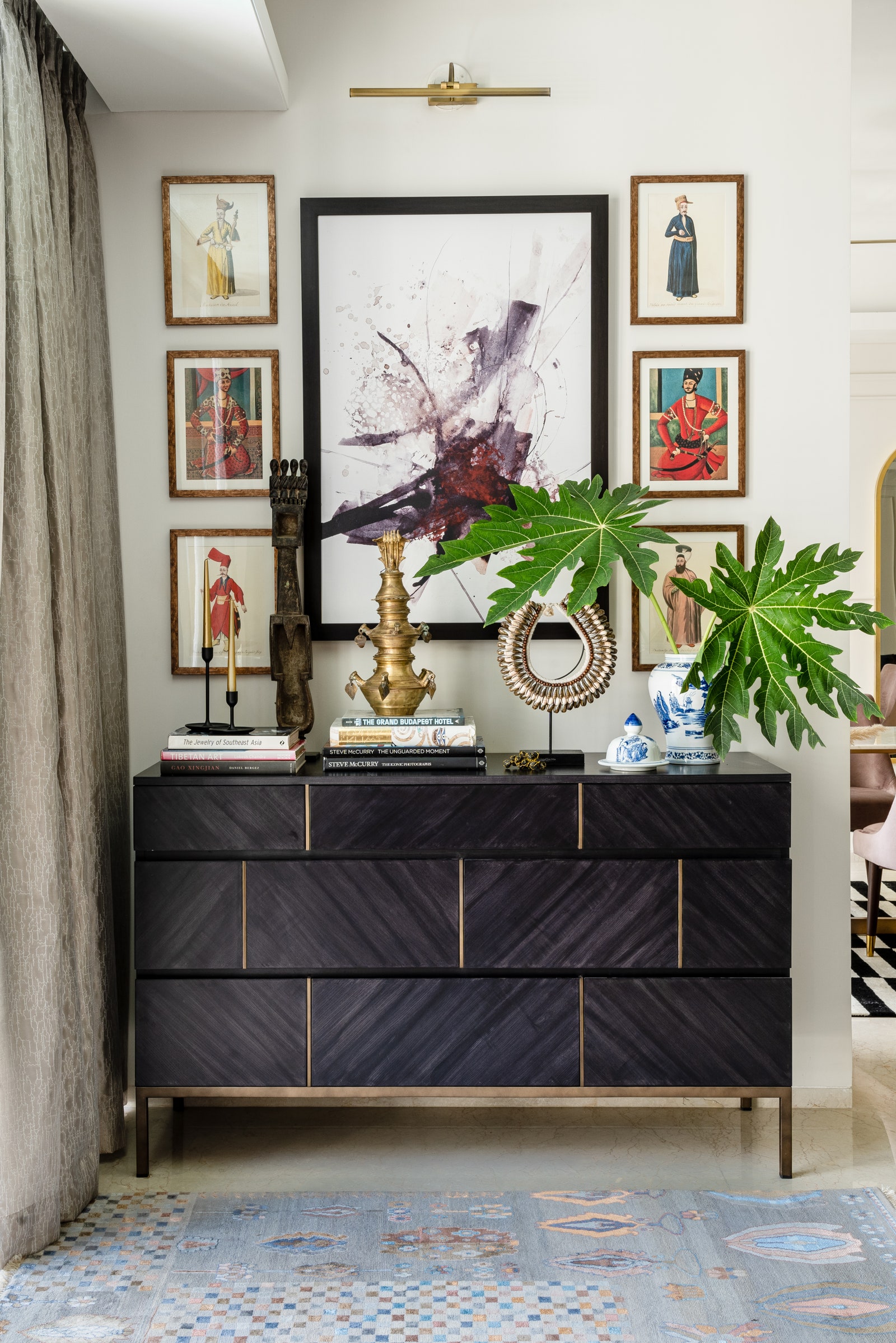 ---
​​"My favourite part of the house is the living room since that is where I spend most of my time. It's where I entertain guests, relax with my dogs, and make work calls. Both my living room and the dining room overlook the sea, and I just love sitting there looking at the view and relaxing," Galrani smiles.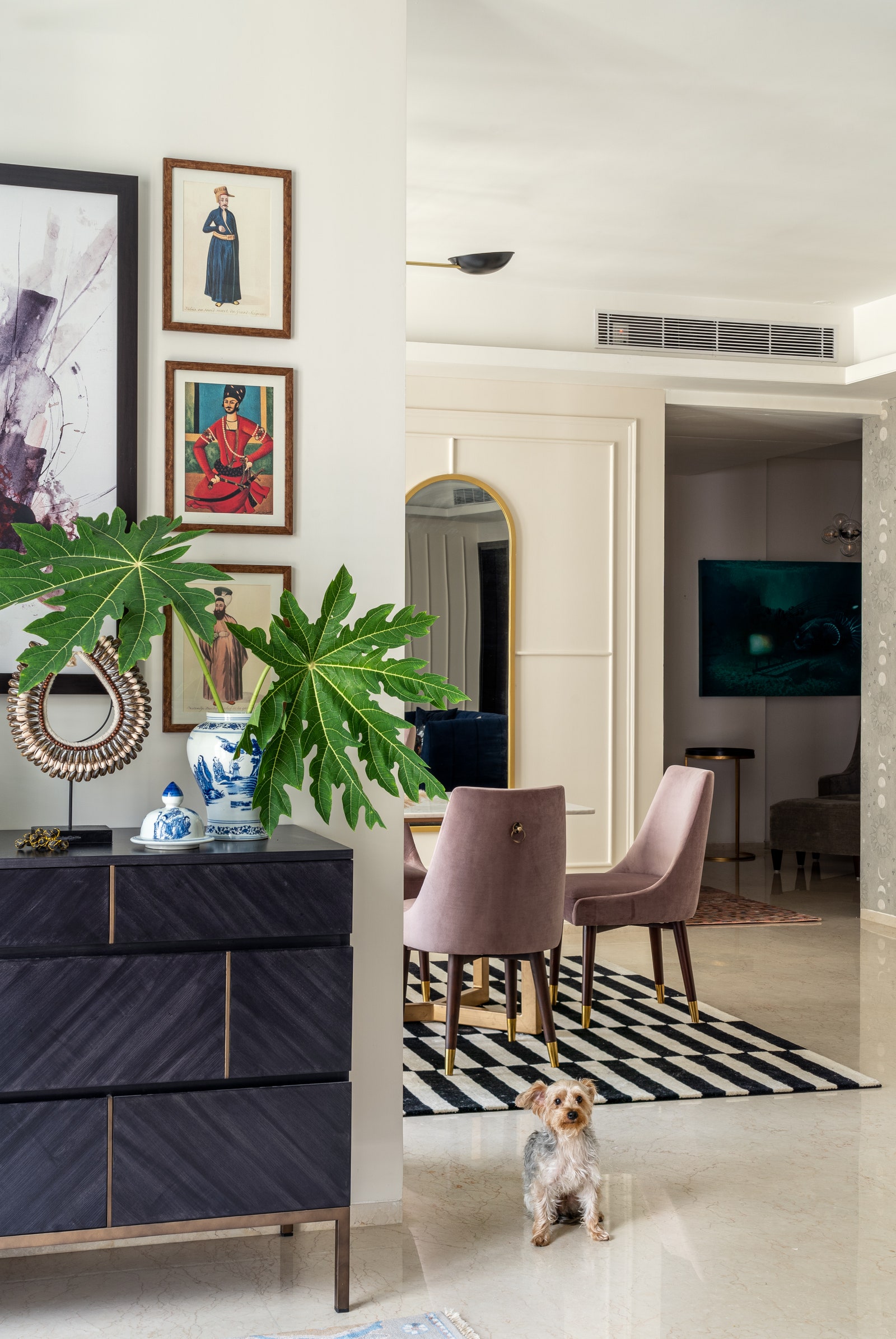 ---
The master bedroom is elegant and plush, and follows the same design aesthetic as the rest of the home. It has been designed as a tranquil sanctuary for Galrani and Pinisetty to unwind in, after a hectic day. Interesting elements such as a bed with a velvet headboard, a printed ottoman from Magari, a distressed carpet from Jaipur Rugs, and a sizable dual-toned artwork by artist Pulkit Prajapati from Gallery Veda tie the room together.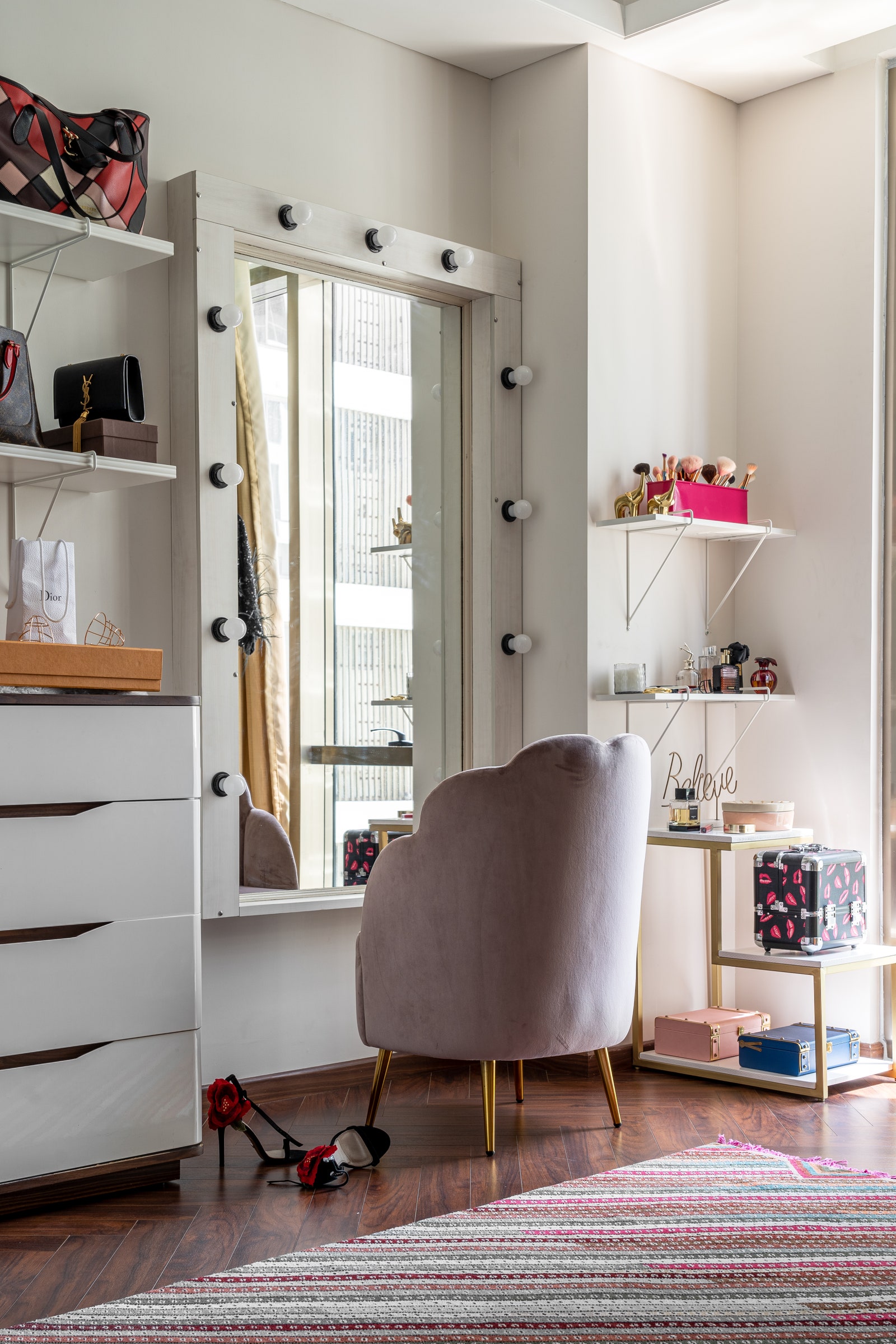 ---
A green and striped ivory striped wall is offset by a vintage chest of drawers that adds character to the space. The actor, who spends a lot of time preparing for shoots, wanted her vanity room to be a fun yet uncluttered space with minimal furnishings. The room accordingly melds classic design with simplicity. A bright turquoise and hot pink rug from Jaipur Rugs gives it a nice facelift.