Additionally, giving one's home sparkle before decorating for the upcoming festival is a perfect way to invite auspiciousness, prosperity, and good energy into one's own space. Thorough cleaning of window grills, door frameworks, removal of clutter, cleaning areas that are not normally attended to daily, would be a good start. Getting the removable sofa upholstery, curtains, cushion covers, etc washed will add freshness to your home. To take it even further, one could give a new makeover to the living and dining areas by changing the curtains and the upholstery too. This would add a new color and feel to our much-cherished spaces. So, here are a few interior décor ideas for the festive season, just the right ideas for your space.
1.Renovating the Kitchen and the dining space
Festival means feasts and parties, and enhancements in kitchen décor are just the right thing to start with. One can prepare a perfect and smart kitchen with the latest and powered appliances to modernize the kitchen with the best of Mixer Grinder, Masala Grinder, Sandwich Maker, Oven Toaster Grill to bake your cravings, Coffee Maker, Clip-On pressure cookware, Induction Cooktops, etc. With these kitchen partners, one simply is not alone anymore in preparing just the right dishes for the guests.
Also, to make your table impressive, one can add an interesting bunch of flowers, sprigs to the napkin holders and take a few moments to set the right cutlery. A well-set table only adds zest to the delicious food that is going to be placed there and around which memories and moments will be shared with the addition of floating candles into glass bowls filled with water for a unique table center piece. Red is the most sacred color in Hinduism and Red compliments well Golden. Hindu artists use color on the deities and their dresses signifying their qualities. Proper use of colors creates an environment, which should keep a person cheerful.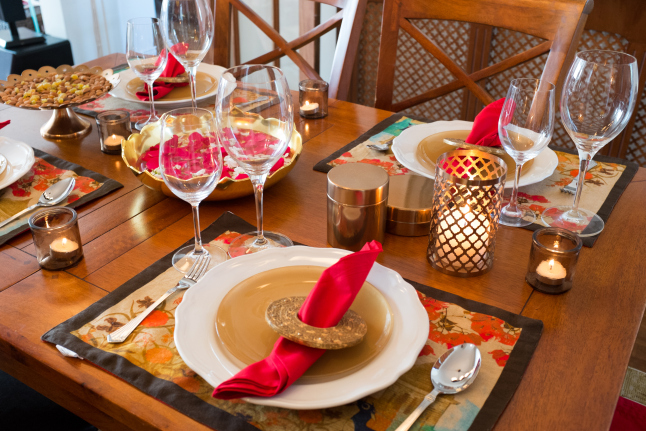 ---
2.Add ethnic cushions in your living space
Indians love colors so why not display this love in your home interiors this festive season. Cushions and pillows are the most favorite elements of home interior designers. Hence, with this Navratri, you can jazz up your sitting area with some cushions with ethnic work. From mirror work to colorful embroidery, every kind of cushion is available in the market. For instance, one could display Ikat cushion covers or handcrafted, spun cushion covers for your sofas and living room patios. One can also add ethnic printed carpets, cushions, rugs, and runners to your living room, to ramp up cozy indoor spaces.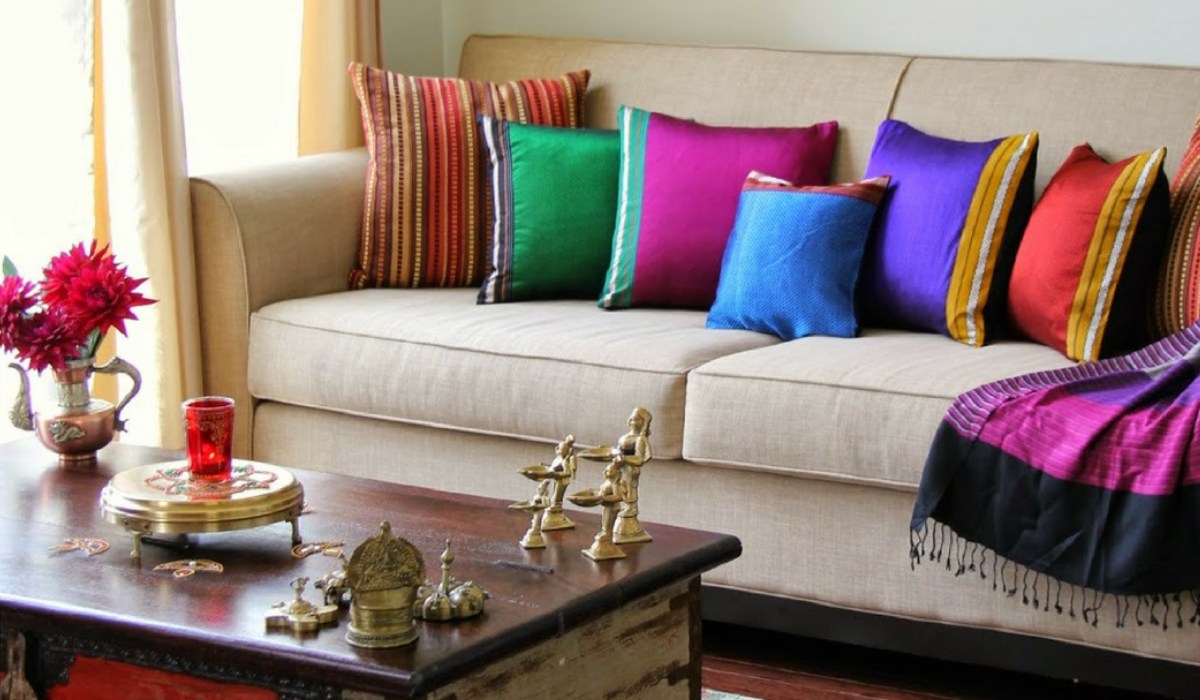 ---
3.Set the right tone of living space with perfect lighting
The festival season is incomplete with proper lighting. Diya is the first choice to light up spaces during Diwali (festival of lights, as one may call so!), one can choose over-embellished diyas with sequence and glitter. While people still choose diyas that are lit up with ghee, oil, or wax, the traditional lamp is also available with a twist – LED diyas. LED lights, strips & strings and diyas save electricity and add a modern look to your space. You can also lighten the windows and entrance with paper and glass lanterns, ornate light fixtures. A lit lamp or a diya always signifies knowledge, being a dispeller of ignorance. One lamp can light several lamps without diminishing in its brightness, just like how one spark of love and affection can illuminate several lives, bringing entire humanity into a fold of oneness.
Earthen lamps with cotton wicks, add a special traditional touch to our home, illuminating it with the festive essence. A row of diyas on the front porch, terrace, or balcony, near windows and entrance, reflects the joy and fervor of the season. Surrounding the earthen lamps with flower petals could enamor the celebration further.
Strings of dancing fairy lights around pillars, windows, in the garden add to the decorative charm. Aromatic diffusers in the living and dining areas can be very soothing and palliative amid the festive excitement.
Indirect cove lighting gives a warm and cozy feel to the house while direct lighting or spotlighting is used to create focal areas. Other light fittings like wall bracket lights, may be used to highlight a painting on the wall or artifacts. A chandelier can brighten up the décor of a house, as well. One can be creative, by using paper cones around the light fixtures, to change the shade of the light, from greens to blues and oranges. You can also use discarded wine bottles and stuff them with Mirchi lights and arrange them around the house for a unique statement.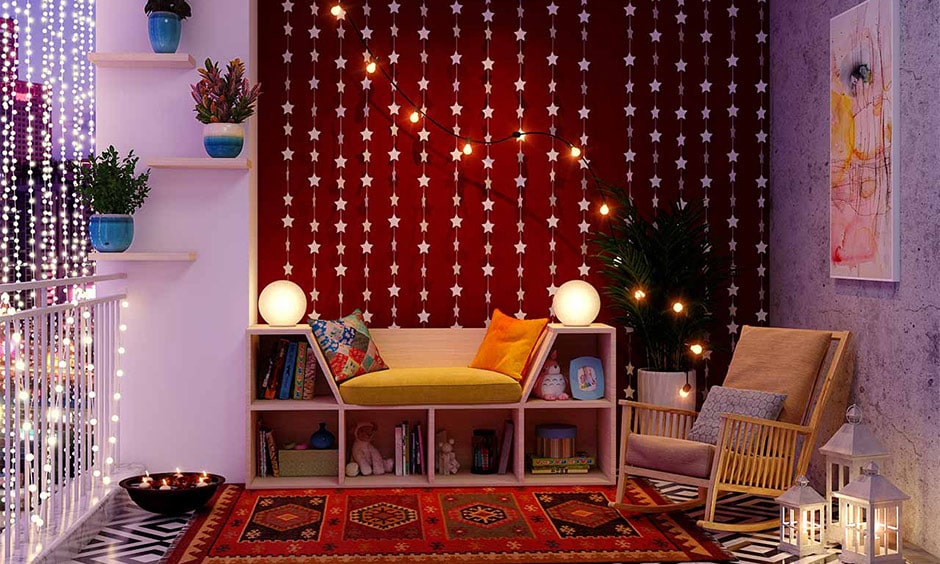 ---
4.A lighten balcony can be fun
The outdoor space should equally be looked upon as indoor, and nobody would like to have a dull balcony for their guests. Fairy lights, along with some origami birds and plants to add on, can add elegance to the entire balcony space. Cut-out birds and stars hung together on a string create a chime of their own make this balcony space looking dashing. for this Diwali. Fairy lights drop down from the large bay windows leaving the windows with a sparkle of their own. Copper bowls filled with red rose petals and floating diyas are the center of attraction in this living room. This living room has a floor-to-ceiling unit with shelves that have LED strip lighting that adds a dash of Diwali spirit.
With the countdown beginning to usher in the festival, you need to make sure you are well stocked up with abundant supplies of sugar, clarified butter, dry fruits, and spices, etc. It is a part of our culture to prepare an array of sweet treats to reflect the prosperity and auspiciousness of the festival. Additionally, it keeps the happiness quotient of our circle of friends, relatives, and family brimming to the edge, to spill over.
A lavish spread of feasts is laid to keep the celebration soaring. Before the run-up to the festival, cutlery and the best of crockery are sparkled up to keep the snacks and beverages flowing.
Festivals reinforce values, traditions, encourages families to stand by together through thick and thin for all good and trying times. It is this time that we appreciate the values of love, understanding, and adjustments to face all challenges with courage and determination.