A few months ago, Masquespacio, an award-winning, Spanish creative firm designed the interior design of Bun Burger's newest location in the historic Brera neighbourhood of Milan. Bun Burgers is a gourmet burger fast food chain with numerous outposts in Italy. While this space retains a similar brand identity as other locations, this eatery design is envisioned to exhibit a more chic look. With this new project at Via Dell'Orso 20, Milan, Masquespacio has now conceptualised six restaurants for Bun Burgers, including the recently opened eatery at Via Calindri 2 and Via Spallanzani 16, both in Milan, as well as a new space at the shopping centre Lingotto in Turin, Italy.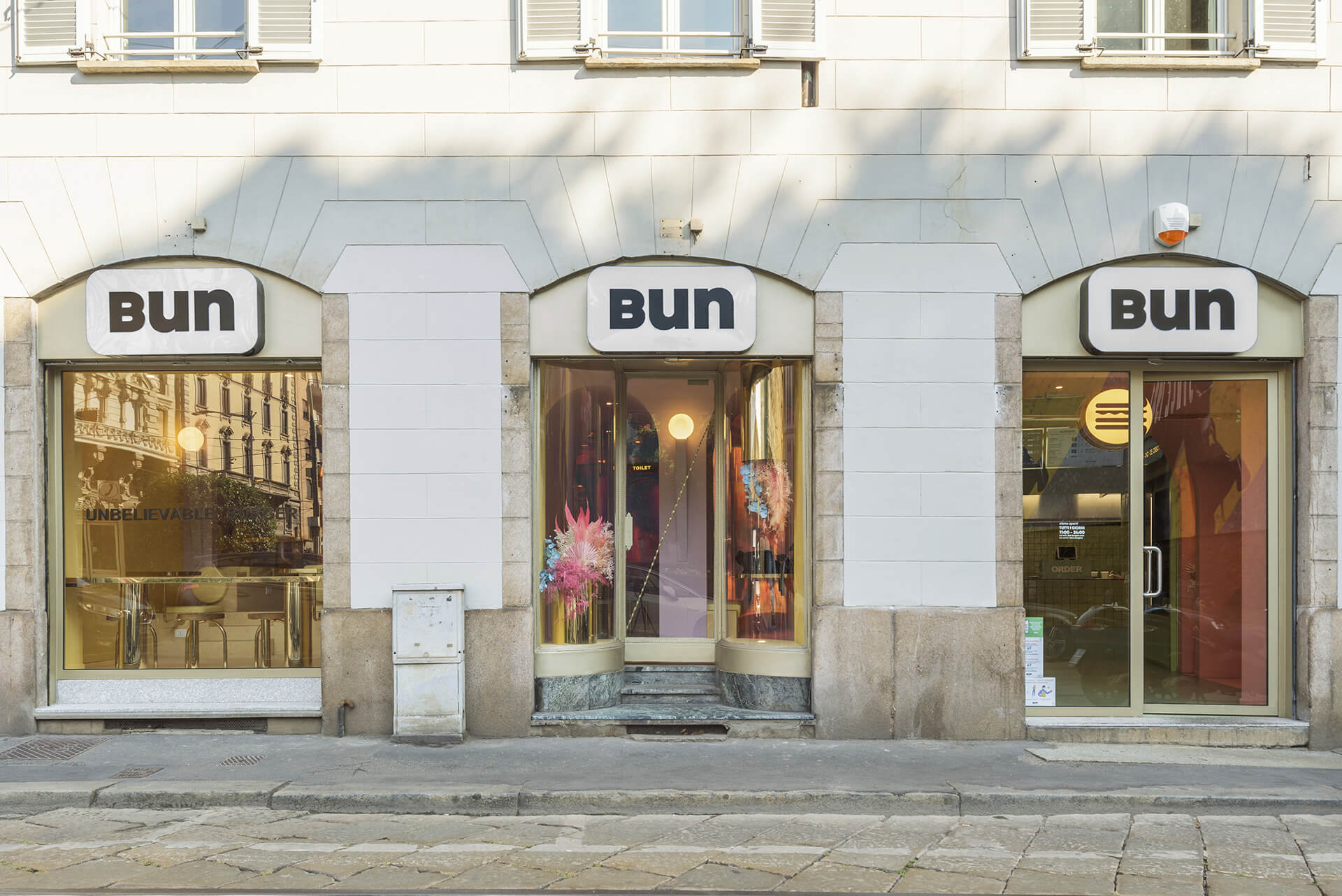 ---
Established by Ana Milena Hernández Palacios and Christophe Penasse, Masquespacio is involved in branding and interior projects with a focus on unique and unconventional concepts. "It is important for us in every project to seek a personalised solution that fits with the brand and client we are working for. At the same time, we like to break away from the traditional and move away from conventional standards. The use of colour and material is definitely where you can most recognise our style in this space," says Penasse, co-founder of Masquespacio.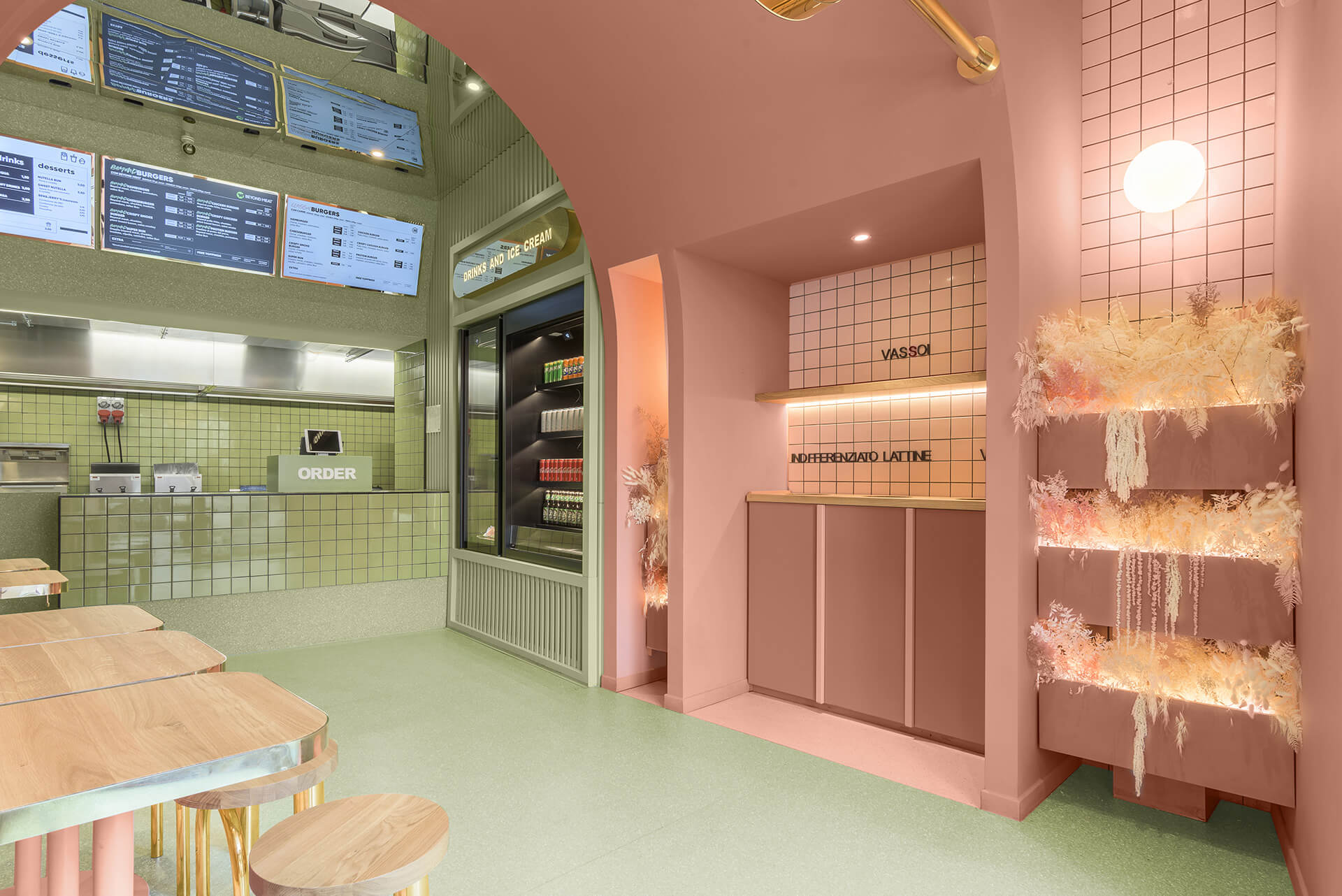 ---
Diverging from other Bun Burgers outposts, the new restaurant exhibits five distinct colours. But, this space's colour palette is a bit less splashy to give it a more mature look and adapt it to the upscale district where it is located. "Bun Burgers is an ever evolving brand and this makes it a perfect match with our studio. They don't want to stick to the standards, but are open to evolve for every space, understanding very well that every space needs a design language that represents the brand. In this case, as the space is surrounded by high level fashion brands, it needed a bit more sophistication for which we incorporated more mature colours, dry plants and a bit more of gold, to give it a luxury ambiance," remarks Penasse.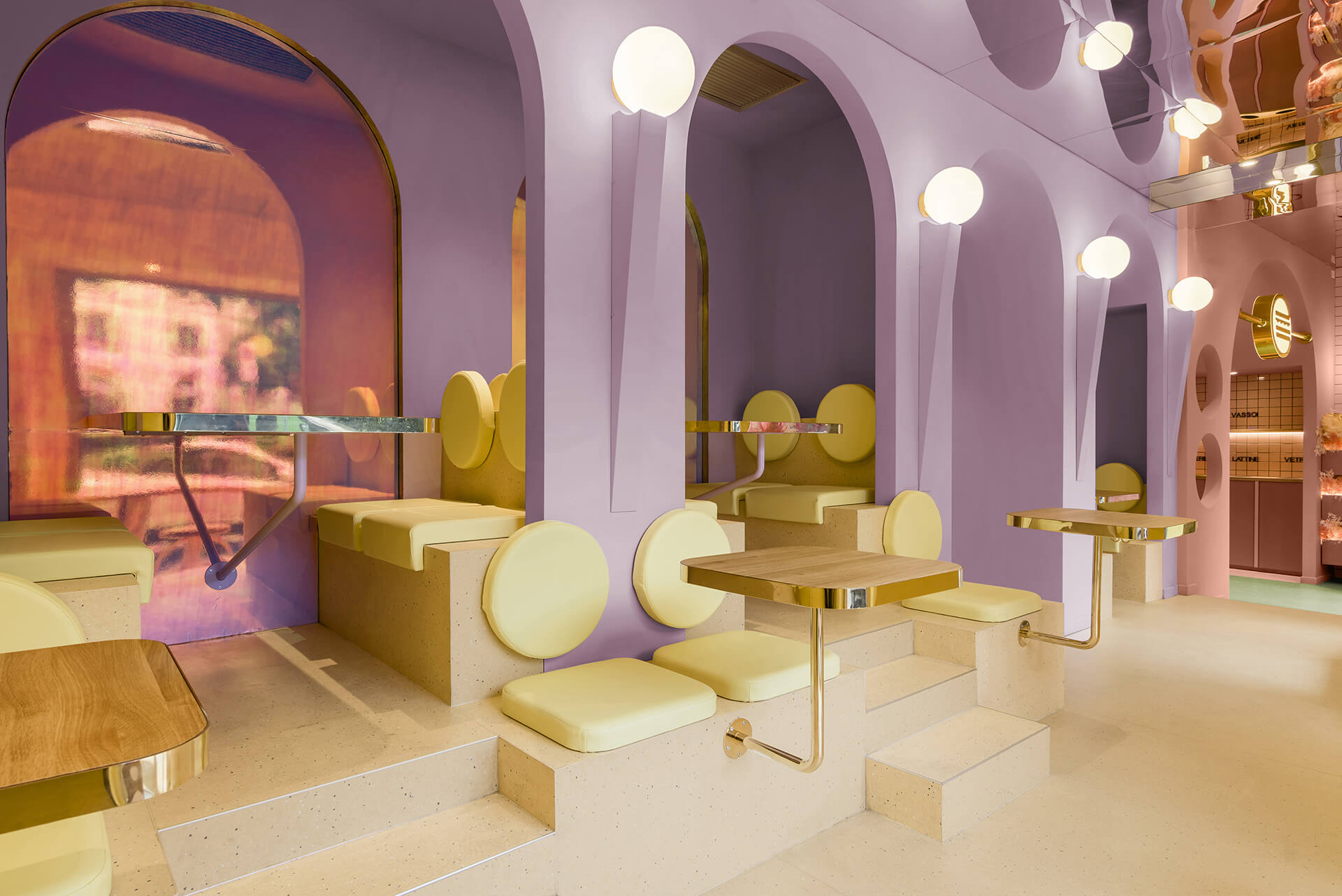 ---
Bun Burgers' latest location at Brera showcases a design that is a contemporary take on the aesthetic of fast food chains of the 80s. The primary space with the ordering counters includes a pink and green colour scheme. The restaurant houses multiple seating areas including private booths within arched lavender spaces, and small tables for one and two people in its yellow and purple hallway. The new eatery also incorporates elements previously seen in other Bun Burgers outlets, such as the furniture and lighting design. Additionally, the design studio added dry plants to the space to bring a touch of nature, which fits perfectly with the mature aspect that was important for this project.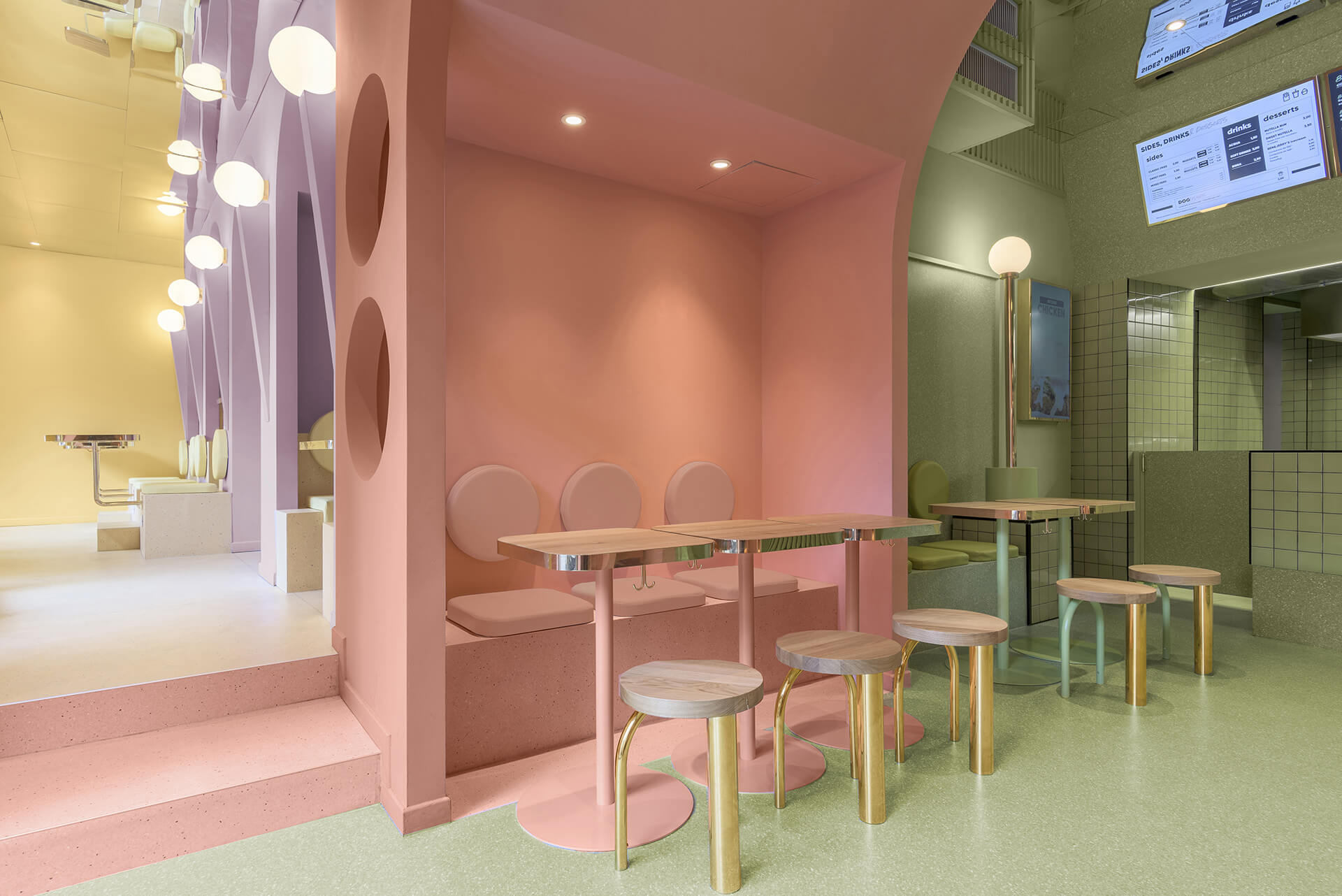 ---
Furthermore, the highlight of this new eatery is a small room that exhibits a unique swimming pool concept. "We loved developing the whole space, but the most challenging, without a doubt, was the corner where we created the swimming pool effect. It was a really small space and the client had a lot of doubts about it. As we needed to attract customers to that space, we needed to create a more outstanding space that would catch your attention," remarks Penasse.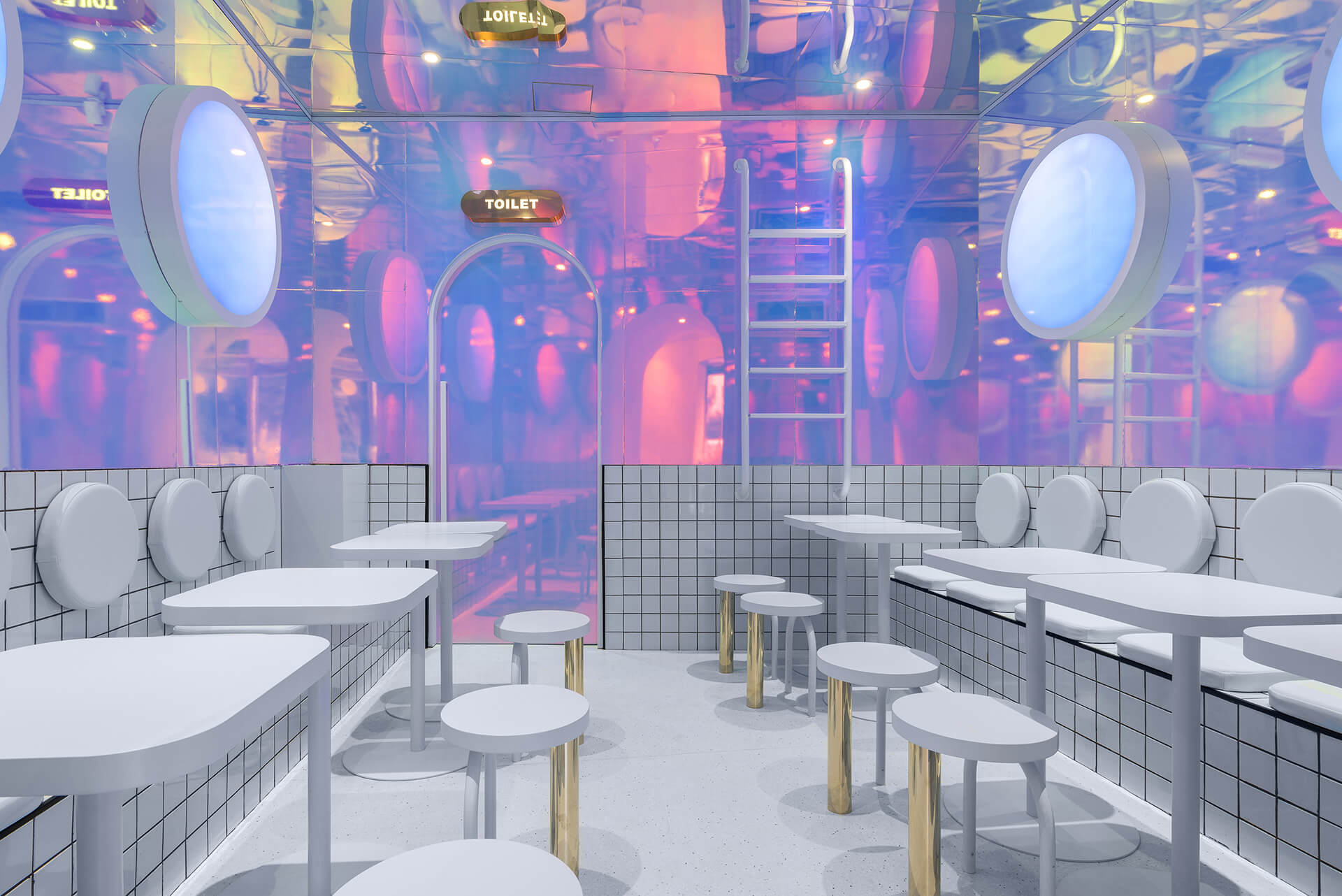 ---
Through one of the purple arches, guests enter a separate seating area with iridescent panels on the walls and ceiling that provides a setting of being submerged in a swimming pool and being surrounded by water. "The designs for Bun Burgers are focused on an urban lifestyle concept. We usually incorporate one or different elements from this concept. In this case, we chose a swimming pool as it was already introduced in a previous Bun Burgers outpost in Turin. The concept in Turin was a big success and now we wanted to integrate it in the space in Brera, but in a less conventional way, recreating the wave of the water on the ceiling and walls. It feels like entering a space under water with your hamburger," adds Penasse.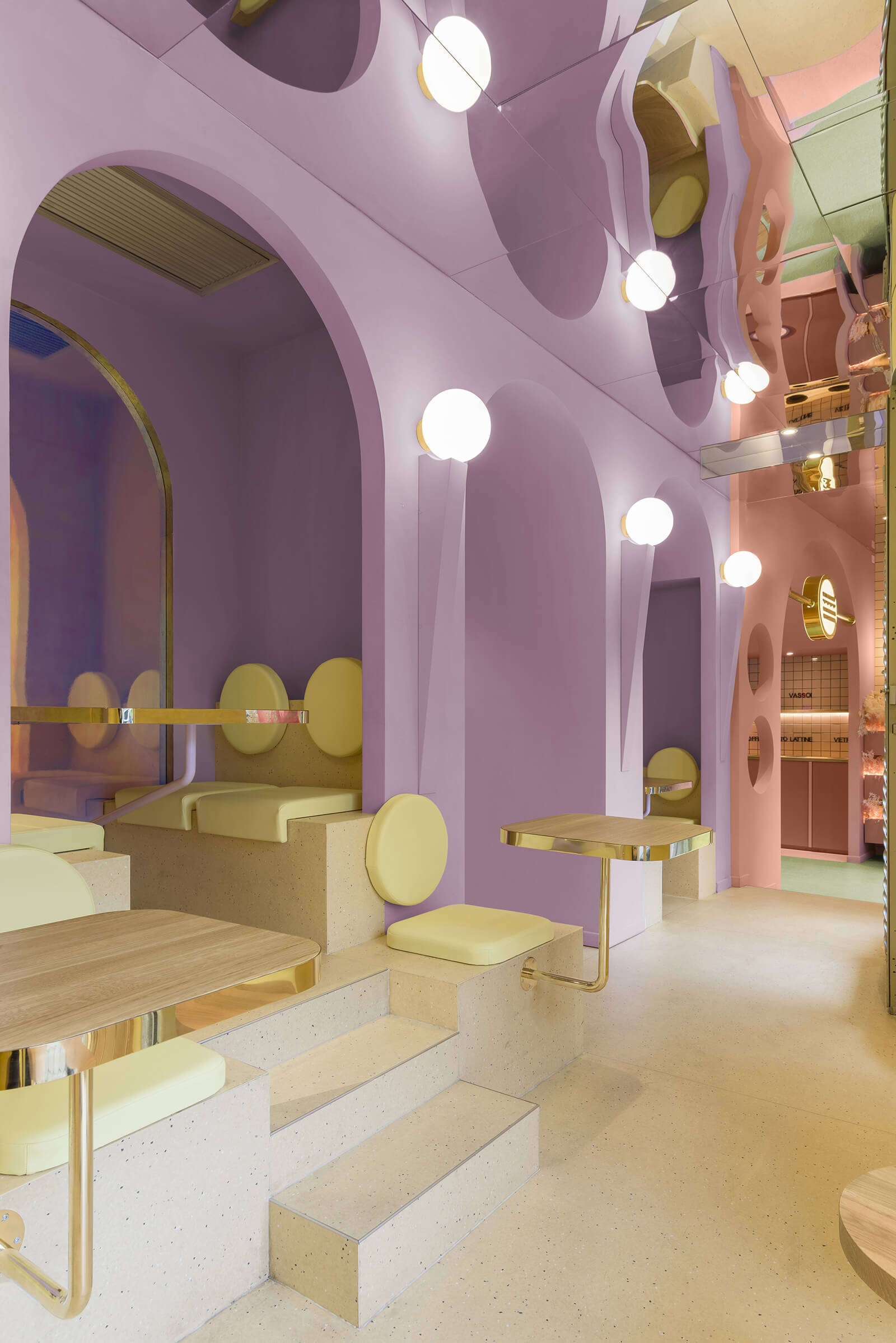 ---
Masquespacio is a supporter of environmental sustainability that is reflected in the design of this space as well. "Environmental sustainability is something we are working on and evolving with. We like to work primarily with local artisans that hand-make most of the products using indigenous materials. Like in the case of Bun Burgers, we used products with high durability that were primarily produced onsite or in Europe, which makes it possible for them to stand the test of time. In this way, we are more respectful of the environment," concludes Penasse.