Atelier Nomadic has designed bamboo treehouses that blend with nature, for Playa Viva resort in Playa Icacos, Mexico, an environmentally-friendly hotel dedicated to sustainability. The retreat's newest addition by the architecture and landscape design studio includes six bamboo treehouses evocative of the flattened, prismatic bodies of mobula rays, which migrate past the property's shore. Offering panoramic views of a serene beach and surrounded by palm trees and untouched greenery, these treehouses are suspended mid-air and accompany the original treehouses designed by the Regenesis Group.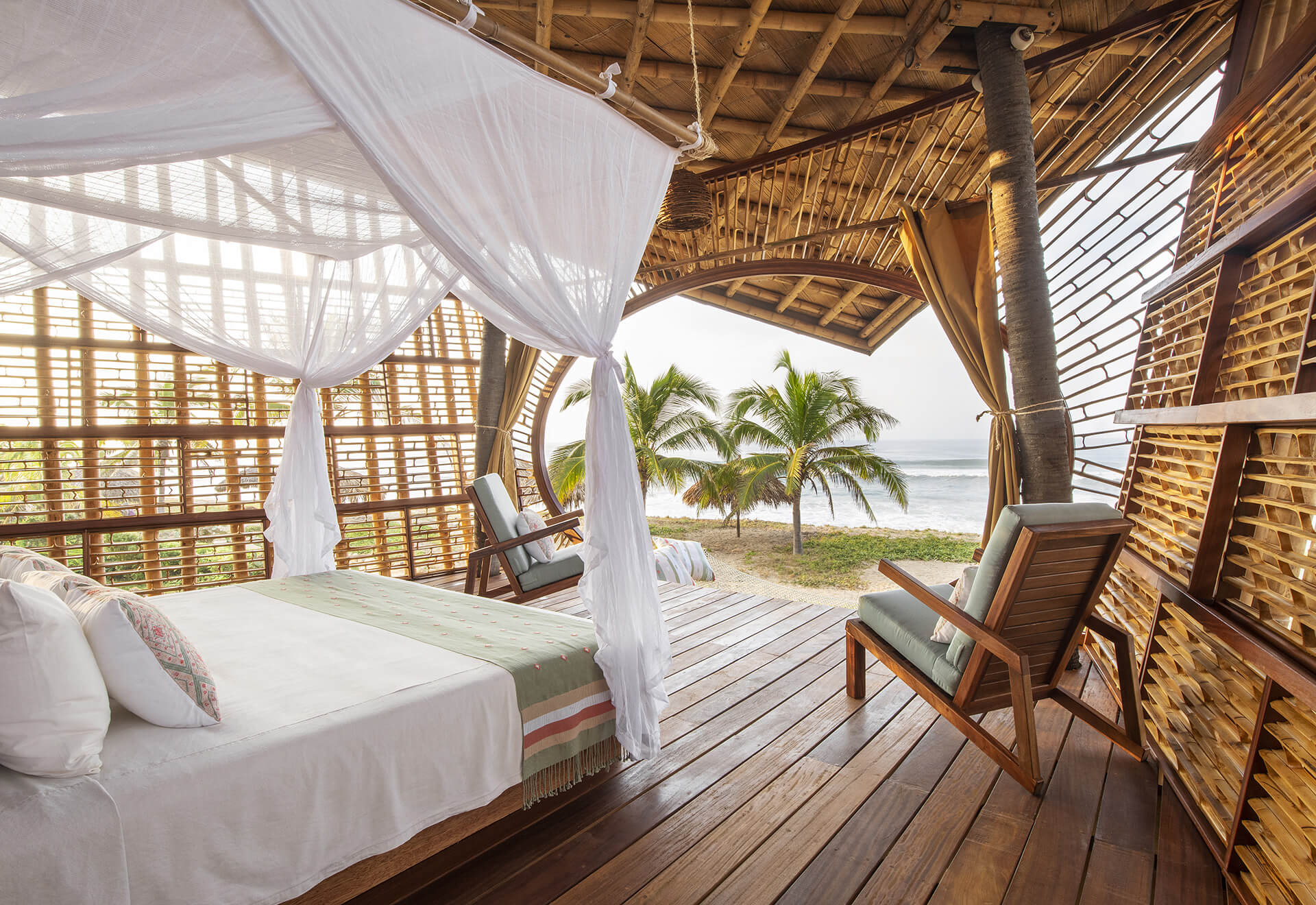 ---
Biophilic Architecture
Atelier Nomadic is an architecture firm with offices in Rotterdam in the Netherlands and Mauritius. It focuses on biophilic architecture and regenerative landscape design. Atelier Nomadic developed the construction strategy of these new treehouses in collaboration with bamboo expert, Jorg Stamm, who supervised the construction and brought a diverse team of bamboo craftsmen on board. The Playa Viva treehouses are a great example of environmentally sustainable architecture. They showcase limitless possibilities in design and construction materials, and question the status quo.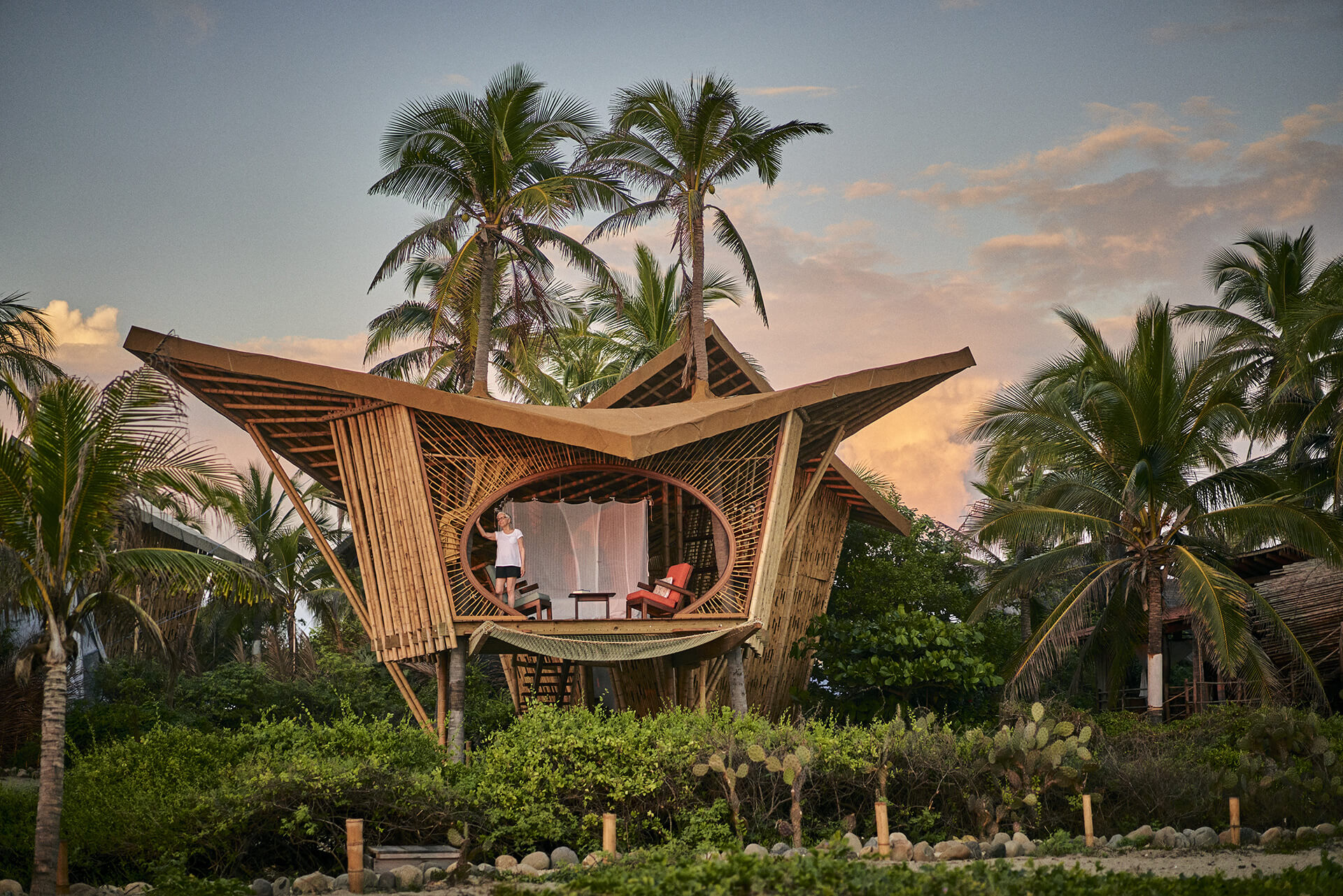 ---
Luxurious Treehouses
Each new treehouse consists of a master bedroom at the front and an annex treehouse at the back. The master bedroom has a hammock balcony suspended out towards the sea and the annex treehouse comprises a lounge with daybeds, a study area with a desk, and a bathroom. While these treehouses are constructed using bamboo, they are well-furnished with wooden furniture and opulent amenities. The structures provide unobstructed views of the surroundings. Furthermore, the form of the treehouses is reminiscent of local mobula rays that are found in plenty in the region. With these structures, the retreat and the architects wanted to celebrate the surrounding natural scenery and its inhabitants.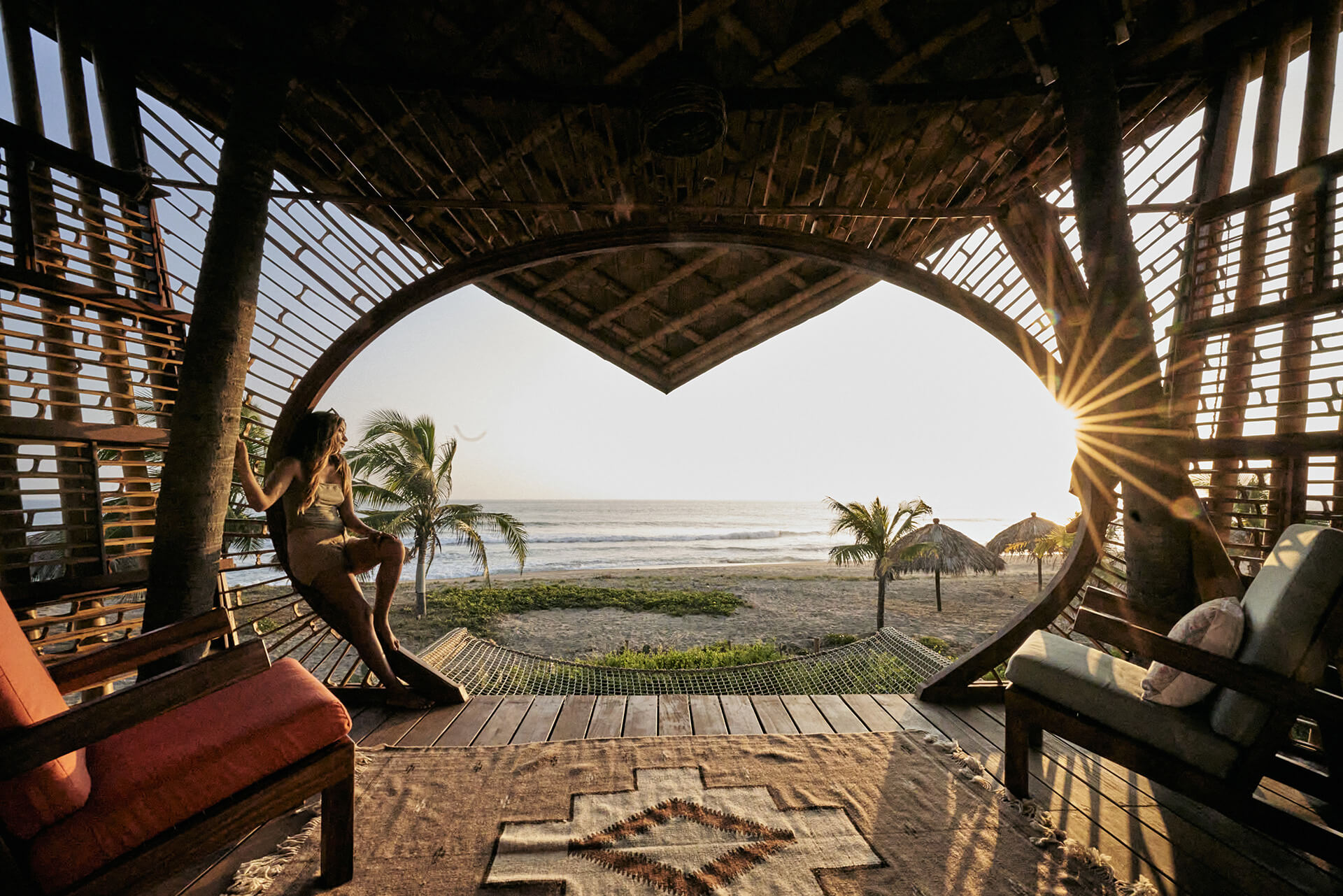 ---
Bioclimatic Design Principles
These mobula ray treehouses were constructed using bioclimatic design principles to suit the natural environment. For example, the eaves of the roof function like a large umbrella, offering shade from the sun and protection from heavy rains. The façade louvres enable natural cross ventilation.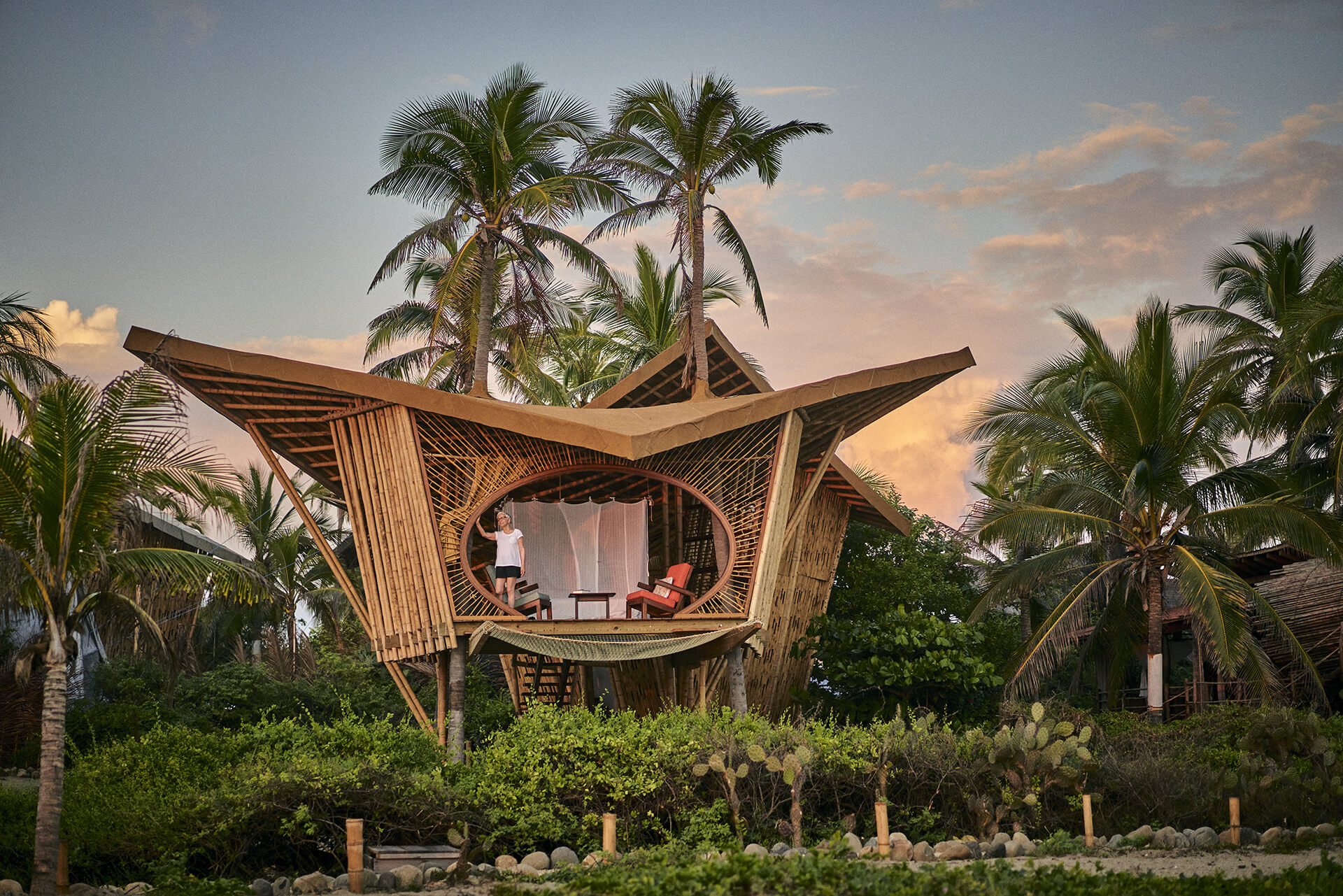 Moreover, the structures were primarily constructed using local bamboo, which is one of the fastest growing renewable building materials in the world. The treehouses showcase the diversity and adaptability of bamboo in construction. The primary structures and the roofs are made of sturdy Guadua bamboo poles, the façade louvres comprise section strips of bamboo and the ceilings feature flattened bamboo panels. The wall and façade panels in the annex treehouse comprise Phyllostachys aurea bamboo poles and the flooring features sustainably grown local Cumaru timber.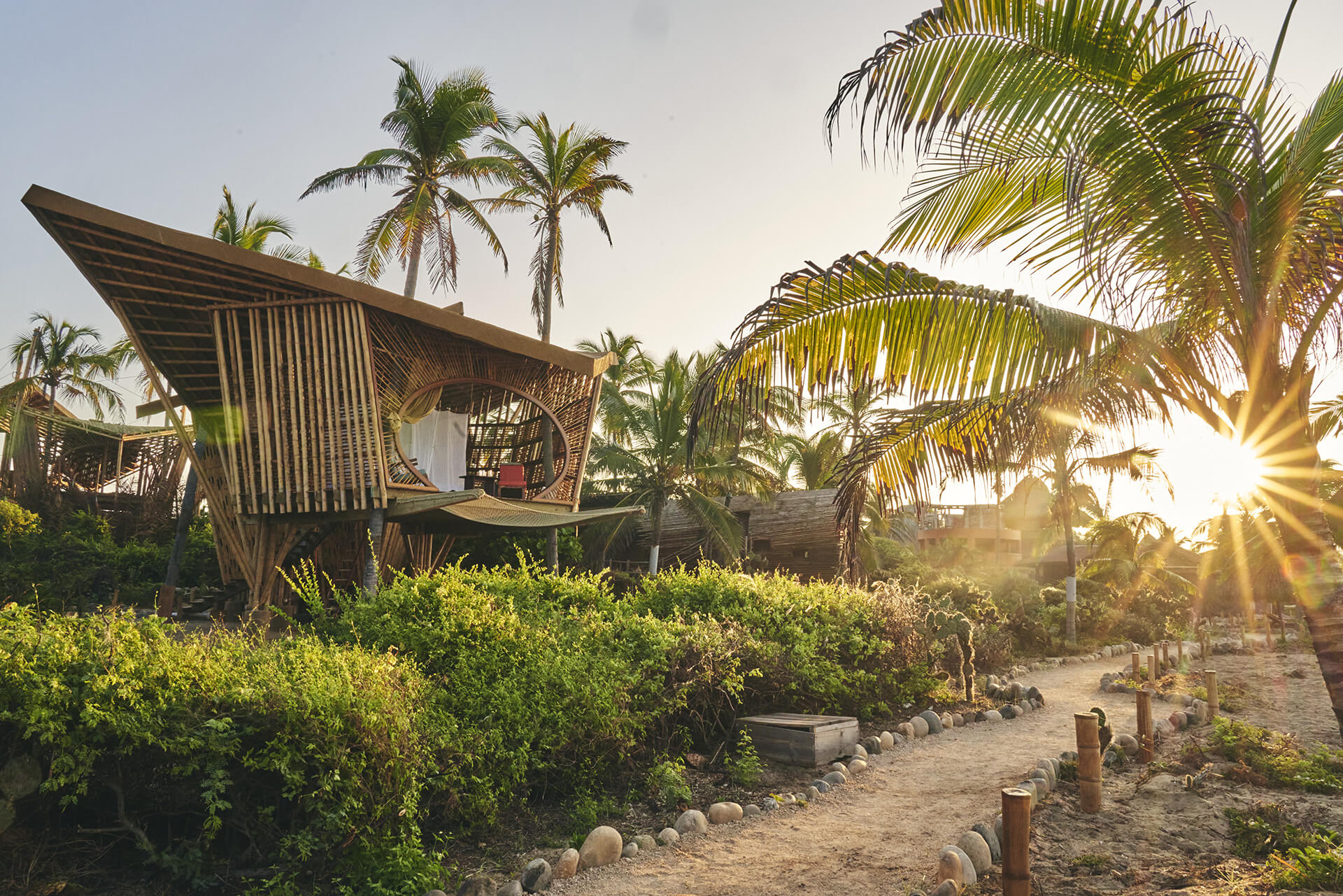 ---
One With Nature
The goal of the design of the Playa Viva treehouses was to align with the expected post COVID travellers' desire to stay in one-of-a-kind accommodation immersed in the natural environment. These structures blur the boundaries between indoors and outdoors and provide guests a chance to be one with nature. "Sleeping in the mobula ray treehouse is a liberating personal experience," adds Louis Thompson, CEO of Nomadic Resorts (Atelier Nomadic's sister company). "After months of isolation and lockdowns, guests can connect with their environment once more. They can listen to the sound of the waves, feel the breeze sway through the palm leaves and taste the salt air, unmasked, as they lounge on the hammock suspended over the beach, staring at the stars. This is beyond wellness, its catharsis."