---
A family of three generations reached out to interior designers Priyanka Itadkar and Falguni Bhatia of firm The Act of Quad to conceptualise their second home located in a high-rise apartment building in Ghatkopar, Mumbai. The 3,500 sq ft apartment was conceptualised by merging two separate apartments, and it houses four bedrooms, a living and a dining area in an open layout, a kitchen, a mandir (temple), a study room, a family room and a theatre room. It is a vibrant and airy home with expansive floor-to-ceiling windows, and interiors that exhibit the clients' simple lifestyle.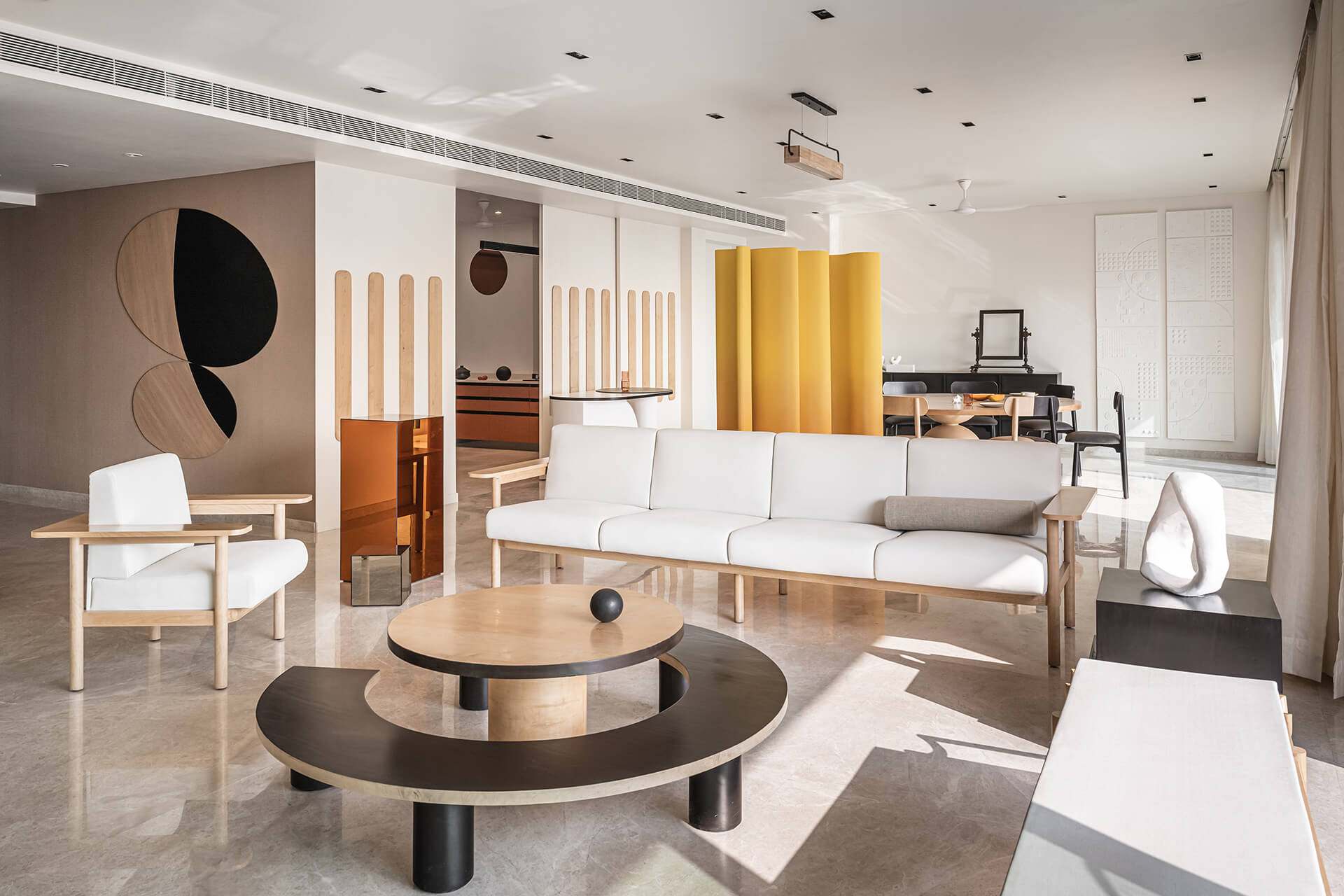 ---
"Our clients have travelled around the globe, and really resonated with the Japanese sense of living. Grandparents, mother and father, along with their daughter reside in this calm yet engaging home. The grandfather being a cartoonist really wanted a playful environment, in contrast to the minimal taste of his engineer son. The family desired a minimal but playful design, which was the opposite of their current old-fashioned and ornate home designed in the 1940s. That said, the primary focus of the interiors of the home is storage and multi-functionality," state Itadkar and Bhatia, founders of the Mumbai-based studio.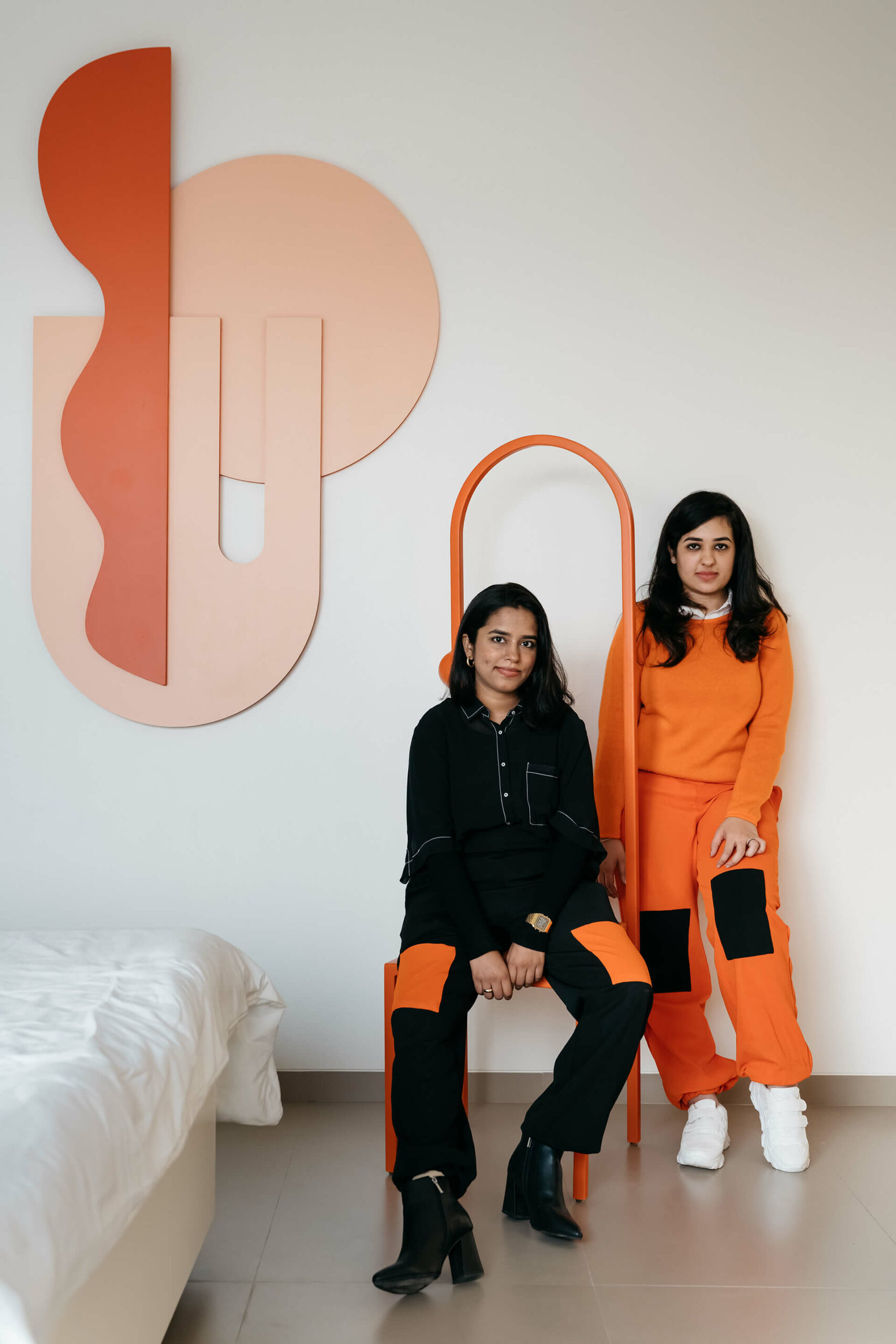 ---
The Act of Quad's approach to the design style of this home is intuitive, whimsical and collaborative that showcases itself between being peculiar and unconventional. "There is a sensitivity that clearly weaves itself throughout the design, each decision whether it be spatial arrangement, material selection, custom furniture detailing or art pieces, these have been meticulously resolved to achieve this form based on soft geometry. In addition, a refined, minimalist textural palette has been adopted throughout the interiors, curating a soft, calm atmosphere. The scheme is largely dominated by a neutral palette, while warm colours are strategically injected into spaces throughout the house," add Itadkar and Bhatia.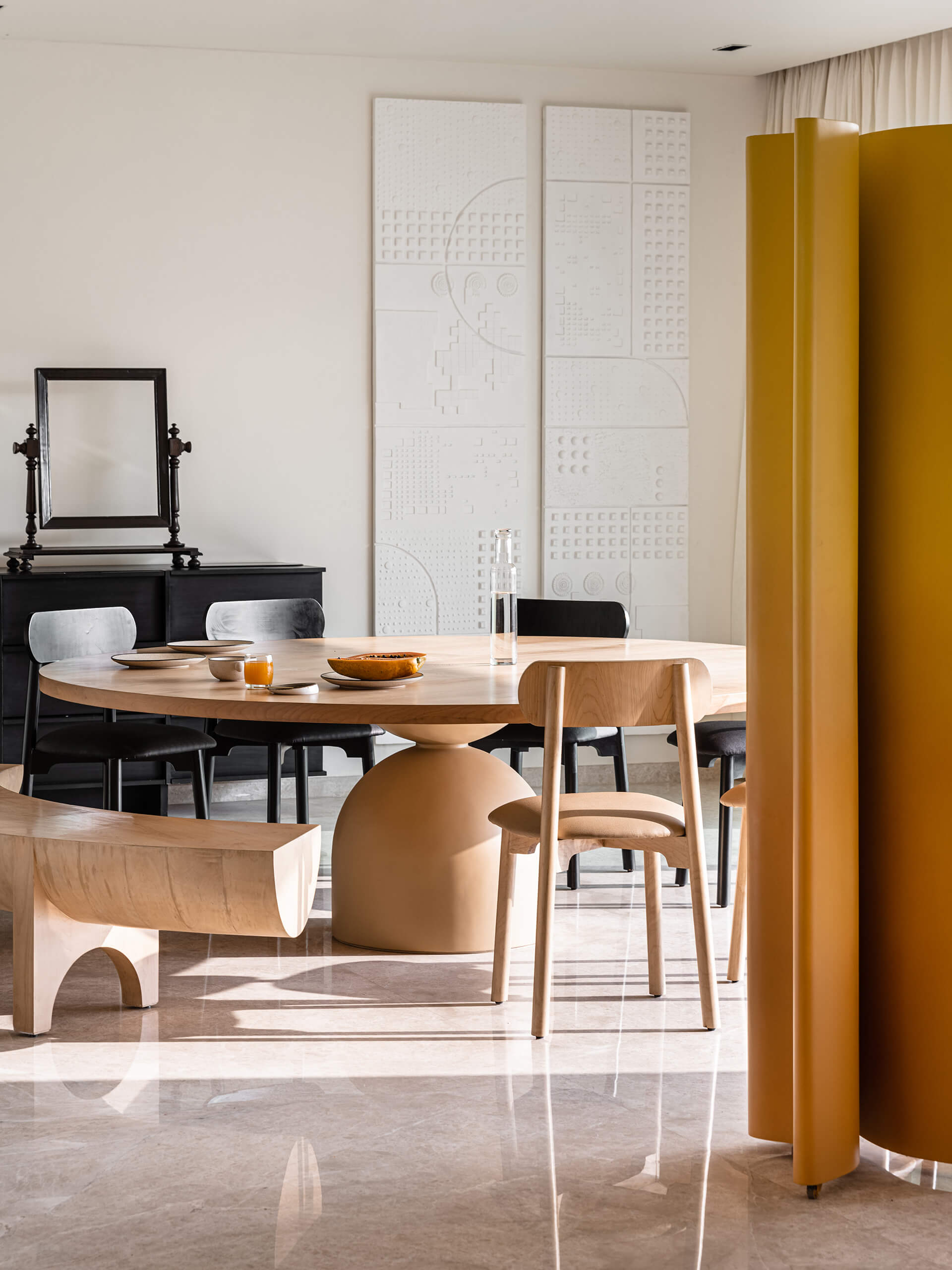 ---
The apartment's living room is separated into a dining area and seating area by a yellow, moveable screen that immediately demands visual attention with its undulating waves and vivid hue. The living area comprises a wooden sofa with white upholstery and a circular coffee table. "A geometric maze of custom-made furniture traverses the open floor plan of the living room, allowing programs to overlap, intersect, and bleed into one another. The result is an energetic and highly functional living space that moulds to different requirements of the user. All the furniture and art pieces are designed and curated by us on site. We tried to soften the severity of the minimalist architecture with smooth outlines and rounded shapes. Thus, the main decorative motive of the project is geometric figures derived from the circle, as well as wavy lines," explain the founders.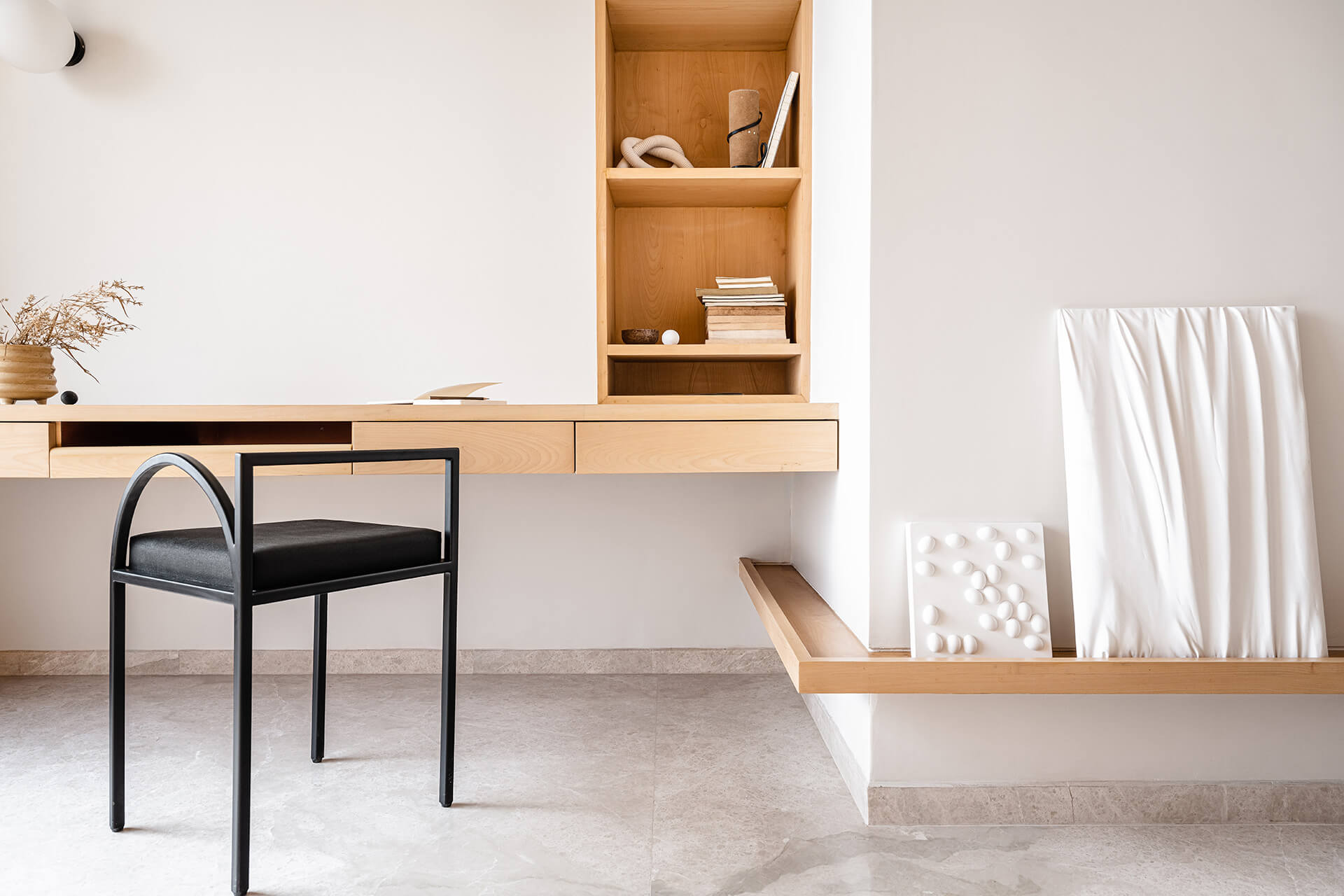 ---
Moreover, the dining table and chairs are practically designed and crafted in wood and veneer. Two sliding doors near the dining table open into an orange-hued hidden kitchen, which comprises modern fixtures and appliances. Near the dining table are two, eight feet high, undulating artworks made of gypsum. Hand sculpted by artist and sculptor, Vijay Itadkar, the depth of these art pieces dramatises the play of light and shadows throughout the day.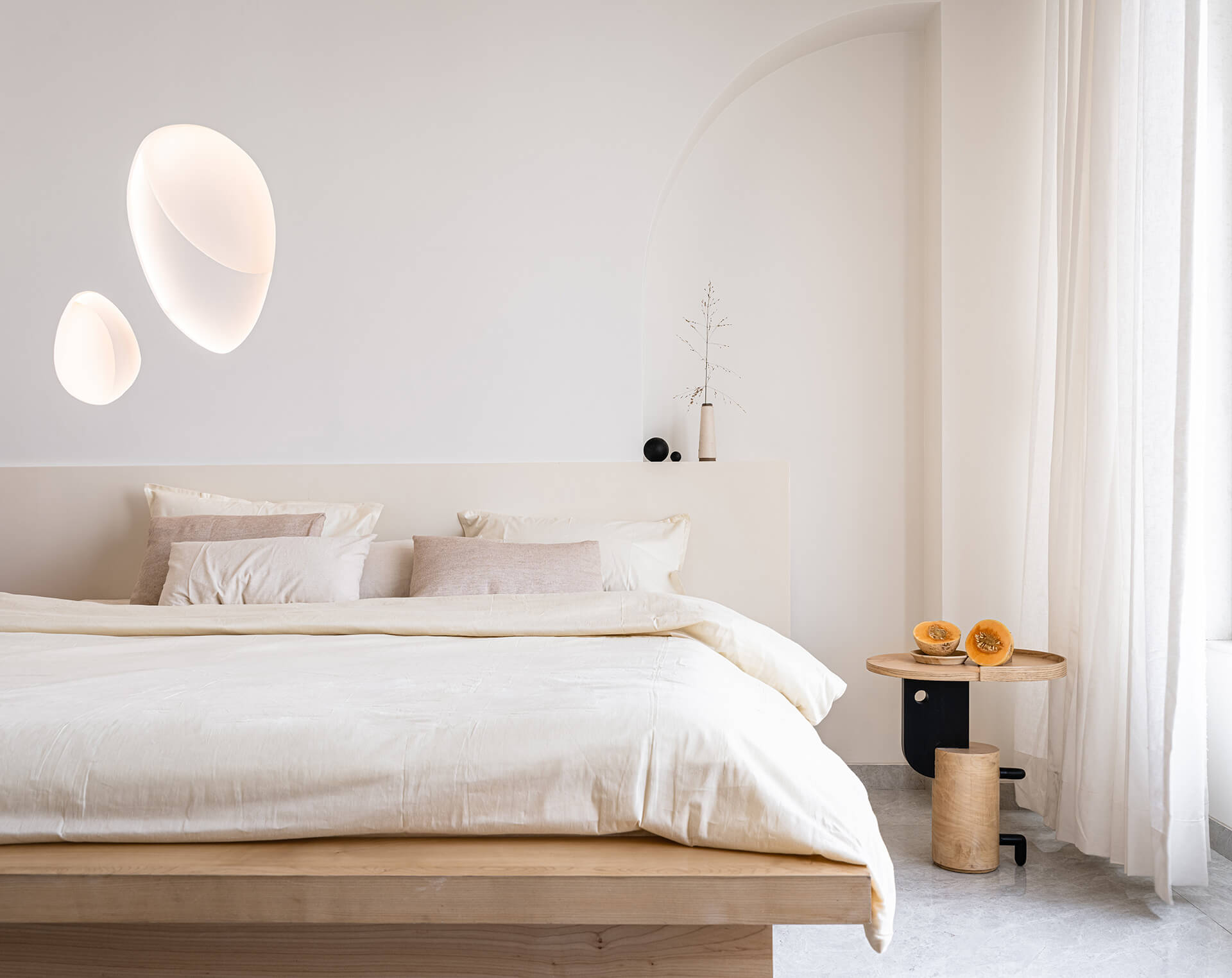 ---
The neutral hues, a minimal design style and natural material palette continues into the bedrooms, revealing strategically scattered deep oranges. These cosy spaces house oversized arches and a distinct column design with minimal joinery that stand out in the landscape of cream toned spaces.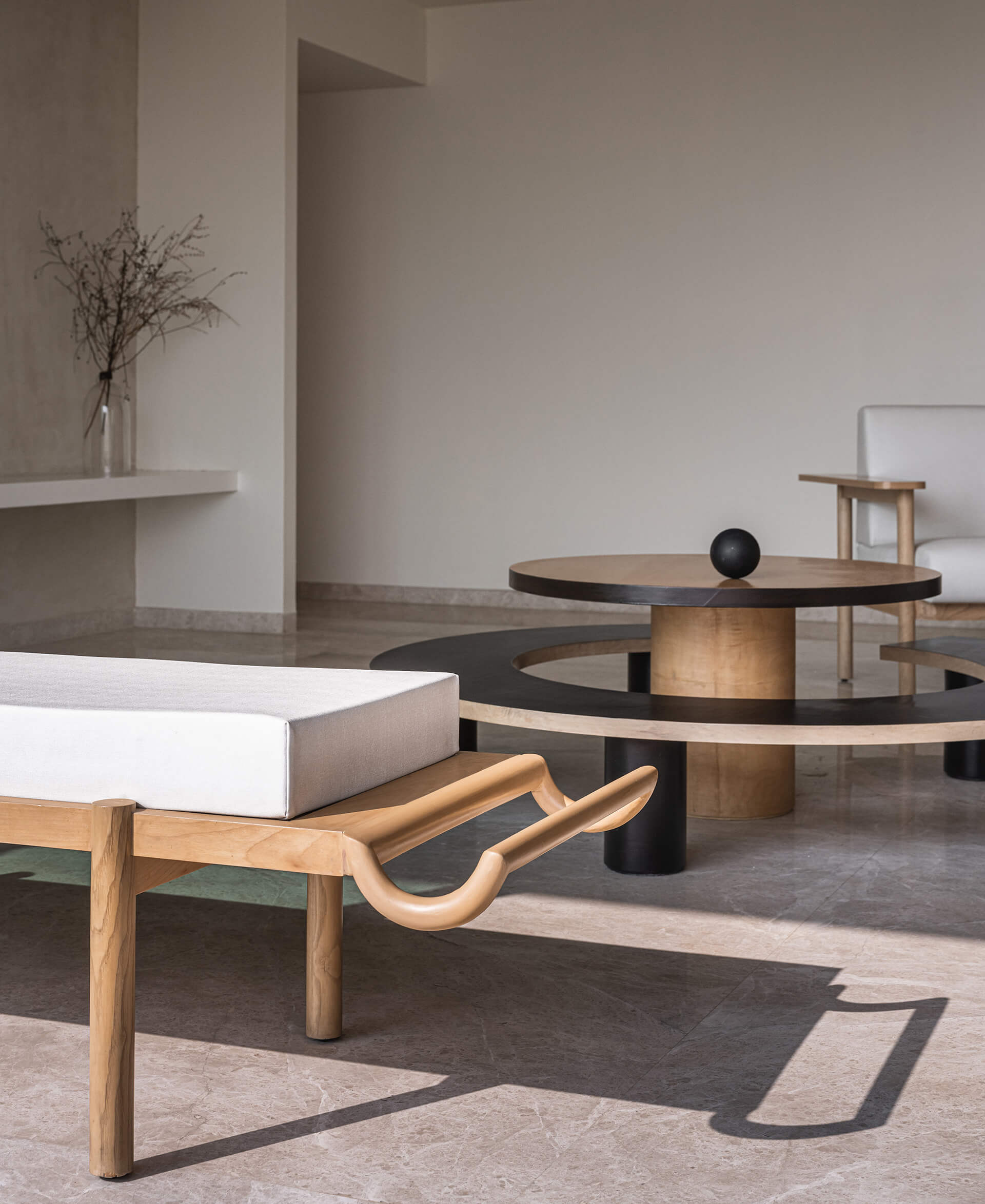 ---