Isn't there something so appealing about vacationing in the Mediterranean? That's the aesthetic that the architecture and design studio Rockwell Group wanted to bring to their new eatery Zaytinya – a new restaurant by two-star Michelin Chef José Andrés. Zaytinya, which means olive oil in Turkish, is a stylish 140-cover cafe located at the Ritz Carlton in New York, comprising a light and neutral colour scheme with bursts of a cyan blue, which is evocative of the arresting Mediterranean Sea. The restaurant design is modern and chic while still being warm and welcoming. At Zaytinya, playful curves and a kaleidoscope of textures transport visitors to a trendy cafe on the Mediterranean coast.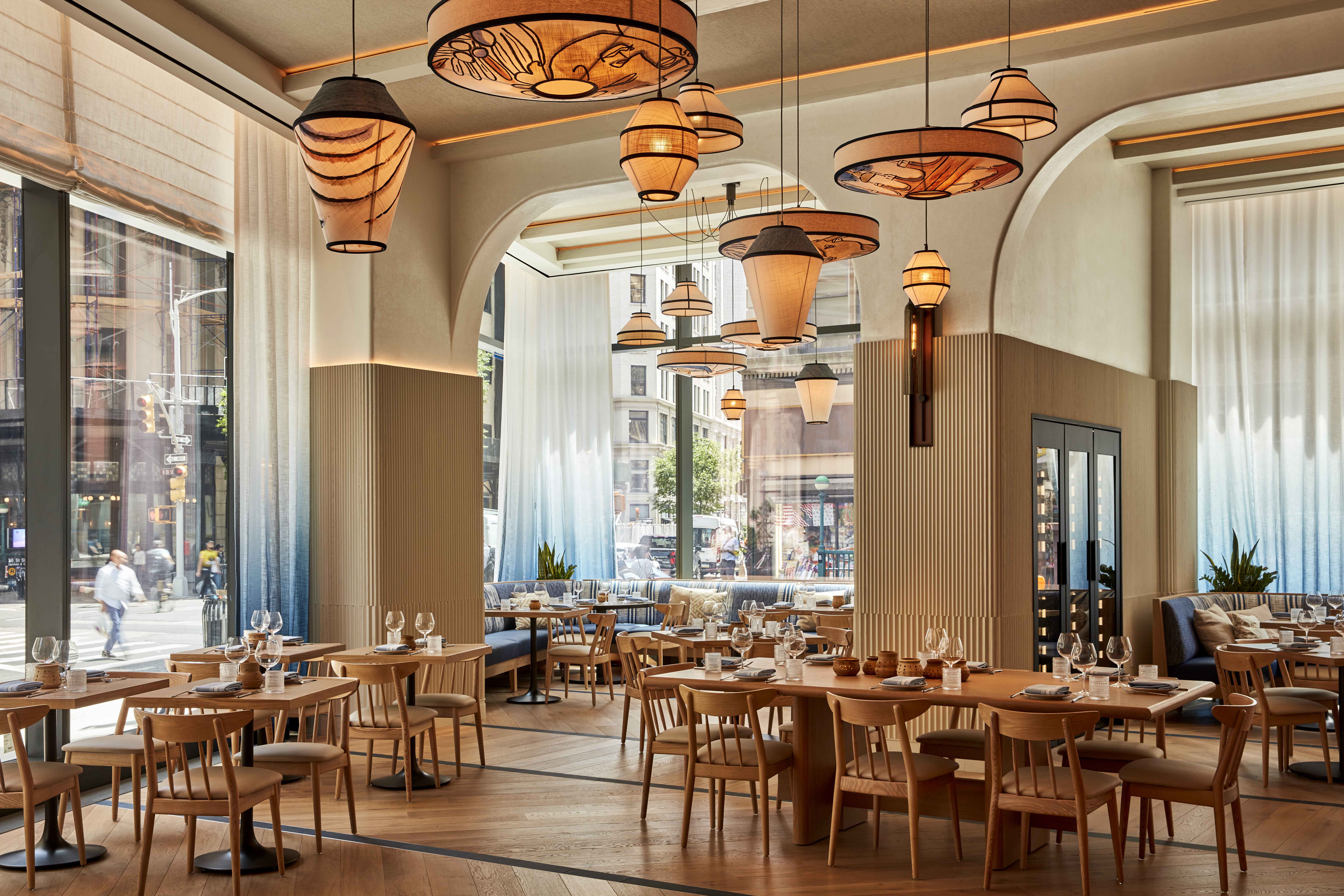 ---
Mainly based in New York, with satellite offices in Madrid and Los Angeles, the Rockwell Group is an interdisciplinary architecture and design firm that focuses on innovation and thought leadership in every project. "At Rockwell Group, we do not have a signature style. Rather than adhering to a specific aesthetic, we approach each project from a fresh conceptual perspective. That being said, I think that our focus on starting from a place of narrative with each project is the fundamental link across all of our work. We begin every restaurant project by thinking about the chef's point of view and backstory, and how these elements can frame the experience from the moment guests walk in the door to when they leave. Our goal was to bring the warmth and hospitality that Zaytinya is known for while creating a modern restaurant that seamlessly transitions from day to night," states Matthew Winter, Studio Leader at Rockwell Group.
---
This new restaurant is divided into distinct areas that the visitor discovers as they enter the space. With the interior design exhibiting hues, textures and patterns inspired by the Mediterranean coast, Zaytinya is an opulent take on a contemporary European, seaside cafe. Here, the first thing that draws your eye is the light and neutral colour scheme of warming bronze metals and white oak woods, which create a striking contrast against the arresting blue highlights, pattern detailing and artworks. Furthermore, the architectural finishes also feature a neutral base to complement the kaleidoscope of texture and pattern in the upholstered banquettes and at the bar.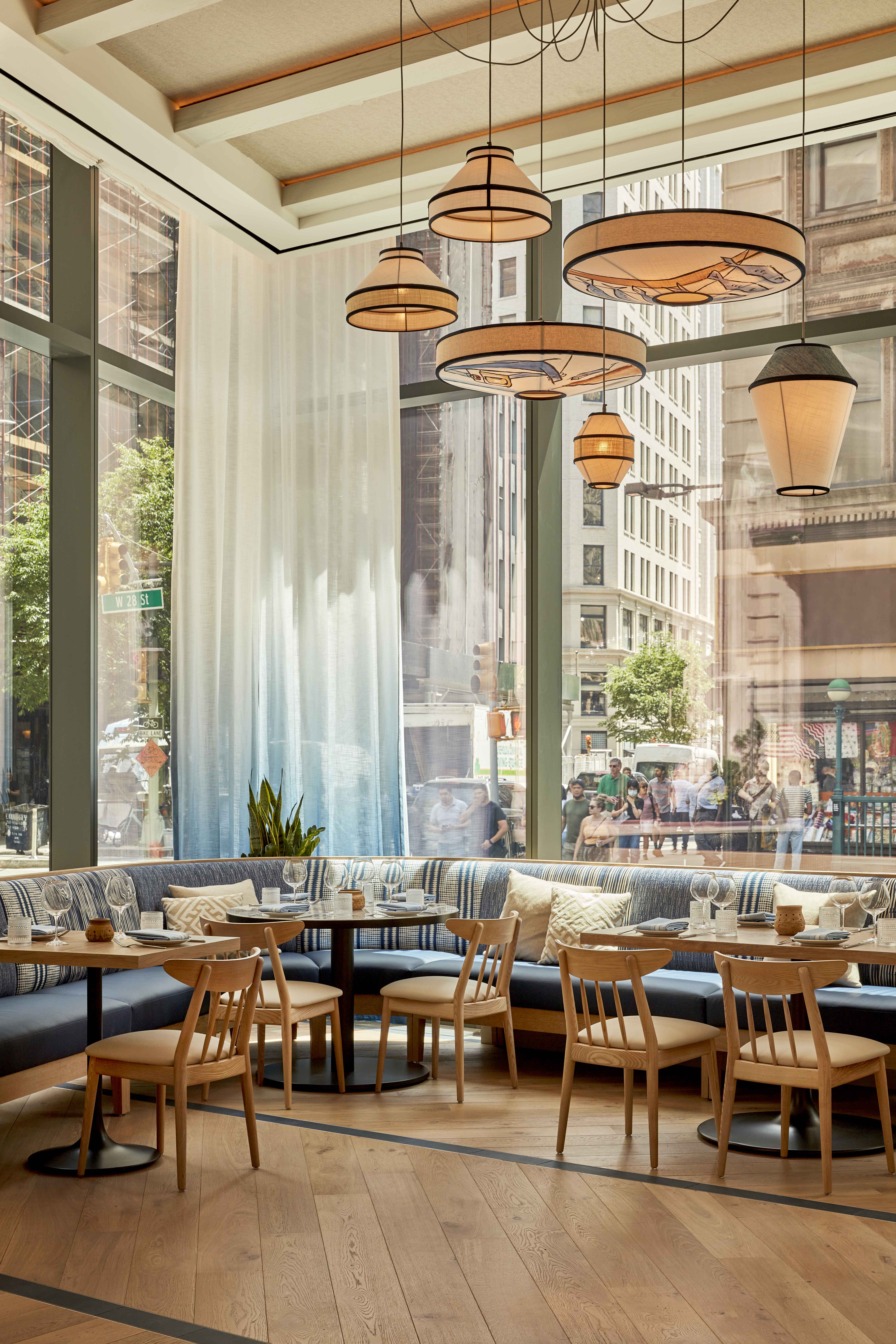 ---
While the eatery is chic, it still has an earthiness and softness associated with Mediterranean architecture and interiors. This manifests in the exposed wood ceiling beams interspersed with acoustic linen-textured panels that offset the floor bands, crafting a sense of tranquillity and flow throughout the space. The expansive floor-to-ceiling windows are lined with blue ombré curtains and the adjoining wall comprises vast arched antique bronze mirrors and booth seating that enhance the warm leather detailing on the millwork credenzas.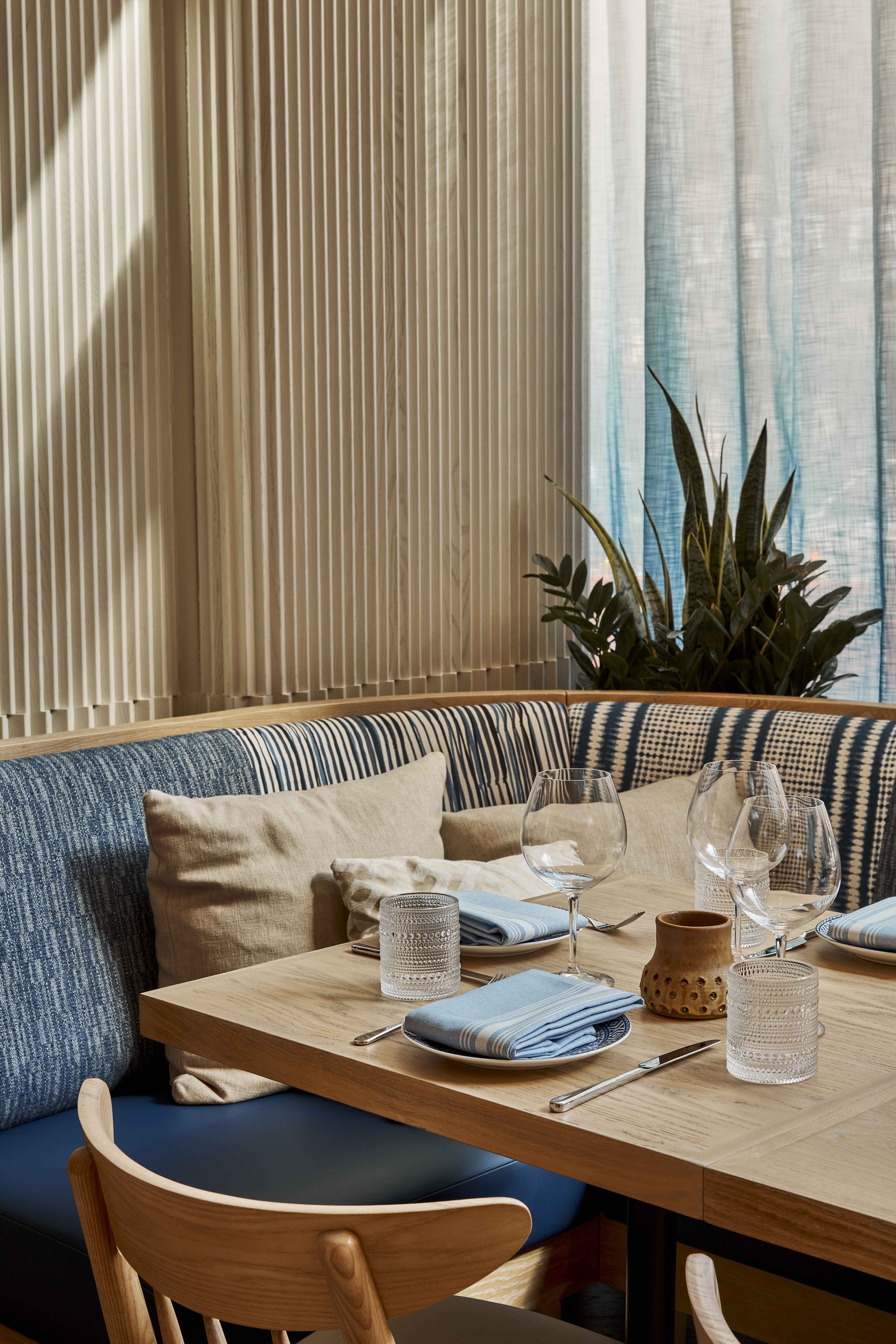 ---
The highlight of Zaytinya is undoubtedly its bar design, occupying a large portion of the back wall of the space. "The bar has a blue lava stone top and chiselled stone bar die with a custom back bar screen composed of two-toned blue glass discs inspired by the Greek evil eye motif," mentions Winter. This light installation helps create a positive and upbeat ambience in the eatery. The arresting bar back curves right up to the high ceiling with an elegant sculptural effect.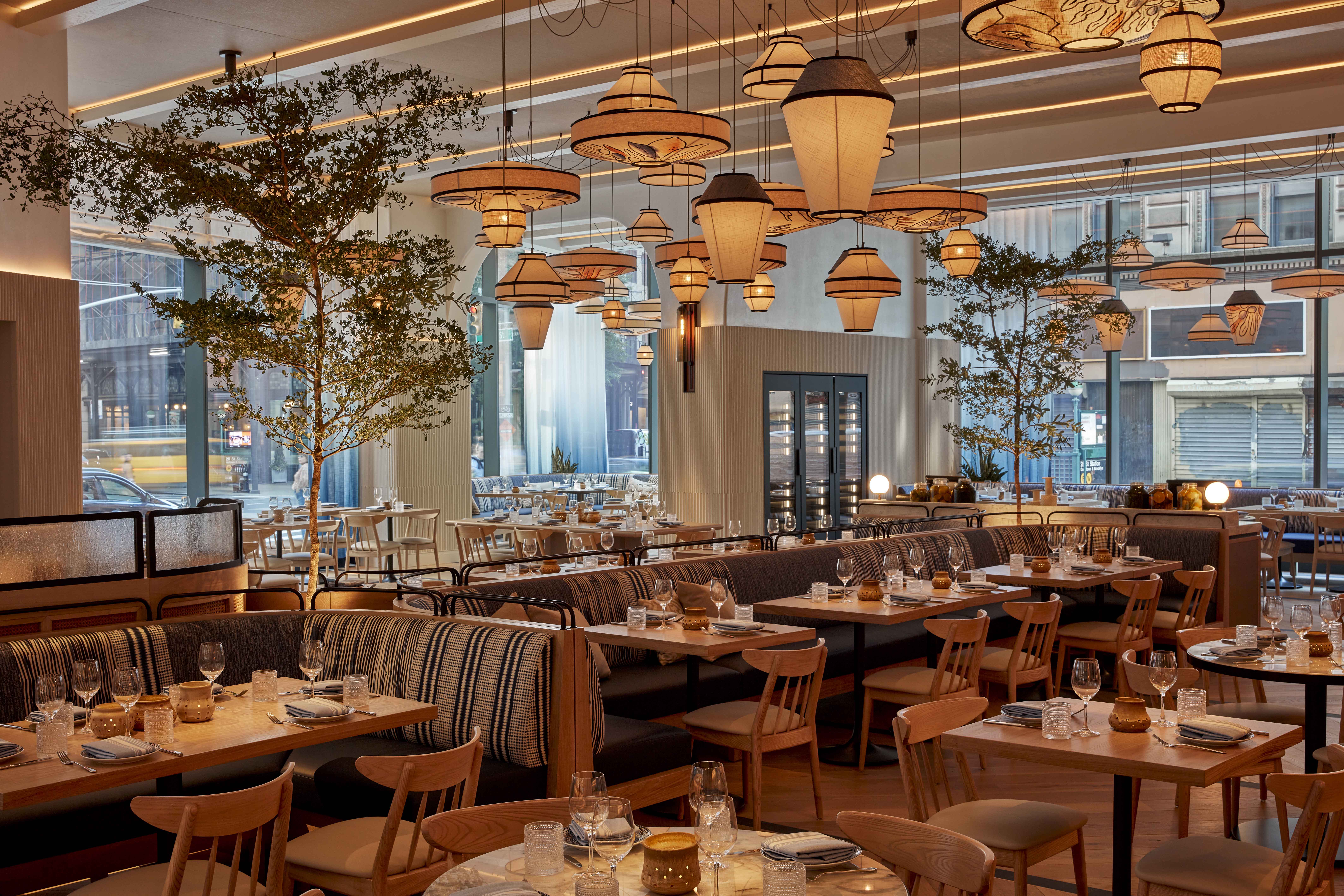 ---
Furthermore, the primary dining room features clusters of woven textile pendants in assorted forms and heights that hang from the high ceilings, casting a golden glow. Illustrations designed by Rockwell Group's graphics studio have been hand painted on linen shades created by The Alpha Workshops, a non-profit that offers decorative arts education and employment to adults with disabilities. "We worked with José Andrés to develop the designs during the planning process. The drawings celebrate Mediterranean culture, architecture, geography, and bountiful harvests," concludes Winter.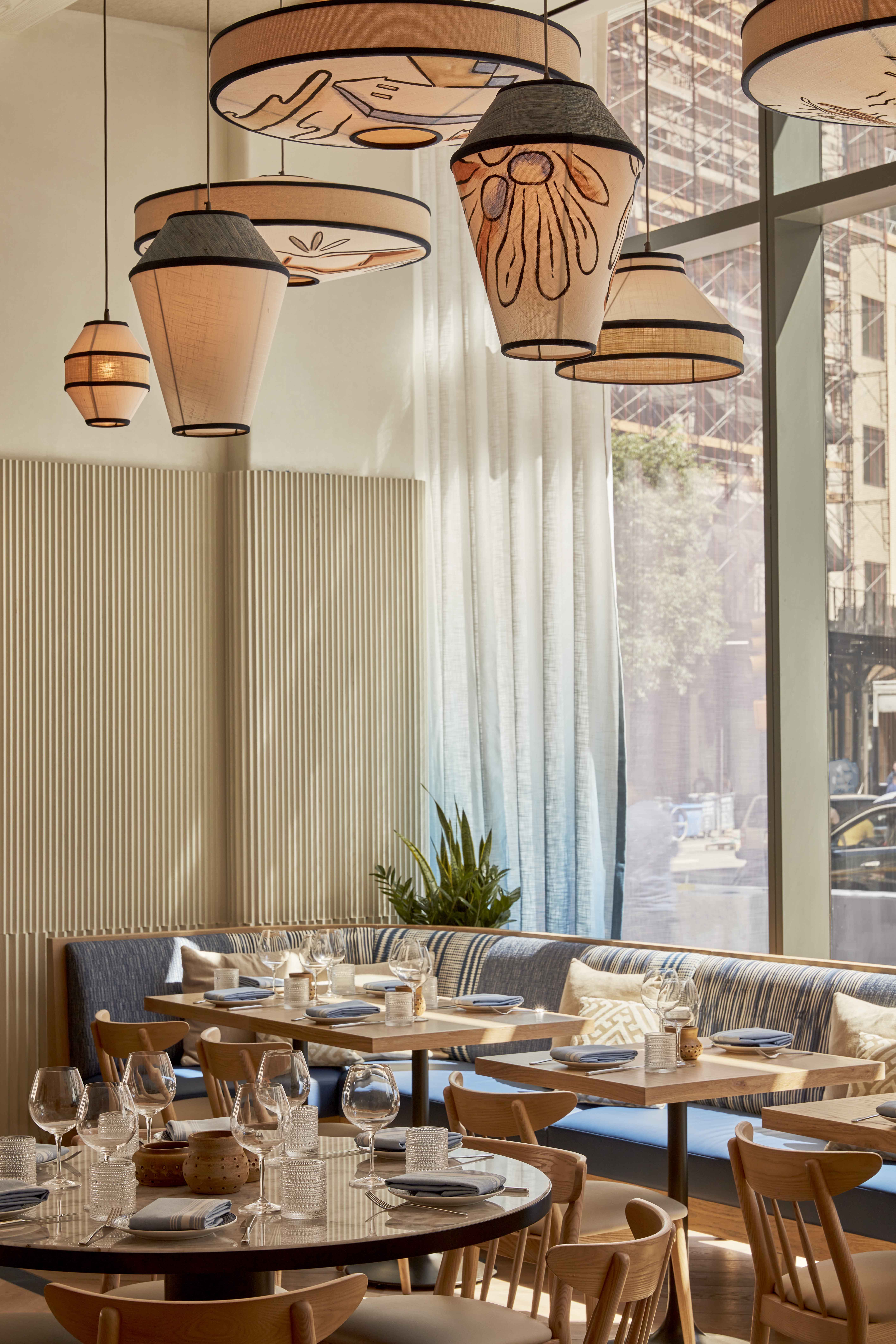 ---